Update 9.19.2020: This bike has SOLD to an RSBFS reader! Congratulations to buyer and seller! -dc
Long time RSBFS sponsor, Speedwerks, has trained their restorative techniques on a 1993 Kawi, and ensured that its outstanding looks are backed up by a healthy dose of attention from their service technicians.
1993 Kawasaki ZX-7 for sale at Speedwerks
Coming out in the heart of the sportbike era, the ZX-7 came with a warranty, but change was guaranteed every year, with manufacturers throwing their level best at the AMA and World Superbikes.  For '93 an all new top end cooked up 118 hp for the 749cc four, using four 38mm Keihin carburetors and a new single intake for ram air.  Multi-adjustable USD forks and Uni-Trak monoshock, plus 17-inch wheels were found at either end, along with 320mm front disks.  The riding position got good marks and a theoretical passenger is possible on the biposto seat console.
Evidently being re-activated after some years in a collection, this ZX-7 has the full nineties treatment, right down to the orange-fade-to-purple logos.  Exterior condition is way better than excellent, with just an isolated rub visible.  The tail treatment leaves a clean surface under the seat, and the green windscreen shows the previous owner was a fan.  Steve's comments about the ZX-7:
This is a good rider or bust out your parachute pants, comb back your mullet and become a collector.
We received this machine from a private collection, where it sat on display for years.
It is original sans the Zero Gravity windscreen and Targa undertail.
We preformed a complete service and it is 100% operational, as it would have been in 1993.
The tires are original/period correct Dunlop 208's, in great shape but should be updated to ride daily.
There are a few scars in the paint work but overall it shows very well.
Speedwerks is asking $6,500 for this time capsule and Steve can be reached on (302)672-RACE or via email – here -.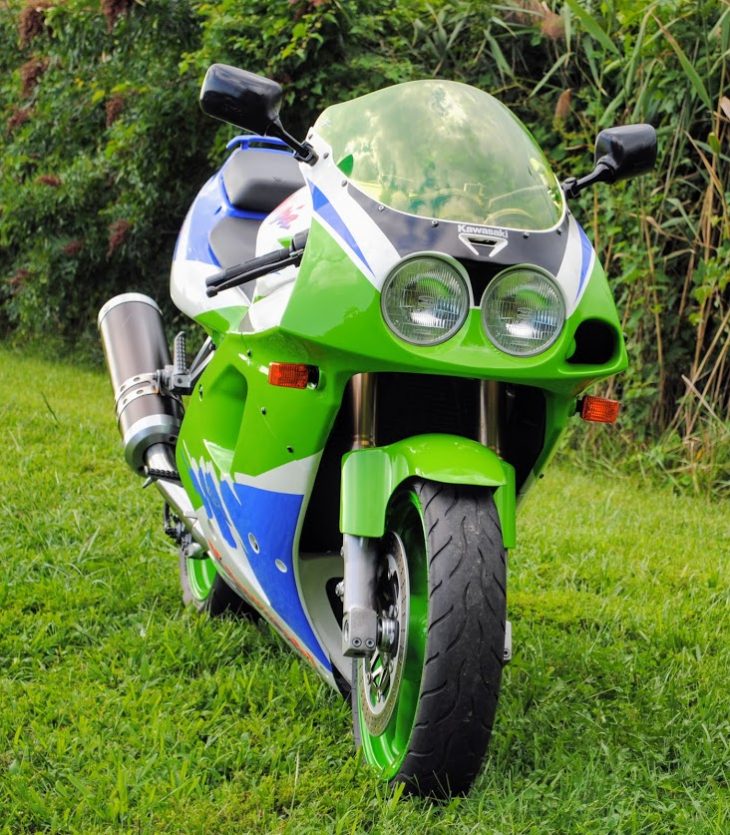 As evidence of a winning design, with Rob Muzzy's preparation, Scott Russell took his ZX-7R to the AMA Superbike championship in 1992, and claimed the World Superbike the next year.  Since they occupied the lower pricing tier with Suzuki, few have been babied or cared for like this example.  This might be a show bike for the next owner, but is also ready to provide the superbike experience from almost thirty years ago as well.
Contact Steve at Speedwerks for more information on this exceptional ZX-7, (302)672-RACE or via email – here -. 
-donn