Warning!
This post is in our archives. Links in this post have been updated to point to similar bikes available to bid on eBay.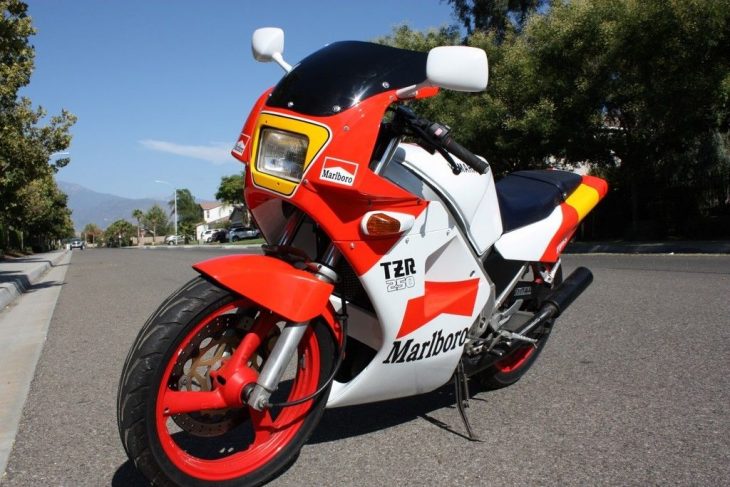 You know, it gets harder and harder to come up with smoking-related titles for these two-stroke posts… We may no longer allow tobacco companies to advertise in racing, but it seems to be a natural fit, considering the dangers involved in both activities and especially in the case of smoky, environmentally-unfriendly two-stroke machines. It's also hard to argue that the tobacco companies didn't come up with some of the best-looking graphics and color combinations of all time: Rothmans, John Player, and Marlboro as seen on today's Yamaha TZR250.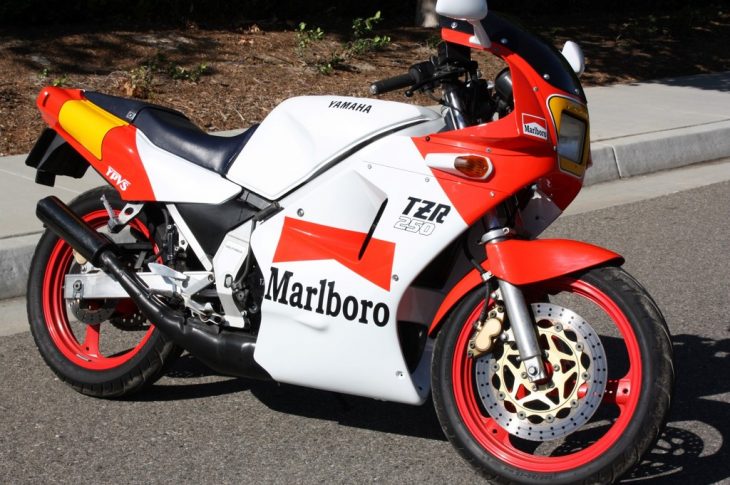 A follow up to the very successful RD line, the TZR250 1KT was the very first generation of Yamaha's liquid-cooled parallel twin sports machine introduced in 1986, and was also referred to as the "2MA," depending on the market. It was definitely a big jump ahead in terms of performance compared to the RG250 and NS250R of the same period, and pretty much set the template for the class: aluminum beam frame, fully-enclosed bodywork, and a six-speed gearbox. Unlike other bikes in the class and even the later TZRs that used an 18″ rear wheel, the 1KT had 17″ wheels at both ends.
Of course no quarter-liter two-stroke would be complete without some form of powervalve, and the TZR came with Yamaha's YPVS or "Yamaha Power Valve System" that helped to boost midrange performance. The claimed 50hp from this model may be a bit optimistic, but the 282lb dry machine was certainly light and very nimble.
From the original eBay Listing: 1987 Yamaha TZR250 for Sale
1987 Yamaha TZR 250 1KT 2-stroke sport bike NO RESERVE, will sell to high bidder! Pure two-stroke spirit! Properly imported with correct DOT/EPA paperwork and legally registered, plated and titled in Arizona, can title in all states except CA. I reserve right to end auction for buy it now of $6,200 but I am starting bidding at $100 with NO RESERVE and bike will sell to high bidder.

This is a nice example of an early TZR. If you have been looking for an RZ350 or something similar check out the TZR250 1KT, feels somewhere in between a 125 and a 250 yet has around 50 HP, the very reliable parallel twin engine and awesome handling. I imported this bike in 2015 and it was a nice lower mile example but with some paint issues. I just had the entire bike repainted in a Wayne Rainey-esque Marlboro paint scheme and I think it came out pretty good. Stock colors were normal Yamaha red/white (see stock photos for reference).This bike will make a nice rider, it is not a showroom example however it is a low mile survivor with little corrosion, all original factory bodywork and new paint. Few of any 1KT TZR's survive in very good condition. Mechanically the bike is solid. 

I did a full service on it less than 20 miles ago. Fresh 50/50 coolant, Motorex Synthetic trans oil, fresh brake flush and fluid front and rear and synthetic DOT 4. Has Motul 710 synthetic two stroke oil and oil injection in place. If you plan to do any really spirited riding I would put fresh rubber on it. Wheels are original, I had planned to powdercoat them but they were borderline nice enough to keep factory original.

The bike is 100% stock save for a Daytona fork brace. Starts with 1 or 2 kicks every time. It runs very good, pulls clean to redline, rides straight, stops straight. It has signs of being dropped on the right in the past but no major damage, just rash which is till evident on clutch cover and brake master.  There is an unfortunate crack on the left ear of the upper which happened when I had the bodywork shipped back to me, but the upper stay and windscreen along with mirror keeps everything tight, solid and in place. There is some light corrosion on top nut, fork lowers, rotor etc but nothing terrible and teh frame is very nice…especially for being 30 years old. This is an overall nice example. 10,700 Km or roughly 6,650 original miles.

I have a set of Japanese Noguchi expansion chambers with silencers that will fit the bike (or the TDR I have listed) that I will sell for $550. I also have another set of 1KT stock exhaust that can go with the bike as well if wanted. Overall it is a really fun and good looking TZR that will draw a crowd wherever you ride it, please check out the pictures closely, contact me with any questions or if you need more photos OF ANY PART OF THE BIKE!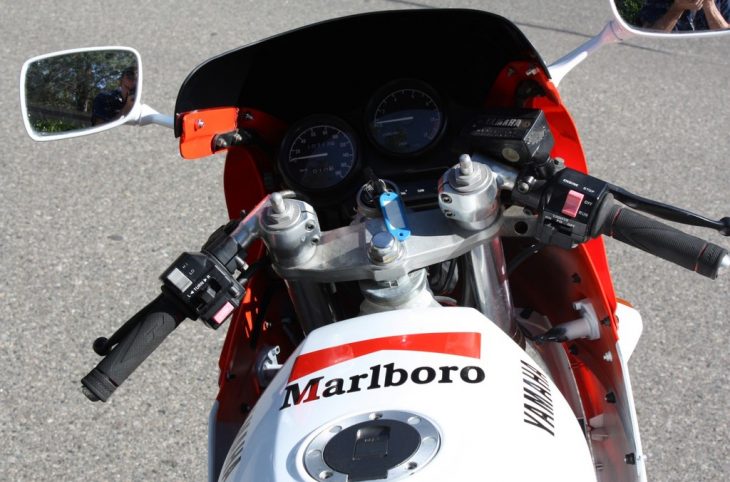 This example isn't perfect or original, but the seller is very up-front about that and the bike seems honestly represented. Bidding is up over $3,700 with a full week left on the auction. Values of 250cc sportbikes have been headed steadily upward over the past year, although TZRs have trailed the rest of the pack a bit, especially the 1KT. The seller's $6,200 Buy It Now price is right on the money for a good two-stroke, but it remains to be seen how the aftermarket paint will affect values of this particular bike.
-tad