The first few years of GSX-R750 production had a simple race-derived seat fairing and refreshing performance.  The 1986 update included a lengthened swingarm to tame the handling, and introduced a Limited Edition homologation special with dry clutch and solo seat.  This Japanese import is in rare Yoshimura colors and just under 8,000 miles.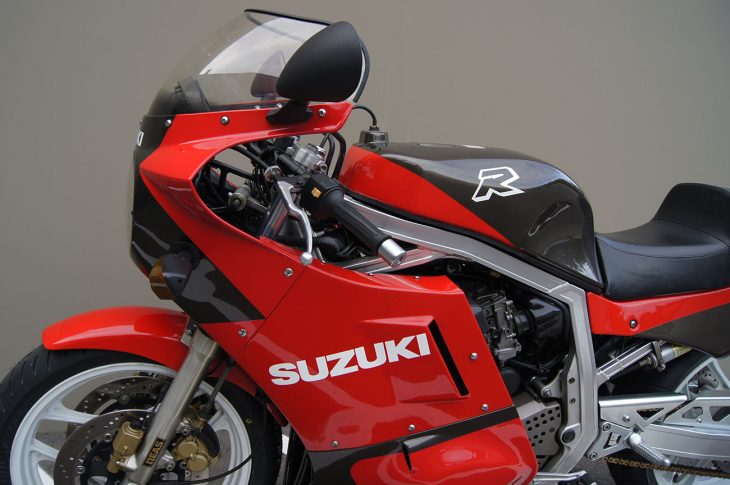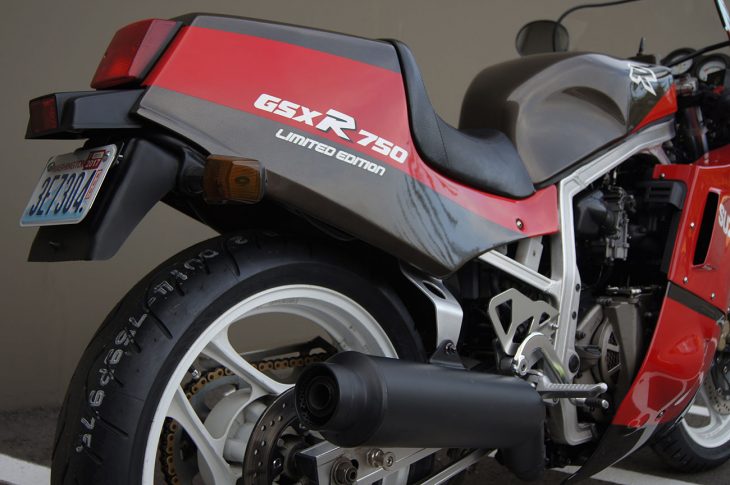 Thirty-odd years ago, the GSX-R750 broke a lot of new ground and was pretty close to an endurance racer with lights.  The air/oil-cooled 749cc's were good for 100 hp, and the small-tube alloy frame helped keep the wet weight within a gallon of 400 lbs.  18-inch wheels, 310mm brakes, and Full Floater monoshock combined to spell capability.  Fiberglass seat console and full fairing with dual headlamps had a no-nonsense look.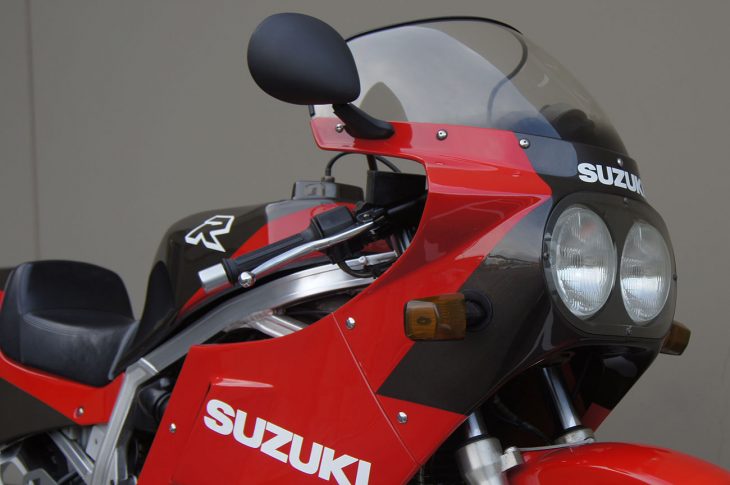 The year after introduction, the Limited Edition had all the nice things the race department wanted to use, dry clutch, 41mm forks with Suzuki's New Electrically Activated Suspension ( NEAS ) anti-dive system, remote reservoir shock, wider rear wheel, and a host of lightened assemblies.
This Northwest GSX-R is a special import, the red and brown Yoshimura colors jangling a bit with the black seat and exhaust, and gray engine paint.  The VIN indicates a machine for the Japanese market, as does the lack of reflectors, tinted turn signals, and lack of heat shield on the muffler.  The overall condition shows that it must have been ridden very carefully and stored or displayed with a curator's care.  From the eBay auction:
All of the body panels are in excellent condition, there no cracks or major nicks anywhere. The original Suzuki exhaust is in excellent condition with no scratches or dents anywhere, The wheels are also in excellent condition with good paint and no major chips anywhere. Even the windscreen is original and in great condition. Basically the motorcycle is a 9.5 out of 10 cosmetically.  Mechanically the bike runs and rides perfect, there are no oil leaks anywhere and all of the engine paint still has the original GSXR shine with out any major dings or chips. All of the electrical components work as they should; lights, blinkers, horn, speedo, tach, fuel gauge, all work properly. The bike just had a full service tune up including new tires, all fluids were changed, and mechanically everything was inspected and replaced if necessary with original Suzuki parts.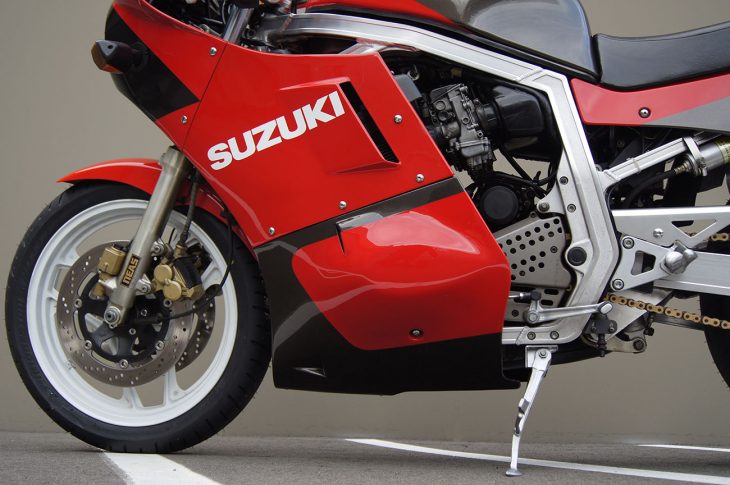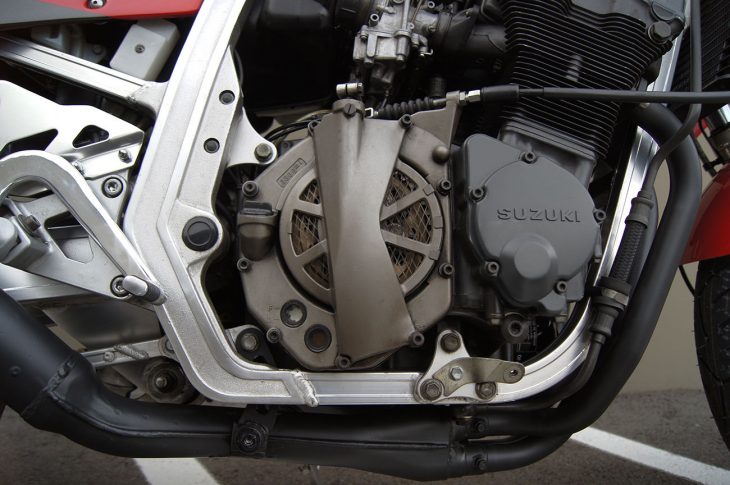 Offered by a vintage parts house, the story of how this LE came to be isn't told in the auction, so bidders will have to send a query or go on wondering how so few parts appear to indicate use or even to have aged.  Maybe the preservation or restoration question doesn't even matter much, but as the auction goes on and the "reserve not met" sign remains lit, someone will want to know…
-donn