Yamaha's FZR1000 was their flagship from 1987-1995 and named "the bike of the decade" by Cycle World in 1989.  This European import is a second generation machine with the EXUP electronically controlled exhaust collector, but is also in a classy color scheme rarely seen stateside.  The mileage indicates a well-loved FZR, and a couple of foibles and faux pas might keep this superbike on budget.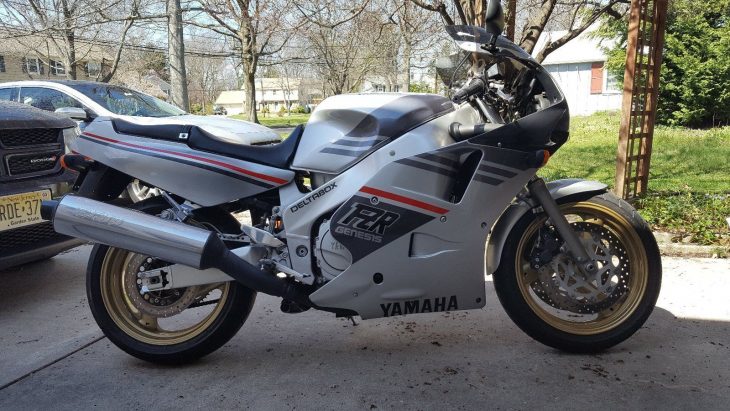 Capable of 0-60 mph in under 3 seconds and the 1/4 mile in just over 10, the FZR1000 was a capital-S Superbike.  The 1989 update brought major engine and chassis revisions, the 5-valve 1002cc challenging the quicker-handling GT with 145 hp.  The alloy Deltabox frame carries the engine from the top only, and uses it to increase rigidity.  The formerly 18″ rear wheel is now a -17, matching their gyroscopic forces.  With fresh air intakes under the dual headlamps, the fairing works as well as it looks.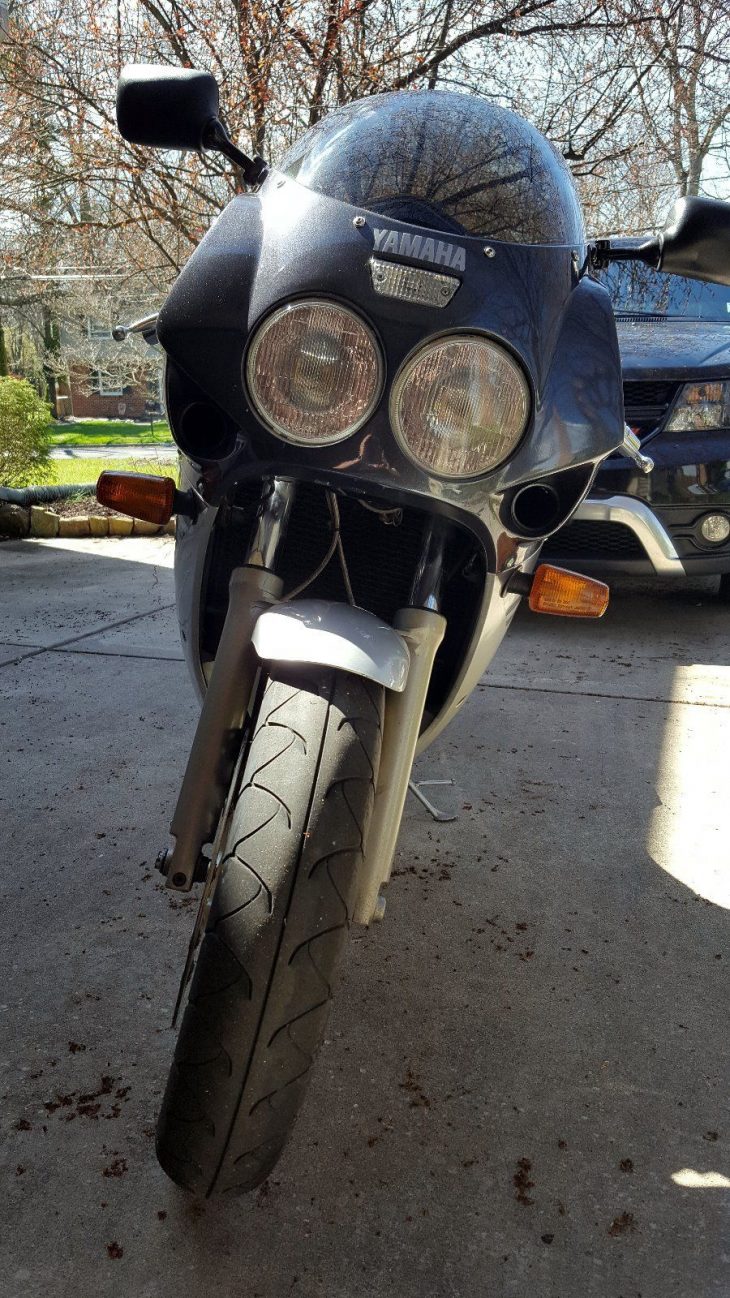 The importer but not the original owner, this EXUP fan has brought this example through almost 31,000 miles, and looking pretty swell.  He discusses the limited edition paint in the eBay auction:
The fine silver was offered for one year only and sold in limited numbers, it was never offered in the US.  In the UK the nine digit VIN for '89 started with number 3LG000101.  As can be seen from the listing, this imported motorcycle is number 18 of that year for the UK.  I brought her in as it was always my favorite bike and it took me two years to find one in decent shape.  Attrition over the years has taken its toll on the remaining numbers.  She rides like she's on rails and runs smooth but I noticed when I started her earlier today she may need a carb balance as she coughed slightly. The mirrors are 1994 but I have the originals ( most people used the 94's ).  The screen is a replacement zero gravity in smoke and I have the original.
Reviewed as a fitting 2nd generation, the FZR1000 won quite a few endurance races and was the basis of the truly exotic Bimota YB6.  As too much garage time will do, the carburettors need adjustment, electric petcock repaired, and a rub here or there could be smoothed out.  But the geometric paint scheme will be worth the effort,  the three shades of silver metallic coolly telling about the long haul…
-donn