In the 1990's, Ducati's SuperSport could be all things to some people – before the Monster and ST2 arrived, it could be an ok commuter and passable sport tourer.  This Final Edition has had some choice upgrades and considering the mileage looks very good.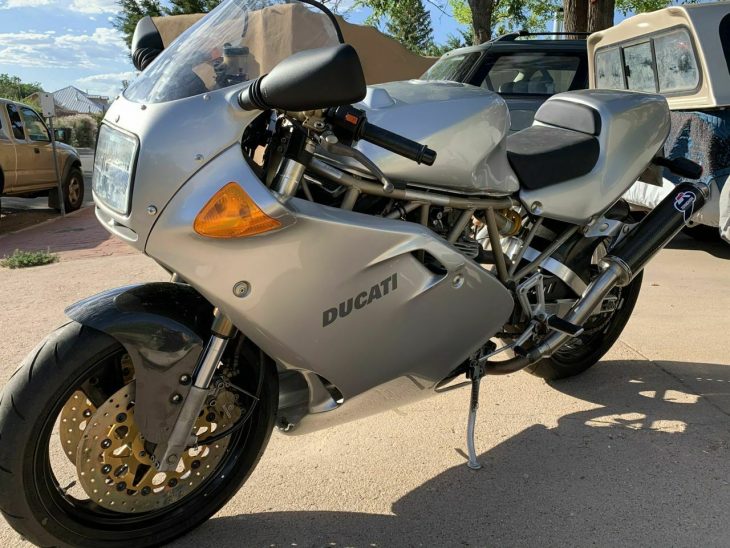 The FE used the 904cc L-twin that had inhabited the SuperSports throughout the 90's, air-cooled with 84 hp but peak torque at just 6,400 rpm.  The inverted forks and alloy swingarm were suspended by Showa, with Brembo supplying their gold-line 320mm brakes and cast iron rotors.  FE's had a re-designed body with scoops to help cool the rear cylinder, and all were monoposto's with a seat fairing courtesy of the earlier Superlight.  A new charging system brought 520 watts via a three phase alternator, and exhausts were swept high.  Carbon mudguards complimented the black alloys, and the dash was carbon as well.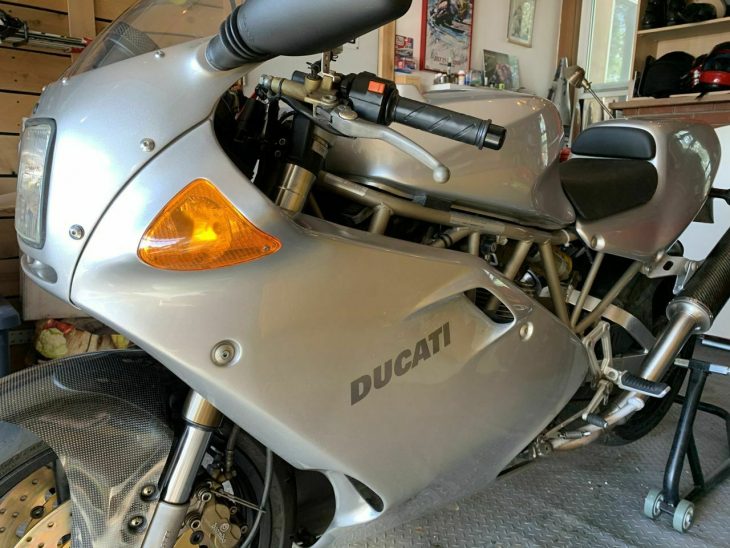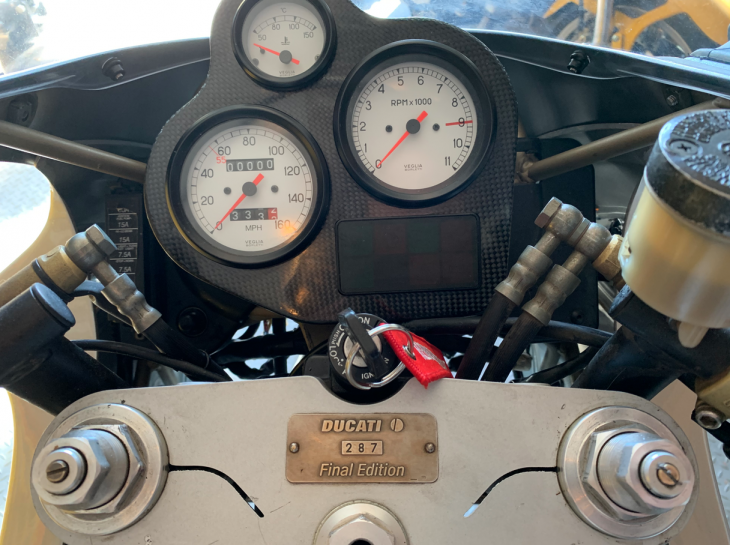 Sounds like this owner is a knowledgeable SuperSport fan, and this FE has some key updates and neat NOS parts.  The Keihin flat-slide set-up appears to pre-date the seller and is tuned for Santa Fe (6,500 ft.) so chances are the carbs will have to be re-jetted for the new owner.  A few marks over the 17,000 miles, which is hard to confirm since the dash is new.  From the eBay auction:
The fork seals have just been replaced. 

It has a new Oberon clutch slave as the original was leaking. Works great.

It has brand new (NOS) front brake discs. These are unobtainium and super expensive when found – around $900!

It has a new factory windshield. $$

 

The gauge needles were faded as many vintage 900SS do over time. While hunting for less faded gauges I found another bit of unobtainium in the form of a complete NOS dash complete with gauges specifically for the FE with the carbon surround. It's beautiful. Unfortunately, I can't find my original speedo – I was going to include it in the sale for mileage history. I'm worried it got sold last year when I was clearing house of old used parts. It was in the mid 17000 mile range.

 

The bike is original except for the Keihin FCR41 carb set-up. This is a very popular upgrade that transforms the performance of the bike.  It runs great! There is no choke on these carbs – so the choke lever has been disconnected but is still there. I live at 7000 feet and the carbs are jetted for our high altitude. It may run a bit lean if you are close to sea level. No way to tell until the bike reaches it's final destination. It has an open top airbox meaning it has a aftermarket frame that holds the K&N filter in place. It really helps the bike at our altitude as well.

 

The high mount Termignonis are beautiful. Sound great and the best period correct option for these. These are pricey if you can even find a set.

 

The Battlax tires have plenty of tread left front and rear. The belts were replaced by the prior owner about a year before I bought the bike. They are now around two years old.

 

It has a new fuel level sender ($250!). I have not put fuel back in the tank since replacing it, figuring if I sell the bike as planned, some shippers prefer empty tanks.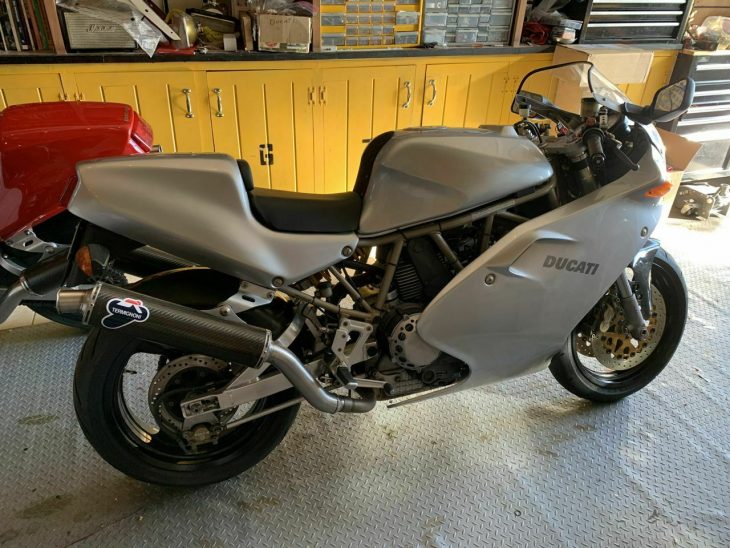 The 904 SuperSports were made from 1991-98 so you have to pick your spots for rarity, but the later SuperLights and FE's fit the bill.  Not sure that seat is an all-day affair, but the riding position got high marks from reviewers.  Unusual to see such limited production with so many special parts on a no reserve auction, and it'll be interesting to see where this FE winds up.
-donn