It's a good indication when Moto Guzzi applies a "V" to a motorcycle's model, as all have been classics in their own way.  The V10 Centauro was Guzzi's muscle bike and this Coachella valley example is beautifully presented by a shop specializing in the brand.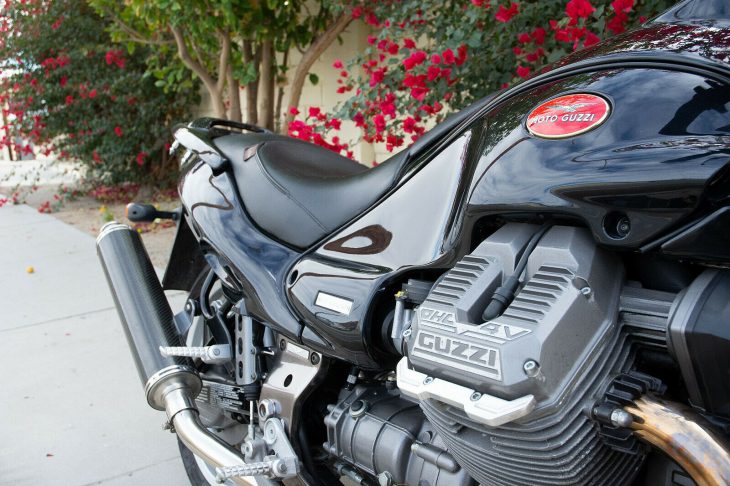 The Centauro used the Daytona's four valve 992cc V-twin, and gave it a robust backbone chassis with subframes that supported it front and rear.  Just forward of the air-cooled heads, the cam belt housings are easier seen on the Centauro.  10.5-to-1 compression made 95 hp possible and required an oil cooler in the body color chin scoop.  De rigueur for a Guzzi, power is transmitted by a 5-speed and shaft drive, and WP handles suspension duties.  The bodywork is complex considering there's not really a fairing, but flows beautifully from headlight to license plate.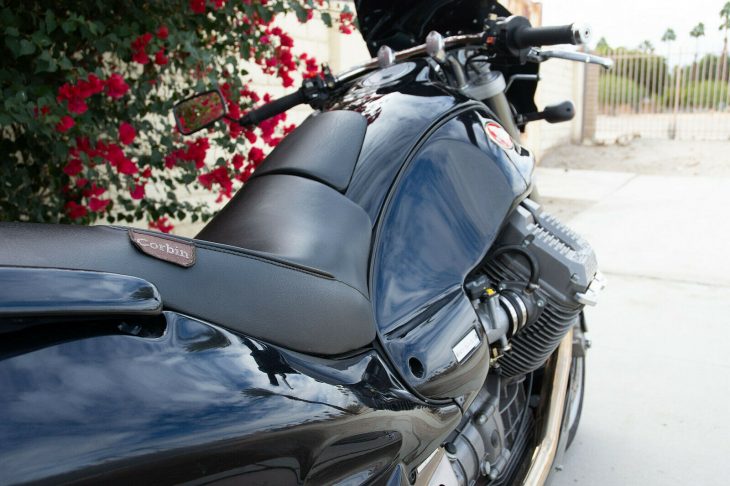 Presented by a shop that concentrates on vintage Guzzi's, this Centauro looks great in black, with grey engine cases and carbon mufflers.  The GT luggage rack / grab handle almost disappears in body color and goes well with the Corbin seat.  Just over 11,000 miles and nice sound in the seller's – video – which suggests that new tires might be in order.  Comments from the eBay auction:
11K original miles, like new body and frame paint, we just did a tune up and replaced the timing belts.

Current California Non-Op so easy registration.

Great Guzzi for a daily driver, super fast and fun to ride, smooth motor and easy to handle!
Designed by the Marabese design house, Centauro's have their own owner's group and were built from 1997-2001, with total production under 2,000 machines.  Reviewers gave everything but the sidestand good marks, though gravity had its usual comment on Guzzi's hefty build.  Some thought it was Lario's answer to the Ducati Monster, but with a $20K price tag, even special edition S4's had a price advantage.  The reserve on this auction should be around half original MSRP, making this Centauro a nice deal for a fan looking for a rare four-valve Goose.
-donn