Lately more appropriate to a Bonhams or Mecum stadium event than an online auction, the very collectible RC30 appears here claiming just one previous owner and 4,809 miles.  The sparkling condition and reasonable* asking price makes it possible this listing will end early.
Honda built the 748cc V-4 with the Superbike World Championship in mind, and the big bang 360-degree crank opened an interval for correction mid-corner.  A generation before traction control and 3-axis reference systems, the factory slipper clutch eased downshifts.  Showa provided adjustable forks with quick-release axles, and matched the single-sided swingarm's quick tire changes.  Brakes are right-sized at 296mm, and the rear caliper has linkage designed to reduce wheel hop.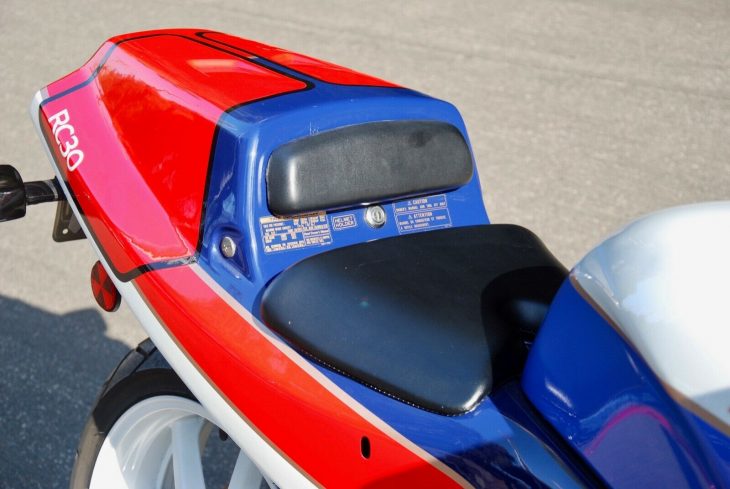 Not sure where this RC30 has been all these years, but it's shown with Oregon tags by an eBay specialist with a bunch of other neat bikes on offer.  Spotless and seemingly original right down to the DOT reflectors on the front forks.  Comments from the eBay auction:
This RC30 hailed from a small, but discerning collection of cars and motorcycles. The original owner covered a mere 4,800 miles in just about 30 years. Regularly maintained since new, the bike runs and rides like new.

This legendary machine is offered in excellent condition throughout. The engine starts readily, idles smoothly and has an abundance of power. AN ABUNDANCE! The bike is fast with a long first gear, that doesn't launch you from a standing start, but winds on power for what feels like an age. The clutch is silky-smooth and brakes and suspension are near perfect. Tires are in very good condition.

There are negligible blemishes in the paint finish around the bike, mainly at the bottom of the fairing, and there are no dings. All body panels are original, and the tank is totally free of blemishes and scratches/dents. Seat is excellent as is the rest of the bike. The bike is accompanied by a clean, clear title, books and manuals, spare key, and a full set of completely untouched tools. There is also a matching hand-crafted tank bag.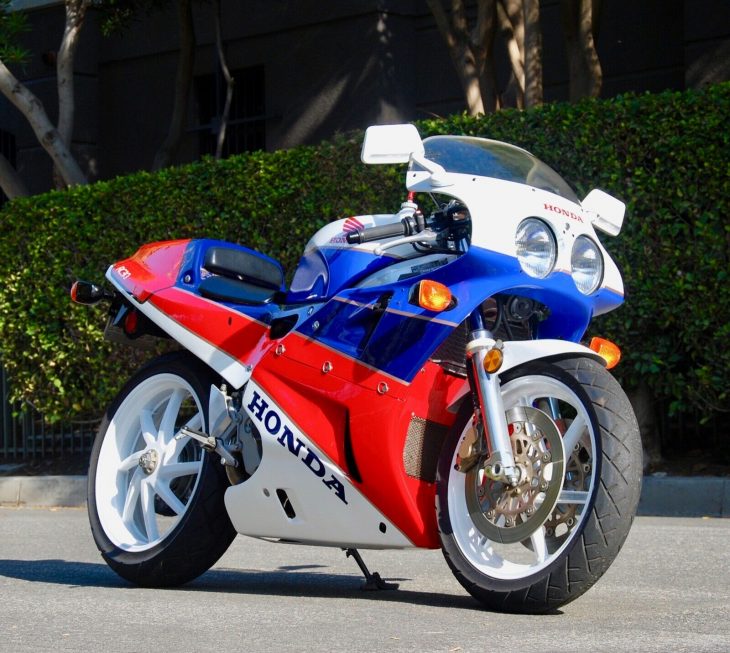 Honda took the first two years of the championship with Fred Merkel, and three if you look at the manufacturer's ranking.  Most of us will just have to wonder what it was like, to be in the points so consistently, on a Castrol purple machine.  Lightness, power, and build quality all played their role.  The motoring press ran out of superlatives almost as soon as the limited edition was gone.  Cherry though not a museum piece, the next owner could sample the RC30 experience before the spotlights beckon.
-donn