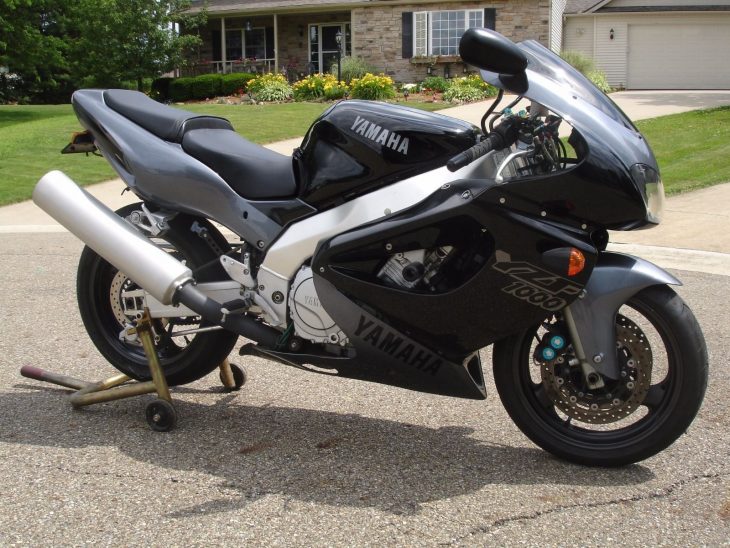 It's pretty common for cars in the USA to get evocative names like "Cougar" and "Charger" or components with nonsensical, but cool-sounding names like "Vortec" or "Jetfire." In the motorcycling world, the reverse seems more common, since today's bike was known as the Yamaha YZF1000 here in the USA while overseas it was the "Thunderace," big brother to the 600cc "Thundercat." For me, it's impossible to even read "Thundercat" without hearing it echo three times in my head, each time with increasing volume, followed by a resounding "HO!"...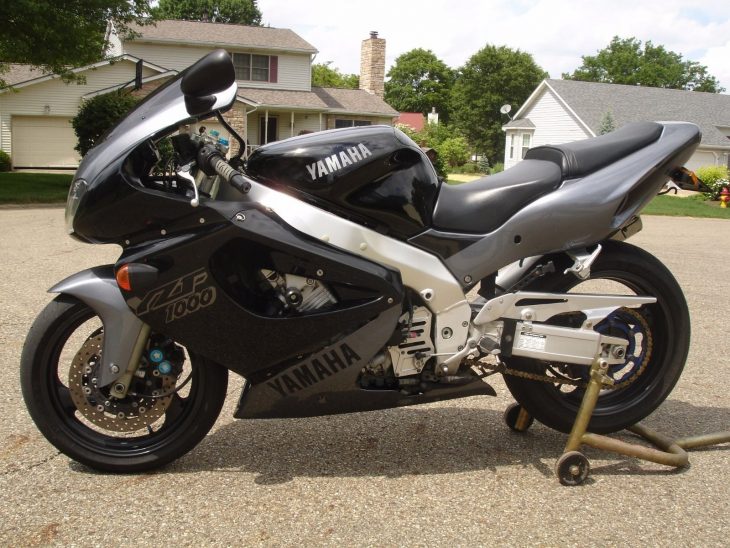 The EXUP-equipped, 1003cc, five-valve Genesis inline four engine produced 145hp and 73lb-fts of torque, enough to push the 435lb dry YZF1000 to a top speed of 164mph. Tuned for midrange rather than top-end power, the gearbox made do with just five speeds instead of six. That all may not scream "cutting-edge performance" today, but the potential is there: Bimota used the same package to motivate their YB11 with only minor changes to the tuning, and no one ever complained that it was slow. Brakes on the big YZF were excellent as well and carried over to the later, lighter R1 while the aluminum frame was an evolution of the Deltabox unit found on the YZF750R.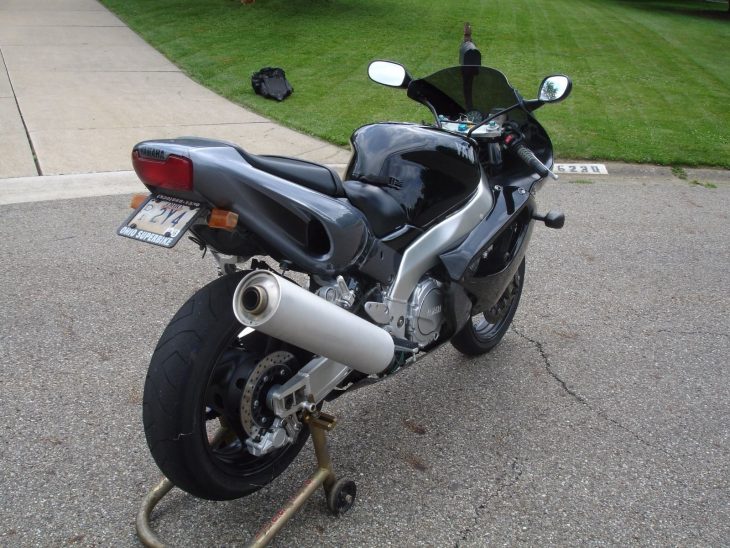 Styling is very clean in either the grey-and-silver seen here or the more traditionally Yamaha red-and-white, both mercifully free of the horrific early 1990s graphics that seemed to afflict every Japanese motorcycle manufacturer. It's not very exotic-looking, but very simple and handsome, an "adult" sportbike, and one seemingly owned by an adult in this case. Like the GSX-R1100, The Thunderace is a fast road bike or a sports-tourer with the emphasis firmly on the "sport" part of the equation, rather than than track-ready race-replica. It was followed by the YZF-R1 that pretty much rewrote the literbike rules, meaning the Thunderace is mostly forgotten today, although that's an advantage now, as prices are low, even for examples as nice as this.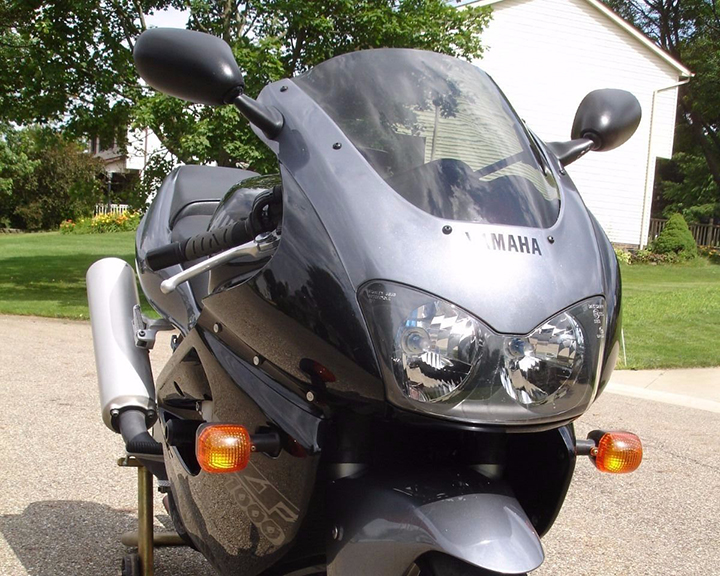 From the original eBay listing: 1997 Yamaha YZF1000 for Sale
It's time for my YZF1000 to find a new home. Of the 40-some bikes that I have owned over my lifetime this has been one of my all-time favorites. The decision to sell her was a tough one to make and I held out until now, but the time has come.

The YZF1000, or Thunderace as it's known in Europe, is a true classic that was only available in the US for one year. If you've found this auction you probably know what these bikes are all about and that the YZF1000RJ earned Sportbike of the Year honors in '97.This Ace is mechanic owned and in excellent condition.  It has never been crashed, dropped or abused and has been meticulously maintained.There are lots of extras on this bike that really make this one unique Thunderace, including some Over Racing Project parts straight from Japan.

Here is a list of the extra goodies:
• Ohlins rear shock
• Over Racing Project upper triple clamp
• Over Racing Project billet aluminum countershaft cover
• Over Racing Project floating rear brake assembly
• Custom made frame sliders
• Factory shift kit
• Lockhart-Phillips bar-end sliders
• Hand-made Goodridge -2 stainless steel brake lines
• Eurotail rear fender eliminator kit
• Lockhart-Philips carbon fiber tank protector
• Lockhart-Phillps carbon fiber dash cover
• 530 gearing conversion (from 532) with DID X-ring chain/ Pro-Tek sprockets

This is one nice bike with lots of extras. I took a lot of time and enjoyment in getting this bike perfectly set-up and balanced for about any riding scenario. Sport touring, commuting or carving up the back roads, this Ace will pleasantly surprise you! I also have the original factory service manual that will go along with the bike. I'll even include the matching set of Tour Master luggage that you see pictured in the one photo. Whoever gets this bike going to be extremely happy.

This bike will be available for free local pick up. Any shipping arrangements and expenses are the buyer's responsibility, but I will make myself available for whatever is arranged.

If you have any questions feel free to ask, I'm always happy to answer. The starting price is well below NADA value ($5,445) as is the reserve and BIN. I have maintained 100% positive feedback since joining eBay nearly 18 years ago, so bid with confidence! I'm a motivated seller, so all reasonable offers will be considered. Additional pictures are available upon request. As always, Good Luck and Happy Bidding!!

PS: Some of you local to the Akron/Canton (OH) area may even know this bike. Back in the day I used to ride it to work at Ohio Superbike Racing.
In general, liter-sized sportbikes from the Japanese Big Four aren't especially rare here in the USA, although it can be very hard to find nice, clean, original examples. But the YZF wasn't common at all here even when new and, as mentioned by the seller, was available for only one year. Honestly, I think I've seen more YZF-powered Bimotas than I've seen YZFs for sale in the past couple years! Mileage is extremely low considering the age and practicality of this beast: the seller even has one pic of the bike fitted with touring luggage! This example also includes a couple bits of Over Racing bling and some other tasteful and practical upgrades. There's very little time left on the auction, with the Reserve unsurprisingly Not Met with just a few hours left to go. Hopefully, someone will snap this one up and give it a good thrashing... I mean, home!
-tad