I'm going to have to figure out a new system for reader submissions with so many great finds hitting my inbox! I've started this posts twice already and haven't been able to finish it!
First my apologies to those who sent auction items that have since passed. We really appreciate your submissions and always try hard to get them listed, but the entire RSBFS team has been swamped with real world job duties.
But enough of that, on to the bikes that are still available that have been sent in by readers.
Jim M. has sent in two bikes, and they're both delicious in two very different ways. First is this . It has a supercharged Harley V-Rod engine!
His second submission is this very cool :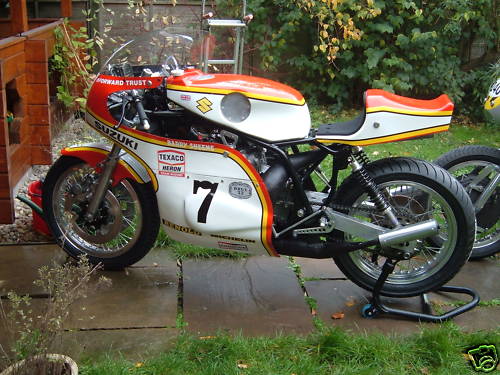 Andrew sent me this Ducati 999R for sale in Florida:
Will sent me this really well prepared FZR400 track bike:
Finally, Mike L. forwarded this beaut on: It's Aaron Gobert's Formula Extreme Championship bike from 2002-2003 fitted with an R1 motor and CA title!
Many, many thanks to the readers who have picked up the slack while we've been away! I've got a couple more posts to crank out that I hope to have up soon: RS250, another great collection becomes available for sale, and the RSBFS Holiday store opens Wednesday night. Stay tuned!
dc