Warning!
This post is in our archives. Links in this post have been updated to point to similar bikes available to bid on eBay.
Every post will be sent right to your inbox every morning when new posts are made. We will never sell our list or spam you. Plus you can click links to bid or buy right from the email and skip the site entirely. Subscribe to Rare SportBikes For Sale today!
For Sale: 1989 Martin Brune BMW K1
I've know I've said it before: I've got a thing for frame welds (like these). Actually, for most custom frames in general (reference this post). And this particular find meets both merits quite nicely. Given the rarity of a BMW powered Martin frame, it is hard to believe we see these bikes at all. First, let's check out the eye candy.
Georges Martin (Noted French frame builder, not legendary English musical producer) built motorcycle frames throughout the 1970s and 1980s. This particular bike is associated with Brune, a German motorcycle performance company. The kit was purchased from US BMW gurus Luftmeister (think turbo kits for Beemers), and hand assembled like any early spec Bimota.
From the seller:
This is an extremely rare BMW K1 powered, Martin Brune kit bike originally purchased from Matt Capri at Luftmeister. The frame and bodywork were delivered in 1989 to Henry Louie of Del Amo Motorsports for $10,500.00.

The bike was assembled, dialed in and shown at the Los Angeles Roadster Show the following year. The bike was ridden a few times over the next year and was then placed in the showroom at Big Twin BMW in Boise in 1992 where it had been on display for twenty years.

I purchased the bike from the original owner and brought it back to life in Janurary 2012. After replacing the fuel pump (using a new Triumph fuel pump), new battery, cleaned the injectors, fresh fluids, and the bike runs fantastic. $400.00 in fresh Avon Tires completed the refurbishing.

And now to the paint. As you can see in the photos, the paint and body work are superior in fit and finish. When the bike was dropped off in 1990 for paint, the original owner had laid out the color blocking and told the painter to source "BMW Motorsport colors". And that he did, but not the motorrad colors as expected but the car colors were used creating the combination seen here! The body work is flawless lending itself to an easy repaint.

Details:
– Full chromemoly, polished nickle frame
– Hand formed aluminum fuel tank
– Removable tail section exposing full two up seat
– Force Italia quick change front fork
– White Power rear shock
– PVM racewheels
– RB Racing Exhaust
– K and N Filters
– Full Brembo Brakes

This rare Martin Brune (Manfred Brown, builder, feels there may only be 10 left of the 50 he built) is worthy of a conversation via phone in hopes I may answer any questions and can provide the prospective bidder with a folder of information I have assembled for this bike.
As the seller states, the colors are classic BMW "M" motorsport colors – for the car division. These appear to be from a color palette not normally found in nature. The bodywork looks sharp, and I love the dual headlight design, but have to think it would be more attractive when sprayed in a more sedate color scheme.
The BIN for this particular rare K-powered bike is a very reasonable $9,500 OBO. That is not a lot of money for a pretty rare ride that rivals a kit-built Bimota, Harris or Spondon frame in terms of exclusivity and panache. This is the first bike I've seen of this custom class that has this kind of mileage (25k +), but that is right in line with the BMW heritage. For your chance to check out this custom framed Beemer, click the link and jump over to the auction. You won't see this one every day!
And just in case you don't believe that livery can make all the difference, here is a Brune BMW in more tasteful colors: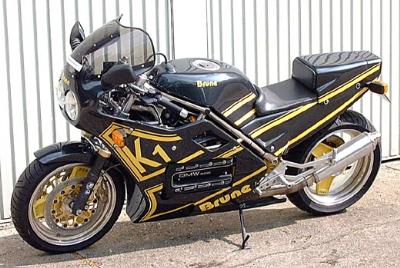 MI