In spite of their pedigree and style, these Guzzis are odd ducks. Or "geese," I guess. They're not really sportbikes: way too heavy, and a bit clunky. And they're not really designed for comfort, so they're not really touring, or even sport-touring machines, unless you start modifying them with HeliBars and Corbin seats.
Back when Guzzi's line of sportbikes was conceived, their air-cooled, shaft drive configuration worked on both road and track, but the game has moved on, and Guzzi's glacial technological development has relegated them to backmarkers in the sportbike game. Actually, since their absorption into the Piaggio Group, they're sort of out of that game entirely.
Although the clinical wail of a water-cooled four may be the Sound of Power, they're all a bit same-y, and that's where the Guzzi's traditional mechanical specifications pay off in spades: the clanking, throbbing engine and that longitudinal crankshaft, causing the bike to twitch right on the throttle. If you think it's odd on the sidestand, imagine it on the move! It's a bit disconcerting, the first time you feel it. You definitely get used to it, but that first moment of the bike rolling right slightly on the throttle has you thinking, "what the…?"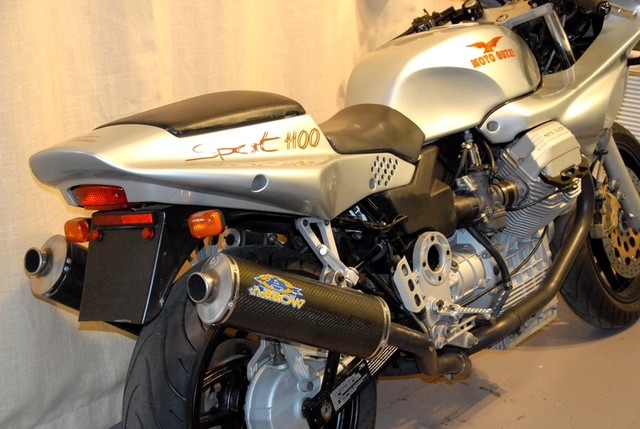 The thundering, shuddering v-twin is something you won't soon forget: the bike that hooked me on Italian twins wasn't actually a Ducati, it was a Moto Guzzi Sport 1100. I was walking in Burbank years ago when a bright, red beast thundered by and I thought, "Ah ha. Now I get it."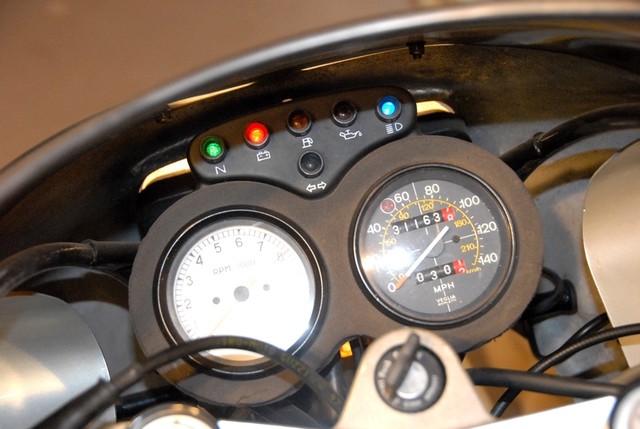 The original eBay listing can be seen here: 1996 Moto Guzzi Sport 1100 It's a dealer listing and there's not much information there, other than fine print in Legalese, but there are plenty of very pretty pictures.
Interestingly, Guzzi adopted fuel injection pretty early on for their bikes, but this Sport 1100 still has carburetors and looks very classy in silver. I actually hate the rectangular headlight on these US-spec models: some markets got a trapezoidal lens that compliments the sleek half-fairing and, once you've seen one with the proper headlight, it's hard to look at the front of these without cringing a bit.
Sport 1100s used quality suspension components and Brembo brakes, but they're a bit on the heavy side, minimal spine frame and bodywork notwithstanding: that huge powertrain package is just kind of a heavy lump. But on a Sunday morning blast up the coast, riding at 7/10ths, grooving on the spread of torque, high on boom, this kind of bike makes plenty of sense: charisma over raw power, finesse over absolute limits.
-tad