Location: Brookfield, WI
Mileage: 2,637
Price: Auction, starting $7,599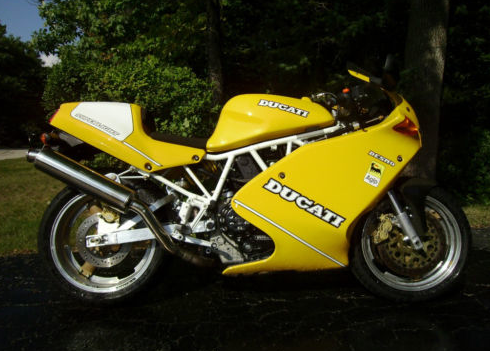 There's many a special Ducati that has been built over the years, and many get featured here at RSBFS. While they are all cool in there own way, I'm a fan of the Superlight. First, I like efforts in cars and bikes where builders are actually shedding pounds instead of adding them. It seems that with performance machines (especially cars), there's usually one direction to go in the weight department, and that's more. So when a company goes the other direction, I pay attention. Next, I love the yellow fairing, white frame and the weight-saving pieces (Mavic's, carbon fiber goodness). Maybe it's not traditional Ducati colors, but I just dig it.
Here's what the seller has to say about this machine-
Offered for sale is this fine example of a rare 1993 Ducati 900 SL (SuperLight) 

I am the original owner of this motorcycle which has only 2637 miles on the odometer. This is actual mileage. 

The bike has never been crashed, raced, abused or been at a "track day" event. 

It has been a part of my collection since new and now it is being sold to make room for new interests.

Though it has been lightly modified, all the original parts will be included in this sale. Please see the pictures to view the included parts.

This SuperLight is being offered with the following modifications:

– Fresh Tires ( originals will be included per the request of the winning bidder ).

– 39 tooth rear sprocket.

– Braided stainless steel brake lines.

– steering damper

– Fast by Ferracci 11.5 : 1 pistons ( runs just fine on pump gas )

– DynoJet kit

– K&N air filter ( airbox lid has been modified to fit )

– Ferrodo brake pads

– Tank Guard

Again,  the original parts will be included in this sale.

IMPORTANT – PLEASE NOTE: THE STAINTUNE MUFFLERS AND HANGERS PICTURED IN THIS AUCTION WILL NOT BE INCLUDED IN THE SALE BUT WILL BE  OFFERED IN A SEPARATE AUCTION. THE ORIGINAL MUFFLERS WILL ACCOMPANY THE BIKE TO THE WINNING BIDDER. 

PLEASE READ THE ABOVE AGAIN TO ELIMINATE ANY CONFUSION.  I WANT ALL PARTIES TO BE PLEASED WITH THE TRANSACTION.

The carburetors have been gone through by a professional and they meter and idle perfectly. The interior fuel tank, lines and fuel pump are all new and the interior of the fuel tank is shiny and rust free. 

I have ridden the bike for a few miles, it idles and runs with no issues. Everything on the bike works. The bike will likely need some miles put on to re-seat the brakes.

I have only lightly washed when it was taken out of storage ( as seen in the pictures – still wet ) . It has not been detailed- I will leave that labor of love to the new owner. It should clean up beautifully and show to a high level.

This is not a show bike, but rather, a very well preserved example of one of the last great two-valve, air cooled Ducati superbikes – with a pedigree , low production number, and desireable rarity.

The following is a list of some flaws:

– Corrosion to the banjo fittings and interior crimped ends of the external oil return lines ( likely stemming from an unnoticed battery spill ). This is hidden inside the fairing.

– A crack in the rear left turn signal lens. ( see picture )

– A repaired cracked tail lamp lens ( see picture )

– Some tiny nicks to the paint on the right side of the fairing ( see picture )

– Some typical haziness to some aluminum parts. This will all polish very easily.

– Typical age-related blemishes, only noted for descriptive accuracy .

 This bike, when detailed properly, should display at a very high level. It IS after all an 18 year old motorcycle – however having seen very little road use.

I will assist in the crating of the bike for shipment, and careful packaging of the parts, however:

All costs and logistics related to shipping will primarily be the responsibility of  the successful bidder. I WILL NOT ACCEPT RESPONSIBILITY FOR TAXES, DUTIES, VAT, CUSTOMS, EXPENSES OR ANY OTHER EXPENSES BESTOWED UPON THE NEW OWNER, OUTSIDE OF THIS TRANSACTION.  This is a non – returnable vehicle so I will work closely with the winning bidder to assure safe packaging and crating to assure a mutually beneficial experience. 

Questions? Ask.
And photos-
The seller highlights all the modifications and maintenance that have been done to the bike and says all original parts will come with it. It's also a bonus that this is a one-owner bike. All the history rests with one person. The mileage is low and the seller highlights the cosmetic and maintenance issues that exist with the bike.
Starting bid is $7,599, which is right in there for one of these beauties. Who knows where it will go from there. But if you have been looking for one, I think you owe it to yourself to check this bike out.
-RN