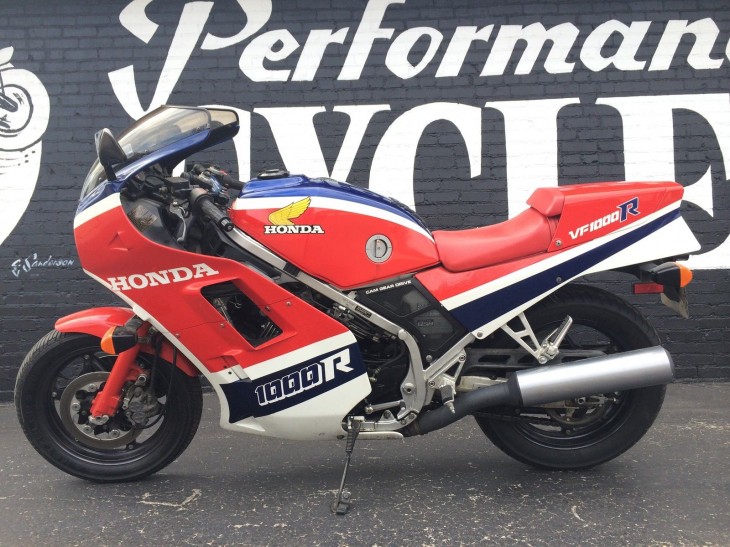 Honda's VF1000R was from a fascinating transitional period in sportbike design, as companies moved away from racebikes based on big, heavy roadbikes like the Wes Cooley Suzuki and Kawasaki ELR to bikes like the lithe and lightweight GSX-R and ZX-7. This hulking brute has the monoshock rear and fully-faired look of those later bikes, but scaled up to almost epic proportions. Clearly meant for endurance racing, the VF1000R was a technological tour de force that showcased Honda's technical brilliance, but ended up being less than the sum of its parts.
Powered by a 998cc V4 that made 117 claimed horses that could push the bike to almost 150mph, the bike was built to homologate bits for Honda's endurance-racing bikes, and included revised heads that chucked the "F" version's cam-drive chains for a set of precision gears. Other race-oriented bits included Honda's Torque-Reactive Anti-dive Control that used a mechanical system to increase damping under hard braking and prevent the "dive" associated with telescopic forks. Wheels were modular Comstar items that were, in Europe at least, fitted with new-to-motorcycling radial tires. Axles featured a quick-release system for faster tire changes during races, the rear disc was vented, and the bars were adjustable.
Unfortunately, the changes added up to a significant weight increase over the sport-touring VF1000F, and the bike weighed in at over 600lbs with fluids. 1985 models used a rectangular headlight designed to meet expected US safety standards that never materialized, and the 1986 bikes used the intended, dual-round unit set up that is generally better-looking and more desirable.
From the original eBay listing: 1985 Honda VF1000R for Sale
One owner! In great shape! 9600 original miles.

This bike is not only a great looking machine, but it runs very well too.  Recent  regular service, oil/filter change/plugs/ect, has been well cared for and is a one owner machine.   Always stored indoors and is not rusted or modified.  Controls, gauge, lights, ect are in good shape as the pictures will show.

An overview of this machine:  The VF1000r was patterned after the FWS "Works Bike" that Wise, Baldwin & Spencer used to race regularly.  This was Honda's effort to homologate an endurance racer. Full fairing (in fiberglass not plastic) with a single headlight lens and small vents on either side and two cute round tail lights out back, 16″ front wheel & 17″ rear wheel were of the NS/NSR style "Comstar" bolt together wheels, not cast (hub an rim where connected via bolted on struts), endurance racer spec. quick release forks, with the obligatory TRAC mechanical anti-dive mechanisms. Single rear shock w/ 2 sided Alloy swingarm, Gear driven cams, 4/2 exhaust. Color was typical Honda HRC colors – White base with lots of red (in fairing and on the front fender and forks) a small blue stripe and black wheels.

This is definitely a must have for your collection!
These show up on eBay from time-to-time, but are rarely in such quality, original shape. An eminently useable superbike, VF1000R's aren't the fastest things on the road, but they feature a wealth of 80's-tech details for Honda geeks and should offer plenty of real-world riding performance, accompanied by a howling V4 soundtrack.
-tad