Although displacement was technically a bit more than a liter, the first generation Suzuki GSX-R1100 really established the modern literbike formula: take a big inline four engine, and squeeze it into a 600 or 750 sized package. The philosophy that created the iconic Gixxer was initially tried out with Suzuki's GSXR400, and the result was so good they applied the same lightweight methodology to a 750cc machine, and the GSX-R750 was born in 1985, with the 1100cc version following in 1986. Frames of the 750 and 1100cc versions aren't identical, but are pretty similar, with the 1100 using thicker square-section aluminum tubing to increase rigidity and handle the extra power of the larger engine.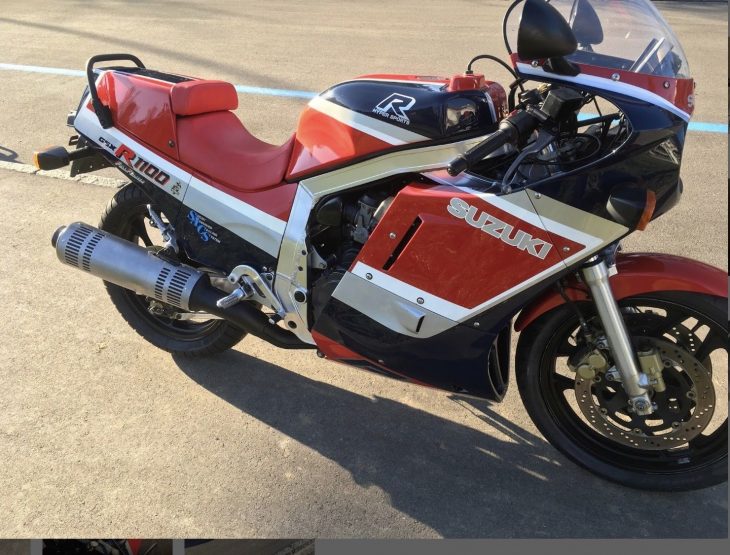 The 1100 engine actually displaced 1052cc and shared its SACS oil-cooling system with the 750cc version: in both cases, Suzuki avoided the additional weight and complexity that water-cooling would bring by using air and oil to keep the twin-cam, four-valve engine within appropriate operating temperatures. But the high-performance engine needed some additional help to keep from exploding, so the Suzuki Advanced Cooling System used a complex oil pump to circulate oil, lubricate bearings, cool the heads, and even featured oil jets directed at the bottom of the pistons. With 137hp on tap, the big Slabbie was a bit of a monster, as it had just 489lbs dry to push around. That's obviously not hugely impressive today, but keep in mind that the bike's 75lb-ft of torque isn't all that far off a modern superbike and meant that the big Gixxer could pull like a freight train.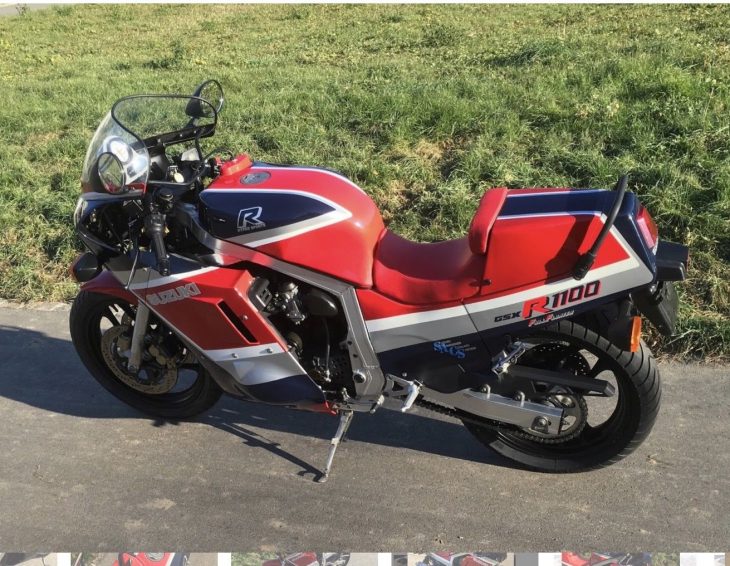 The 1100 wasn't exactly agile, but it did handle well for the time on its 18" wheels with tires that are laughably skinny by today's standards. The 1100 featured a set of sophisticated anti-dive forks and Suzuki's Full-Floater linkage rear suspension kept the power in check, while providing a less punishing ride than was typical of hard-core sportbikes of the era. A modern-ish brake set up with a catchy Deca-Piston name slowed things down for the next bend: a pair of four-piston calipers up front mated to a twin piston item in the rear meant ten whole speed-retarding pistons were on hand to keep you from crashing into a hedge when the world turned twisty after you got a bit too liberal with your right hand. It all added up to a bike that was a little on the heavy side, but one that offered good stability and world-class power, a wildly fast GT with Japanese reliability. Obviously, companies like Bimota used the same elements to create their lightweight road weapons prior to the introduction of the GSX-R, but Suzuki took that basic formula, added a dash of reliability, and brought it to the masses.
From the original eBay listing: 1986 Suzuki GSX-R1100 for Sale
Obviously the posted asking price is a silly one, but we are open to all offers that respect this motorcycles exceptional condition as well as its rarety and we will not scoff at anyones idea of what its value should, would or could be in todays international bike collectors market place

Suzuki GSX-R1100 No. 1 Details

This mid 1985 build / 1986 first registered Suzuki GSXR-1100 was one of the centerpieces of our small private collection and is one of just a handfull of bikes left from said collection which we have been dissolving this past year, mostly due to age and health related reasons and because we are consolidating all our personal items and scaling back from multiple locations to just one place to live and because we are giving up our motorcycle hobby alltogether

This is not a 'normal' motorcycle in 'average' condition so the text describing it and this sale's particulars might be somewhat different than what one would normally see in a listing here on Ebay. Please go to our Seller Feedback Rating to see what previous buyers have consistently been saying about us in the past 17 years in regards to every single item we have sold here on Ebay

The first GSXR 1100 was a groundbraking motorcycle in more ways than one, it started the era of large displacement, light weight Superbikes in the mid-80-ies

Being able to own an original, genuine, verifiable with factory documentation, unrestored Vin-1/Engine-1 vehicle of any type, make or model has got to be at the top of most collectors list of must-have's.

The vehicle being a top displacement model from one of the major motorcycle manufacturers should make it even more desirable

Details:

Mid-1985 build earliest prototype Suzuki GSX-R1100 in existence

Was the secret 'Star' in our small personal bike collection for many years

Verifiably a genuine Serial No.1 and Engine No.1 motorcycle. One of a small number of GSX-R1100-eds build by hand in the factory to set up the subsquent 1986 assembly line production run. This motorcycle was build with a handmade, prototype frame, on a prototype frame jig and it contains many one-off features and components.

Details on request in person would be best; to list just a few major ones:

This GU74 series bike has the early prototype exhaust without the toe-heatshield, it also has the early version clutch cover without any oil-amount stamped in the specific location where all other bikes have the cc amount stamped in

It has the correct, prototype-only all metal footpegs for rider and passenger since the rubber/metal type was not yet ready for use. It has all the original bodywork pieces mounted, in the original factory paintjob.

Some of the panels have some lines and colors that do not really match and line up correctly and do not match any other painted-alike original bike of the same type.

There are many more differences and details on this special bike,

too much to list them all here in this basic description

A correct and proper title exists for this motorcycle as does its original November 1985 first print Din-A5 owners manual.

Also present is the correct, original and super rare 4-language, first edition spareparts manual, printed in Dezember of 1985 in which this specific motorcycle's exact Vin Number is listed as the starting Vin for the entire series of GSXR 1100 bikes for the next 3 year production run.

Four original sales brochures including the first edition english market version with print date of December 1985 are included in the memorabilia folder. The original keys, 4 correct A27 dark tinted turnsignals, the original toolkit with the rare Suzuki air gauge in its pouch, used for fork pressure and tires and the original GSX-R prototype factory display stand for motorcycle shows complete this offering.

We have owned this motorcycle for many years and have done a lot of research into the history of these early prototype GSX-R 1100-eds (the GSX-R750 also had some early prototypes build in the factory in Japan, none of which we have ever seen come up for sale in the past 15 years)

We have never seen any prototype GSXR-1100 for sale, they were not supposed to be sold to the public, being used mostly for press events, cycle shows and as photo models for the many different manuals and brochures. They were also being returned to the factory after they had been used for all these events and most of them were destroyed

Rumors of an early prototype 1100 existing in the UK in a private collection have so far not been confirmed. In any case, the bike offered here for sale is one of a kind, completely original, never repainted, never restored, exceptionally well kept up mechanically as well as cosmetically and should deserve a place in a serious motorcycle collection or possibly a private museum of some sort. It was ridden extensively in its 33 years, but always cared for and babied to keep it in this exceptional condition

We have prepared an online photo album showing this motorcycle in detail in more than 100 high quality images that might be of interest to a serious collector.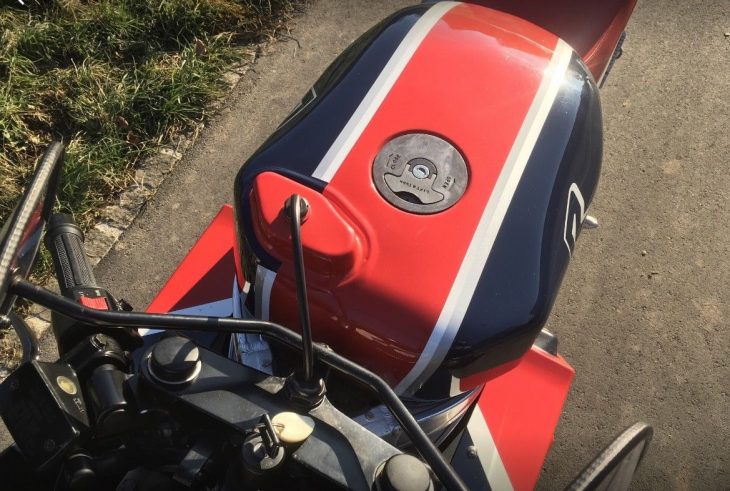 The seller mentions the "silly asking price" and $250,000 [yes, you read that correctly] is certainly silly for anything short of TE Lawrence's Brough Superior or a MotoGP bike in rideable condition with a truckload of spares. But they're just putting that out there, and are open to offers. Which is a good thing because, as cool as this is, I doubt it's worth anything near $250,000. Obviously, a rare bike is worth whatever someone is willing to pay for it, but I get the feeling that only a very particular sort of collector will want to pony up, since although it's rarer, it's also a little bit cruder, from the seller's description. The question is: what is it worth? Well, nice original "slabbie" GSX-Rs sell for around $7,000 or so, with only the GSX-R750 LEs really getting much higher. This one could obviously worth much more, being a prototype machine and the very first registered example of a bike that pretty much defined the modern superbike. I'll be curious to see where it ends up.
-tad