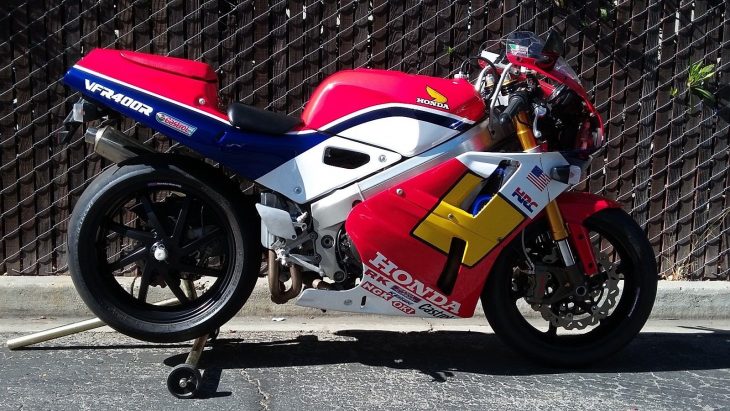 The Honda NC30's handling leaves little to be desired as it left the factory, but everything can be improved, especially after a long parade of years and technological advances.
The current owner of this 1990 Honda VFR400R left well enough alone with the engine, but brought its suspension, brakes and rolling stock into the 21st Century. The most obvious change is a set of USD Showa forks from a builder in the U.K., capped with a set of radial Brembo brakes.
To keep up with advances in tire tech and modern sizing standards, the original 18-inch rear wheel was replaced with a freshly powder-coated 17-inch item. The bike now wears a decent set super sticky of Pirelli Super Corsas.
From the eBay listing:
This is a very nice and very rare (in the U.S.) 1990 Honda VFR 400 R (NC30). It comes with a clean California title and street registration transferable into the new owners name.
The bike has undergone a mild restoration with some very tasty bits of up-grades and equipment mods. The bike runs perfectly, with no know issues.
1. New bodywork painted like Freddie Spencer's G.P. winning bike from that era.
2. Front Showa USD forks and billet Triple trees from Rick Oliver (from the U.K.)
3. Brembo Billet brake calipers (front and rear)
4. G.P. style rear brake caliper hanger.
5. New drop-down style, clip-on handle bars.
6. New chain and sprockets w/520 conversion.
7. Wave rotors front and rear.
8. New brake pads.
9. Freshly powder-coated wheels.
10. New Pirelli Super Corsa tires.
11. New aluminum radiators with blue silicon hases.
12. New turn signals with clear lens.
13. Billet gas cap.
14. All fluids drained flushed and replaced.
15. Recent tune-up including new spark plugs, air-filter, oil-filter, etc..
16. Steel braided brake lines.
17. Rear wheel changed to a 17 inch to accommodate todays better choice in tires.
18. Rear linkage (Dog-bones) changed to correct rear ride height.
(also includes all stock parts that were removed, forks, rear wheel, rotors, etc..)

Can help with shipping, but up to the buyer to make all arrangements.
I reserve the right to end auction early as I have it listed for sale locally also.
call w/questions (650) 322-2211 -joe-
The price of the bike is commensurate with the cost, time and extent of the mods, which pushes it well past the cost of entry for a modern 600, which would still be the faster machine. With this NC30, you for sure will be paying for the panache, rarity and street cred.