The GS1100ES was the last-hurrah for Suzuki's twin-shock sportbikes, a forgotten middle child sandwiched between the classic, Wes Cooley era GS1000S and the modern icon GSX-R. But for a few years, this was as good as it got.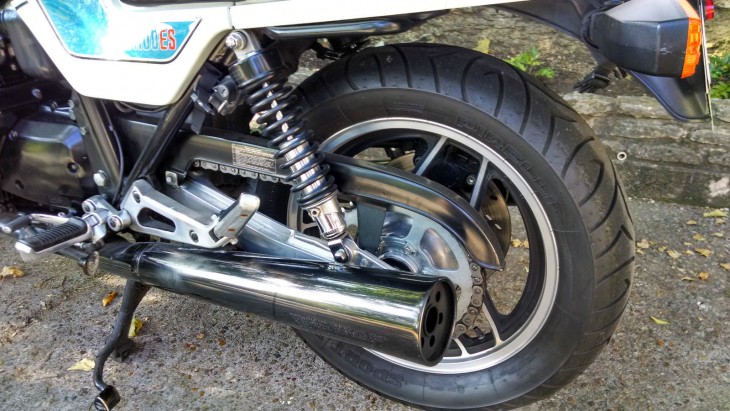 And it established the template for the later GSX-R: it wasn't the most powerful bike, but it was light, stiff, and powerful enough, and provided a complete performance package. That complete package impressed the motoring press at the time, and it fared well in period tests, even against its more striking stablemate, the Katana.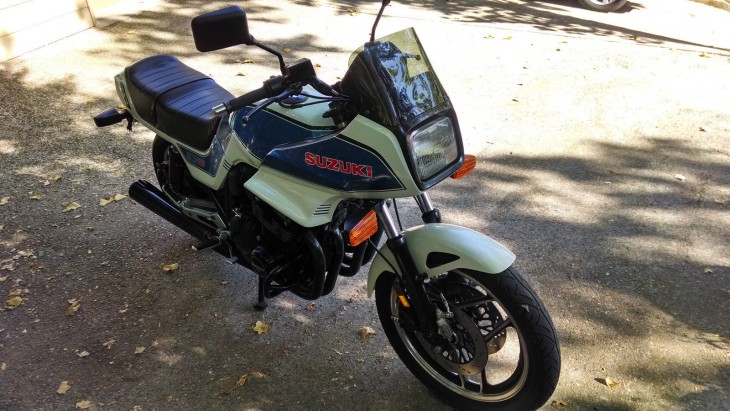 This was the first Zook with 16-valve cylinder head, although it featured "shared cam lobes" that used forks to actuate a pair of valves each. A narrow included valve angle and specially-shaped combustion chambers led to a more efficient burn of the fuel-air mixture. Although the technology was not unique to Suzuki, they of course had to come up with a cool acronym for it, and dubbed it "TSCC" for "twin swirl combustion chamber."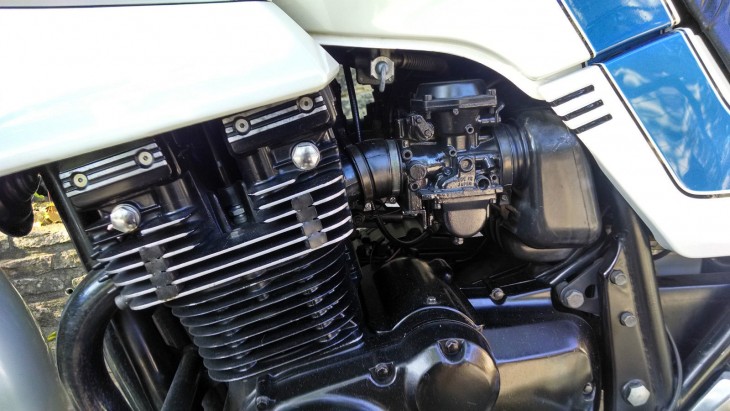 The 1074cc engine put 108hp through a five-speed gearbox. Interestingly, the dash includes a gear position indicator, although I don't think you're too likely to find yourself selecting the wrong cog, considering the flexible power on tap.
The frame was conventional, but very stiff, allowing the suspension to provide the rider with good feedback and control. More a marketing gimmick than real performance items, anti-dive forks were added in 1982 and are clearly visible in the photos, but the bike handled well enough without them.
From the original eBay listing: 1983 Suzuki GS1100ES for Sale
Up for auction is my well-preserved 1983 GS1100ES Superbike.  This was the machine to beat in 1983 with the final version of the bulletproof 1100 16 valve motor.  These motors are still used extensively in drag racing.  The GS1100ES helped start the true sportbike era with a small frame mounted sport fairing, lower than standard bars, and slightly rearset pegs. It was serious machinery in 1983 (having owned one back then I agree!).  This one runs and drives very well and has clearly been well cared for over the years.  It's hard to find one that hasn't been piped and jetted and beat to a pulp.  

Paintwork is original, except for side covers, knee fairings, and seat cowling which were professionally repainted.  All paint is in  very nice condition with very few minor chips and no fading.  Seat is original.  Frame and motor paint is very nice, wheels are clean, and pipes are in good, but not excellent, shape.  Recently serviced with oil change, air filter, plugs, valve clearance adjustment, carb cleaning and brake fluid flush.  No oil or gas leaks, tank is clean inside.  Rear tire is new, front is several years old but has good tread.   Several NOS detail pieces like new mirrors and grips.  Comes with original owners manual and toolkit. I removed the Lockhart lowers after purchase and stored them.
The listing also includes an extensive list of upgrades and maintenance performed, so pop on over to take a look.
Those fairing lowers, as the seller mentions, were not found on all bikes, but really complete the look and give the bike a clear place in the progression from GS1000S to GSX-R and beyond. I've never actually seen one with these fitted, and I think they make the bike.
The bid price is still below $3,000 but the reserve has not been met. There's been plenty of interest so far, but there's still time left on the auction if you want to scoop up this somewhat forgotten bit of superbike history.
-tad