Warning!
This post is in our archives. Links in this post have been updated to point to similar bikes available to bid on eBay.
Every post will be sent right to your inbox every morning when new posts are made. We will never sell our list or spam you. Plus you can click links to bid or buy right from the email and skip the site entirely. Subscribe to Rare SportBikes For Sale today!
For Sale: 1975 Rickman CR frame kit
Different strokes for different folks. We all know that Ian can spend hours looking at illicit pictures of radiators, but for me it is all in the frame welds (like these). And when it comes to frames, few are as famous as those welded up by the Rickman brothers of the UK. Delivered as a frame/swingarm + bodywork kit in the 1970s, Rickman frames were legendary for their handling prowess.
This is a CR series frame, built to accept a Honda 750cc inline four. The donor bike of the day would have been a CB750. CR frames were also made for Kawasaki engines with the 900cc & 1000cc engines being the choice for the bigger bore rider. We have posted a few completed Rickmans on both RSBFS as well as CSBFS, so be sure and check out what the finished product might look like to get some inspiration.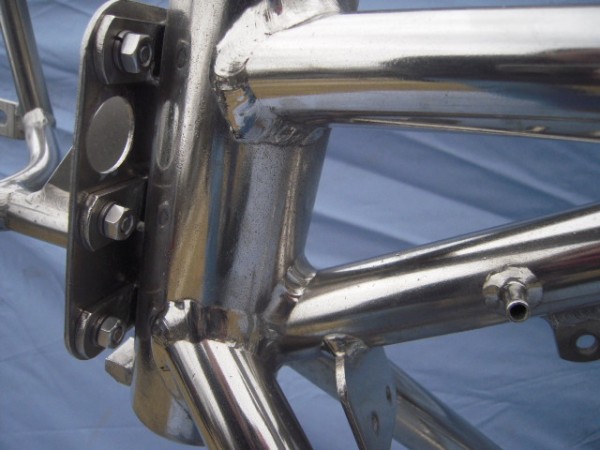 From the seller:
Unbelievable and rare find, original circa 1970's Rickman CR nickel plated frame for the Honda CB750 SOHC along with the nickel plate swing arm and the original fiberglass tank, seat and rear fender. PLUS correct near mint 38 mm forks and headsets with dual brake disc monts, Lockheed dual front brake calipers and Lockheed brake master cylinder Plus Lockheed rear brake caliper Plus Rickman rearsets and misc parts along with some plates and misc fasteners. The nickel plate is in outstanding condition and just a little needs polishing with NO heavy pitting. No cracks in welds or any of the frame and no bends or problems and never had a repair done to it. Has concentric adjustable swing arm. Original fiberglass gas tank and seat and rear fender were repainted at one time very poorly but you can see the original orange paint under it. The tank had a repair done near a petcock. No other cracks or repairs on any of the pieces. Alloy fuel cap and original petcocks. Ready just as the original kit was to put wheels, engine and misc bits off your CB750 and have the Rickman of your dreams. Will work with any year SOHC Honda CB750. I have shown a photo of the completed bike but you are just purchasing the frame/swingarm, tank, seat and fender and misc parts shown. I have seen other Rickman bits including a Rickman chain guard as well as other parts that sold recently on eBay UK and USA. Offers considered but really, when will you get a chance at another? especially one that does not need re-nickling.
Unbuilt Rickman frames in kit form do not come our way often. If you are looking for that perfect summer project – you know, the one that allows you to spend long afternoons in the shop working on something unique and fantastic – this might just be for you. There is adequate info on these bikes and plenty of pictures of completed projets on the internet. You are not alone, and yet you will have something completely personal to you when done.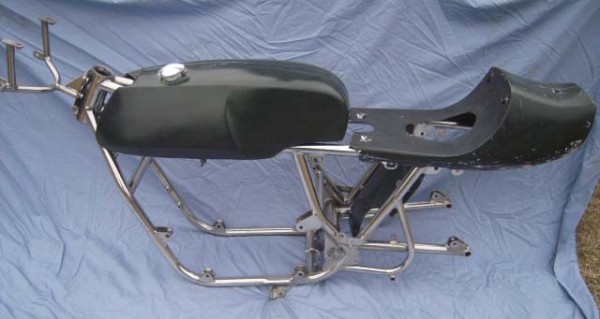 The parts list included with this auction is pretty impressive: the frame and swingarm, along with a tank, seat pan and rear cowl area. All of the fiberglass looks like it could use some serious prep work, but that is all part of the build, right? This auction also includes a front fork, period correct dual Lockheed disks and Rickman rearsets. The Rickmans I have seen all have some sort of fairing (and they do seem to differ), so that is one major component that you will still need to source.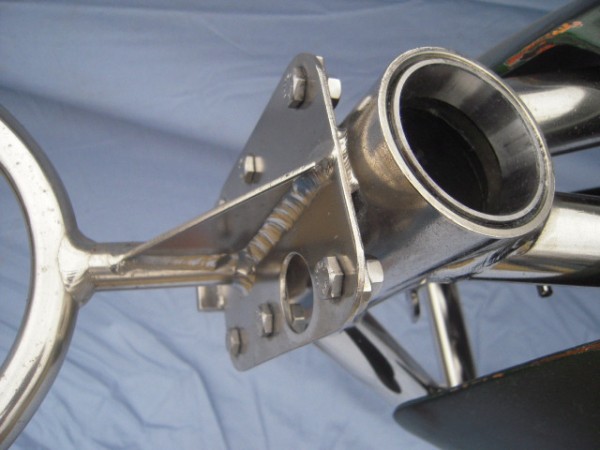 The only thing standing in the way of you and your new Rickman CR project is this auction. The seller is looking for $7k OBO, which might sound pretty steep considering the number of completed Rickmans that we have seen for that sum. But if you want to build your own and are willing to pay for the priveledge, this is a great opportunity on some rare pieces. There are some great pictures and lots of detail from the seller, so click the link and jump over to the auction. Good Luck!
MI