Warning!
This post is in our archives. Links in this post have been updated to point to similar bikes available to bid on eBay.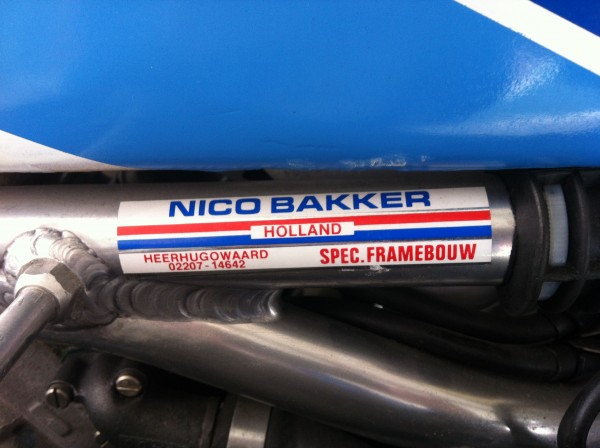 I recently spent some time in the European offices of RSBFS and had the immense good fortune to tour Bakker Framebouw – the shop of legendary frame builder Nico Bakker. Located in a small village an hour or so north of Amsterdam in Holland, Bakker Framebouw has been constructing racing and roadbike frames since the 1970s. From the smallest 50cc racers to GP World Championship 500cc contenders, Nico Bakker has built them – and won.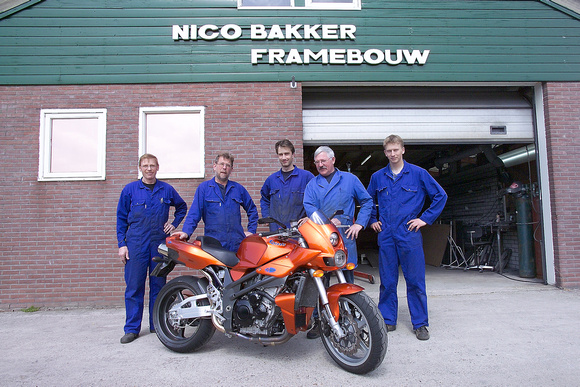 You might be familiar with Bakker Framebouw from their consultant work with BMW on various telelever chassis designs as well as the stillborn boxer Superbike project, or perhaps the stunning and most current generation of Laverda, including the frame design for the Ghost Strike 750. It is reported that Nico was also responsible for the first single-sided rear swing arms for endurance racing. The picture above is the entire team launching the Grizzly – a naked bike designed around a GSX-R 1100 engine and transmission. Nico is standing second from the right.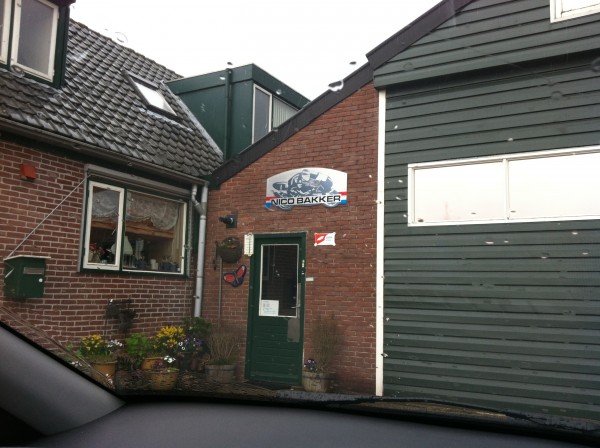 The Bakker Framebouw workshop is a set of unassuming buildings set next to farming fields and canals. The entrance is a testament to past victories; a trophy case filled with racing spoils and a number of race winning bikes fills the vestibule. Beyond that, the work environment beckons – with lifts containing Moto3, Super Single, historical endurance bikes and restorations.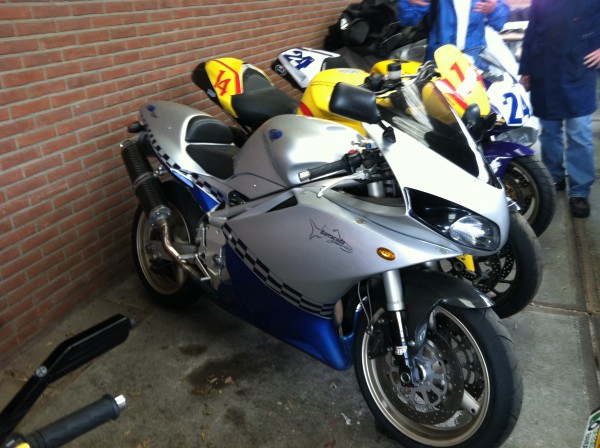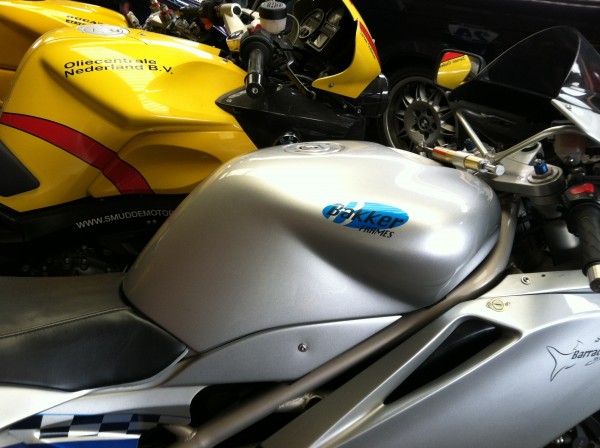 The world of a boutique motorcycle constructor in a small Dutch community goes far beyond bikes; with the ability to weld nearly any material, Bakker Framebouw might be called upon to repair anything, including farm machinery. When I was on site, one of the members of the staff was carefully TIG welding a repair to a lightweight wheelchair – with as much care and skill as would be applied to a racing frame. The team also builds mountain bike frames, performs alloy wheel repair and takes on restorations; during my visit the team was bringing a vintage Kriedler back to life. On another table the shop was building a new frame based on vintage specs for an endurance racing team. There was certainly a lot going on!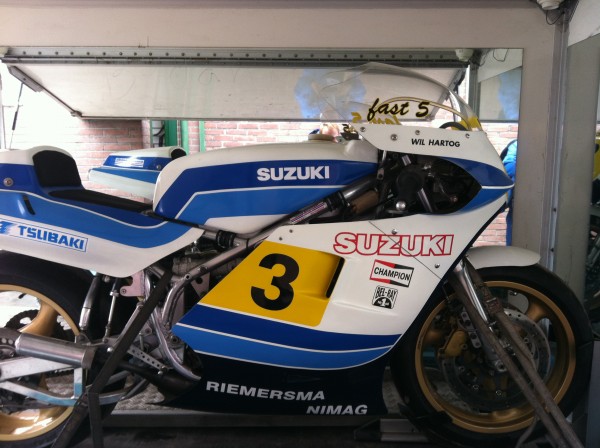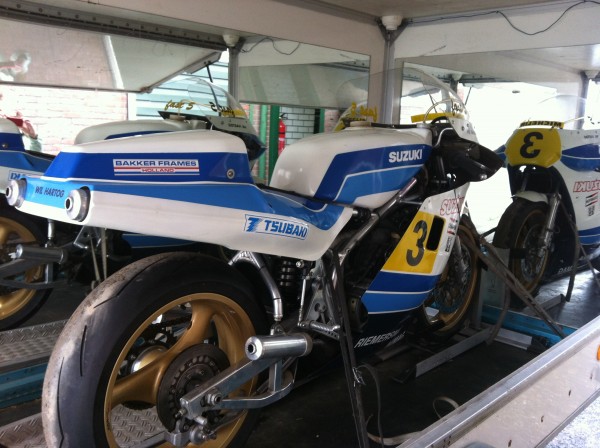 The Bakker shop has constructed race winning 500cc GP bikes, based on the Suzuki RG500 engine. In that top class, Bakker has won multiple times with 1970s and 1980s Dutch hero Wil Hartog. The Bakker shop still has one of those race-winning bikes, and the the craftmanship is simply breathtaking. The design of the frame and the lay of the welds are something worthy of a museum. Thankfully, this bike has been run in anger, and continues to do so at various events throughout the year.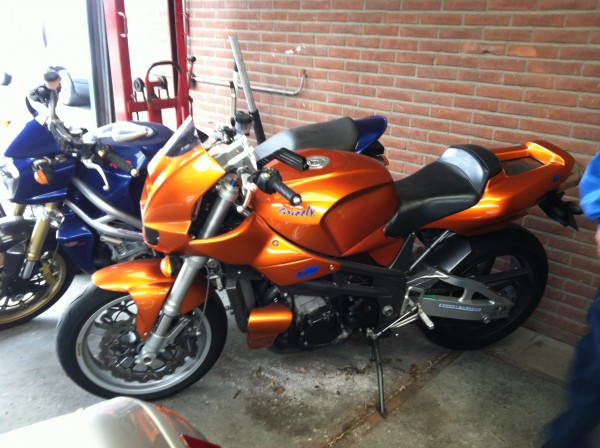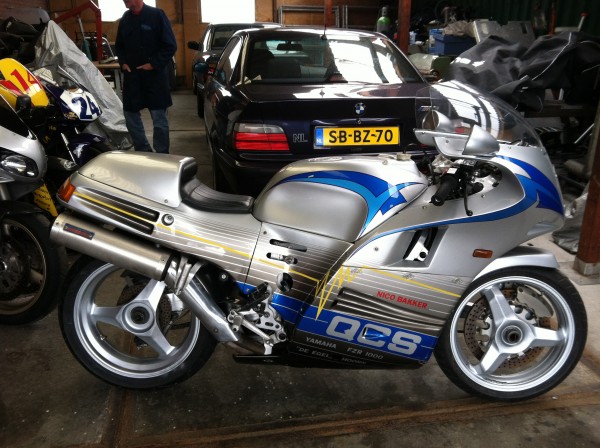 The shop also had some road going designs on hand, including a Grizzly, a Barracuda (based on a Suzuki TL1000 engine) and a QCS (Quick Change System – built around a '88 Yamaha FZR1000 powerplant). These were customer bikes, but as Bakker Framebouw has the ability to build any of their designs (including older race bikes), they can build one for you to order. Given the current exchange rates, this might not be a terrible idea. I can promise you that you will not be dissappointed by the craftsmanship.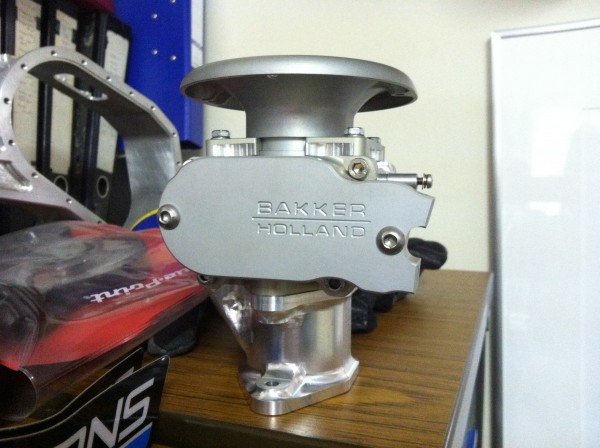 Here is a quick video tour of the shop, with Nico Bakker presenting. This was not from my visit – and it is in Dutch – but you get a great look at the shop and their capabilities. Enjoy!
Undoubtedly this visit to Bakker Framebouw was the highlight of my stint at the European correspondence desk of RSBFS. The staff was very warm and friendly and they even spoke English – which is lucky as my Dutch is pretty much nonexistent. I was able to view current projects – such as the Moto3 machine – as well as completed road bikes like the Grizzly, Barracuda and QCS. Next time I go I will bring more money and return to the US with a REAL souvenier from Holland. Thanks to Nico and Iwan for their outstanding hospitality!
MI