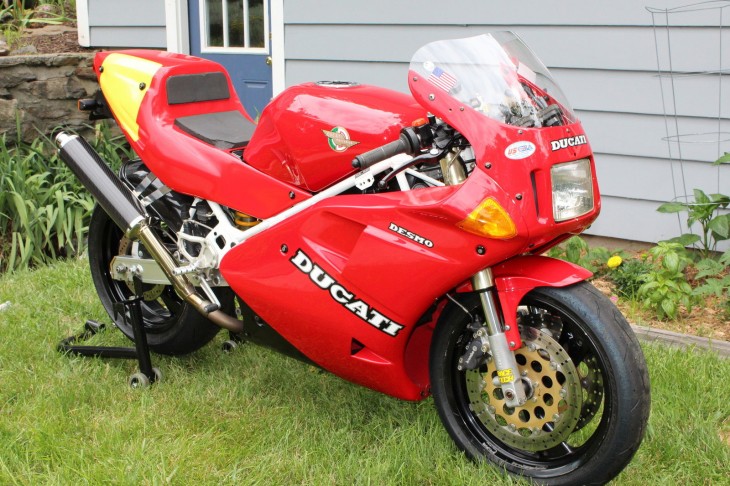 While Ducati's MHE and 900SS may be collectible and iconic now, they were seriously long in the tooth by the time they were discontinued, and even the Pantah-engined SS didn't exactly offer cutting-edge performance when new. In order to keep their racing heritage alive in any meaningful sense, Ducati needed a top-shelf sportbike like the 851 that could compete successfully on track with the best bikes from Japan.
In 1987, Ducati released the 851, which took the proven foundation of the air-cooled two-valve 90° v-twin motor and added liquid-cooling and brand new four-valve heads for a serious performance upgrade. With chunky styling from Pierre Terblanche, the new Desmoquattro thumped out 93hp to the rear wheel along with a wave of torque when compared to the screaming fours favored by the Japanese manufacturers.
And it worked: the 851 paved the way for the 916 and helped return Ducati to the spotlight in World Superbike competition and showed that the Italian brand had value beyond nostalgia and "character."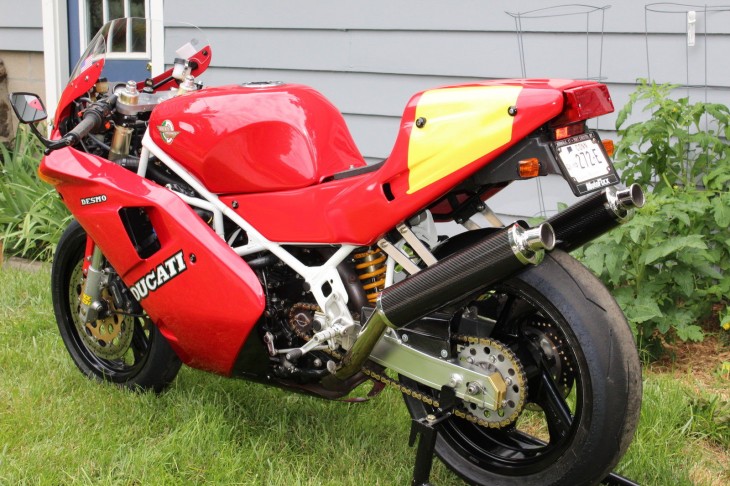 This particular bike walks a nice middle-ground between "time-capsule original" and "race bike." If you're interested, the seller also includes a comprehensive list of the upgrades made to the bike. From the original eBay listing: 1991 Ducati 851 for Sale
Excellent Condition – Well Maintained – Ready to Ride or Vintage Race

I bought this Ducati about five years ago from a local neighbor that had taken it, and a mid seventies Corvette, in part exchange for his services, at the time it had approximately 5,800 miles.  The bike had been garaged in Westchester County, New York and had not been ridden for quite a while, but was in very nice original condition.

I had always admired the 851's and thought it would make a great vintage road racer, so I went through the bike with that goal in mind.  The following was done to the bike: new fuel pump, had the gas tank restored (the paint is beautiful), belts replaced, valves adjusted, throttle bodies synched, Ferraci race chip installed (all work was done by Razee's in Rhode Island), sent the forks to RaceTech for a re-valve and spring upgrade, upgraded the front wheel to the later model, larger diameter front axle, installed Pirelli Supercorsa tires, Sharkskinz solo seat.

Upon completion I rode the bike at a couple of track days, did the VRRA vintage festival at Mosport in Canada (it was a real treat to ride this Ducati on such a famous track), did the USCRA Vintage Festival at Loudon, New Hampshire and the AMA Vintage Festival at Mid-Ohio.  About a year ago, I decided to put the bike back on the street and registered it as a vintage motorcycle.  Since putting it on the street I have only ridden it less than 100 miles.  So all total, I would say I've really only put about 500 miles on the bike.

This Ducati is a blast to ride, looks great and always gets a lot of compliments.  The speedometer is not working as I needed to replace the metal tang in the front wheel and the front brake light is not connected.  It's probably one of the cleanest 851's you'll see and will not dissappoint.  All of the original 1991 body work is included, seat, side panels etc…  The 851's are now becoming sought after collectibles and are eligible for vintage racing with organizations such as AHRMA, VRRA, USCRA and the AMA.
There are plenty of 851's out there, but this one is particularly appealing to me, featuring a combination of thoughtful, real-world upgrades [as well as the original parts] designed for performance, not wow-factor or the typical Ducati bling you find on more recent bikes: this one is made to run, but is well cared for as well.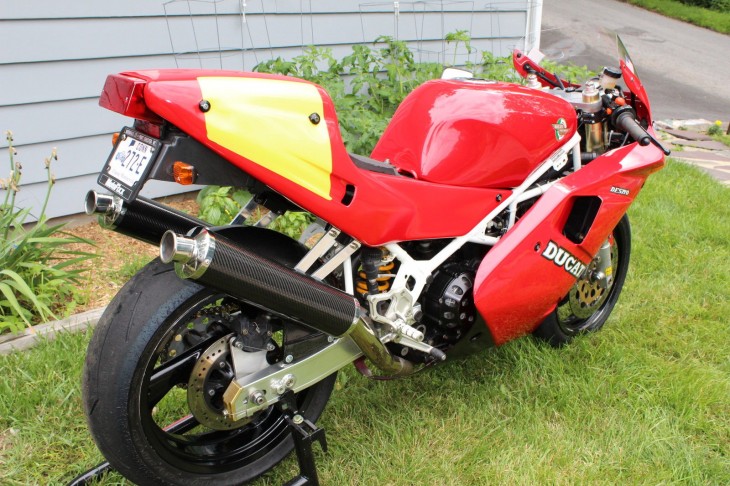 With all the hype surrounding the 916, the 851 and 888 definitely have been overlooked for a long time. Although there have been some hints that might change, we're still looking at a starting bid of $5,000 you could be looking at a collectible modern classic that offers track-day thrills for a reasonable price.
-tad