Warning!
This post is in our archives. Links in this post have been updated to point to similar bikes available to bid on eBay.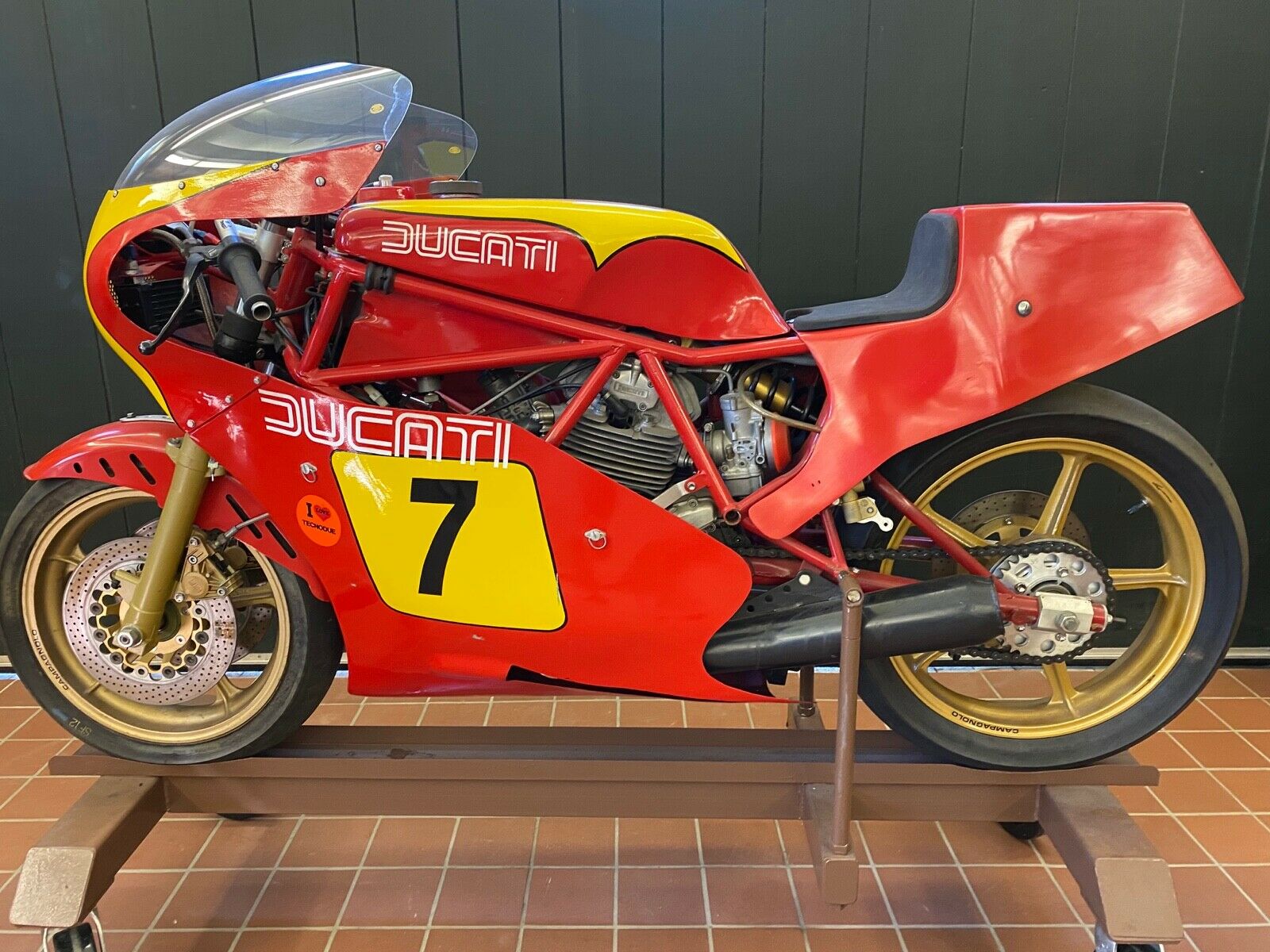 If the RSBFS faithful required additional proof that Ducati is a racing company that also builds street motorcycles, I give you the curious case of the TT2. Wildly popular with racers due to its small and lightweight stature, decent torque and power and impeccable handling, the TT2 was a mere 600cc of Pantah-powered goodness that became the genesis for the fabulous 750cc F1 racer (and street bike) that followed.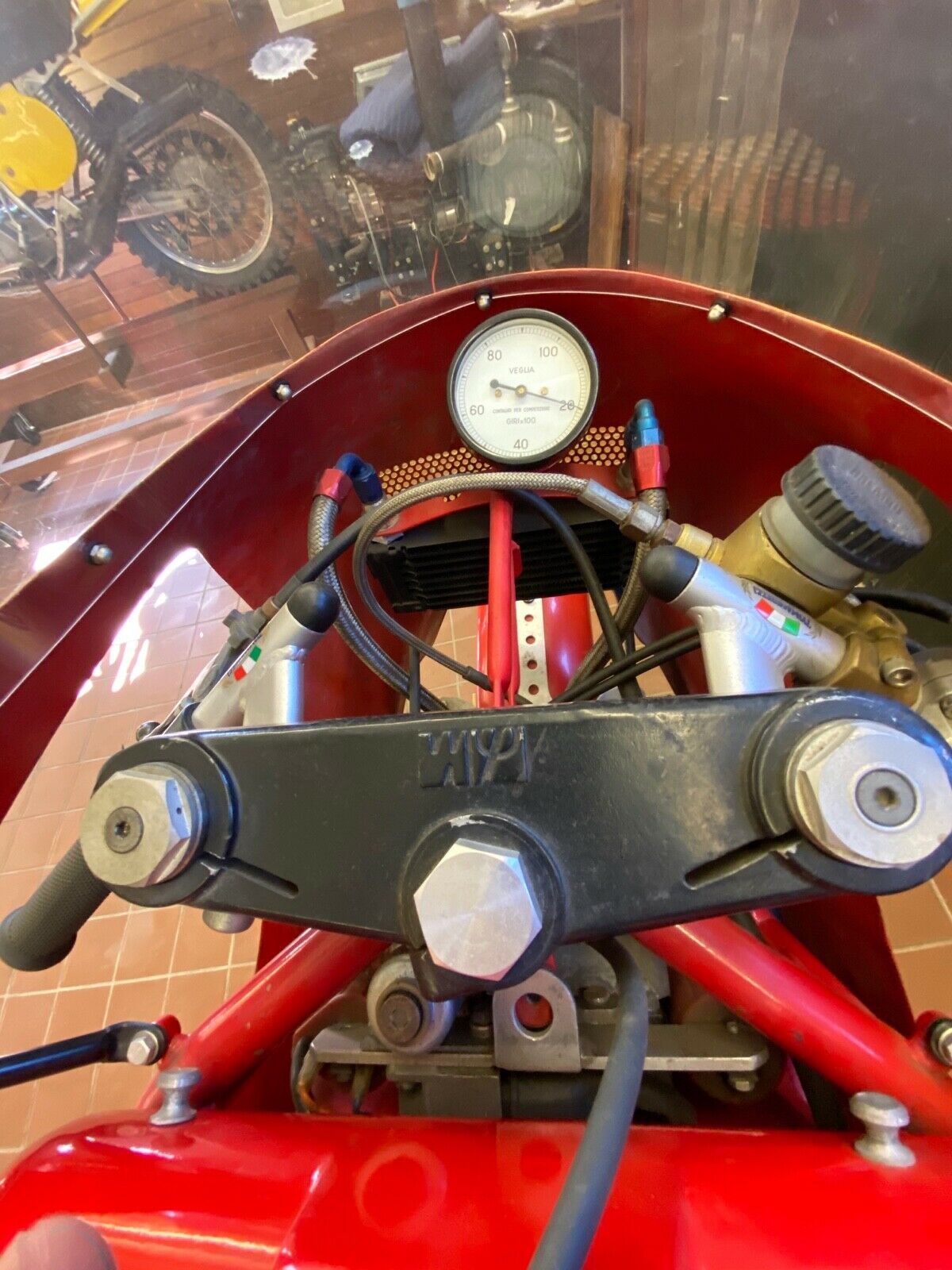 The foundational underpinnings of the TT2 include a surprisingly lightweight frame crafted by Verlicchi. If you look closely you will note several familiar elements, including the straight tubing trellis construction. This should not be shocker given that the entire project was headed up by noted Ducati designer Fabio Taglioni. The resultant package looks not unlike a 1980s Bimota. As a racer the Pantah motor is air cooled, but there is an oil cooler mounted high up behind the fairing to augment temperature control. Standard issue suspension was a very Italian affair: a fully-adjustable Marzocchi fork up front and a Paoli monoshock at the rear. Handling was quickened by the optional use of a 16″ front wheel. If all that goodness isn't enough, this bike has some honest track creds and star power in the form of Isle of Man expert and 7 time TT race winner Tony Rutter.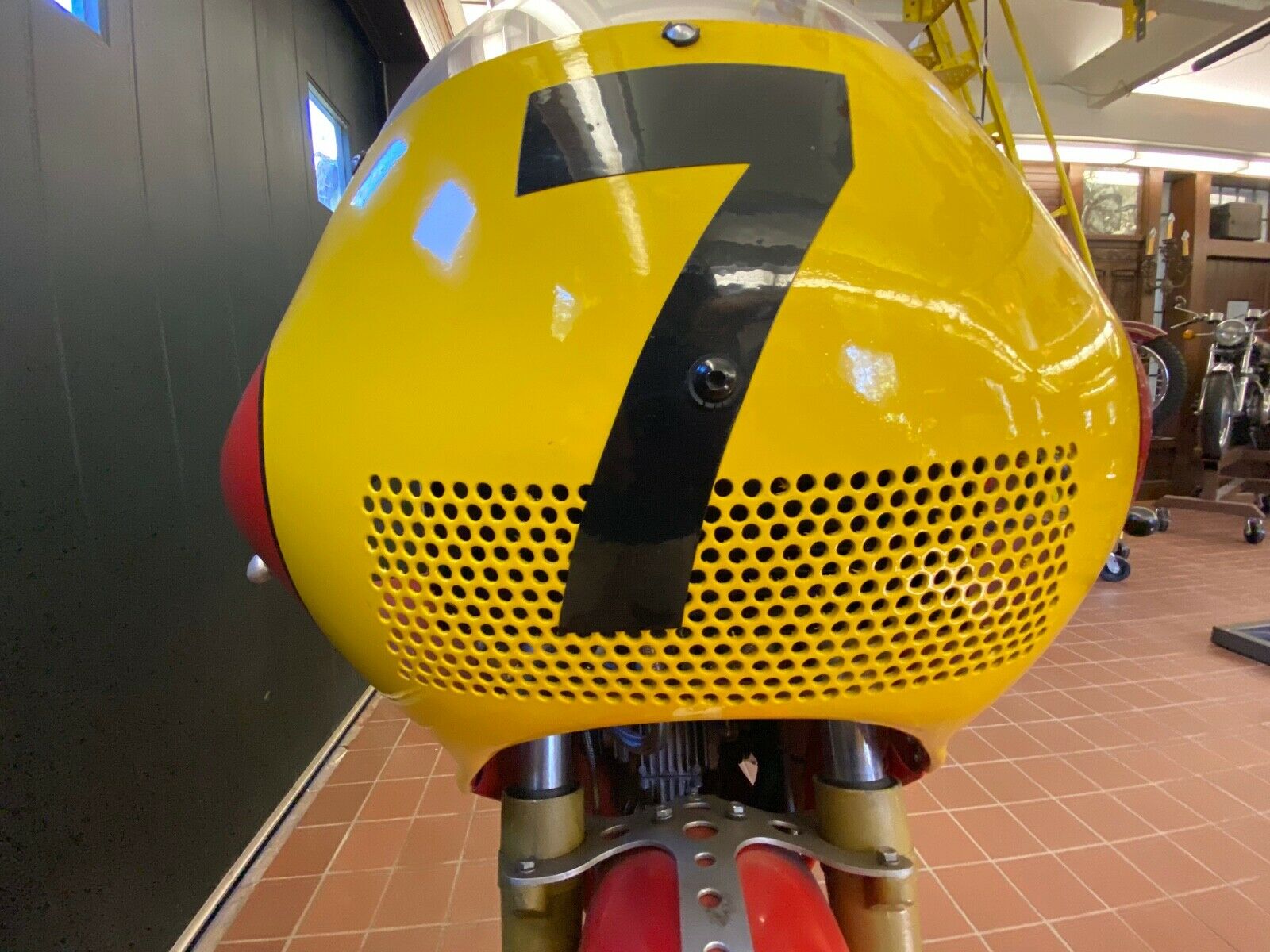 From the seller:
Purchased directly from Tony Rutter after the IoM and properly stored for the last 40 years You can look at the head stock VIN stampings this frame has never been repainted. The bike has never been crashed. Underside of fork legs and axle nuts area ll clean no signs of road rash. Bike is full of works details like dished head bolts for example see caliper photo. Please see the photos for details. Note shift linkage is included, it was not installed at time the photos were taken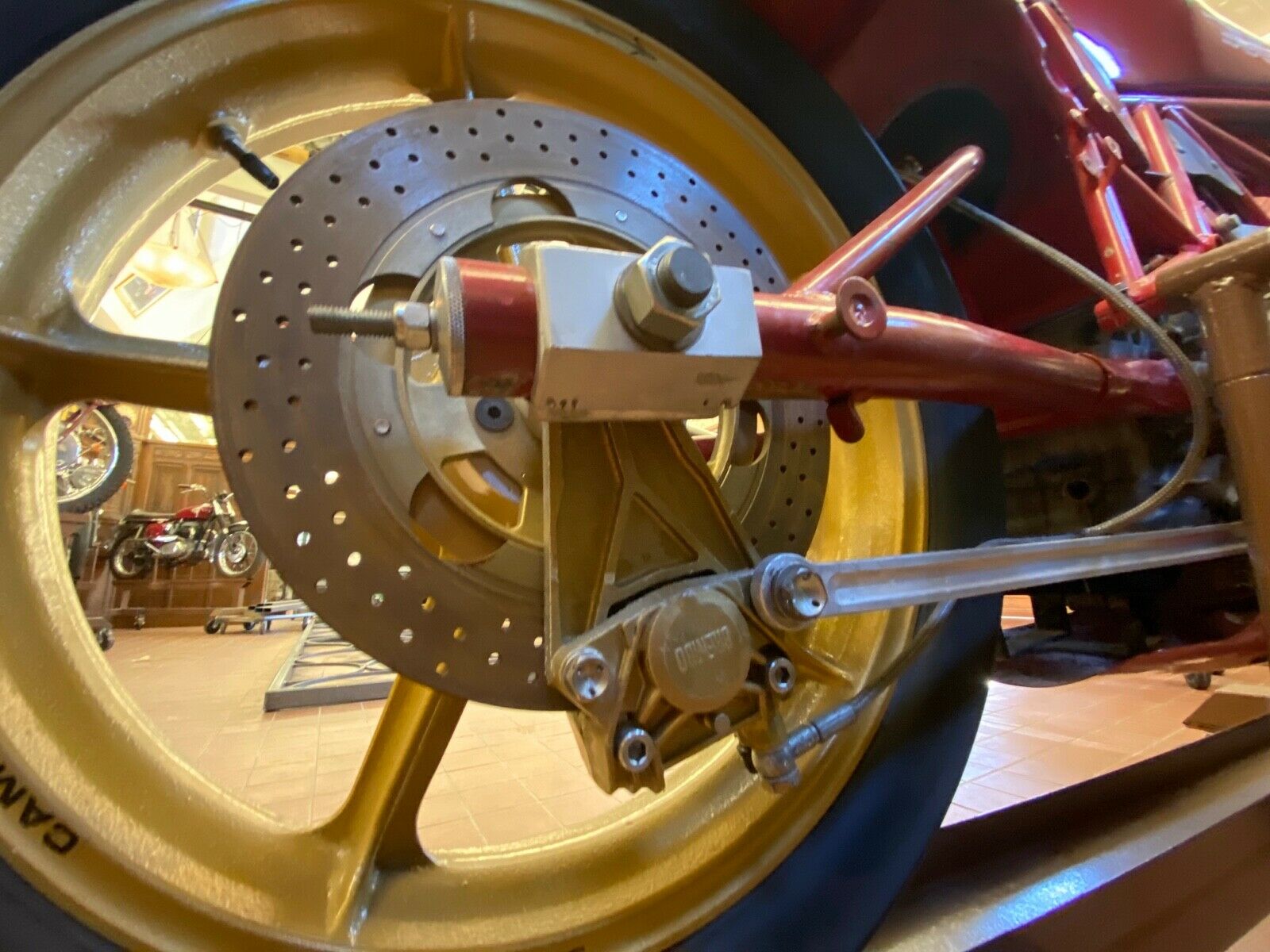 More from the seller:
I actively raced Ducati TT2's and TT1's in US and Europe. The modified 750CC TT1 in US Battle of the Twins from 1982-1986. I purchased bike direct from the factory rider and built up supporting parts inventory accordingly principally from the factory, Sports Motorcycle Racing and NCR. This bike is very special in its own rights with factory racing history. The TT2 was a giant killers in the day. They are the epitome of nimble, lightweight tools with favorable power to weight ratios and just the right amount of chassis compliance harmonics that enable a rider to 'dance' with the bike, never a need to fight with your partner here. These bikes went where you wanted to go with a vengeance. Very tractable power delivery made the TT a formidable opponent able to execute and complete a pass at any and all opportunities.

IMPORTANT: note this is a racing vehicle sold with Bill of Sale only. This is the 'clean title' referenced above. This is not a street bike conversion therefore there is no conventional title.

Also available but not included in this sale are complete spares suitable to campaign the bike as well as update to NCR clutch and TT1 spec
In the world of used race bikes, this beautiful TT2 has held up amazingly well. It appears to be devoid of major modifications, crash damage, illicit trackside repairs – basically all of the ugliness that racing wreaks on mechanical systems. Instead you see what looks to be totally museum worthy or, if you are of the brave sort, vintage race worthy after a mechanical refresh and safety check. These are wonderful motorcycles that are beautiful to look at, wonderful to hear, and (so I've been told) even better to ride. The TT2 was a very successful model for Ducati, and helped spawn both their racing reputation as well as larger capacity racers.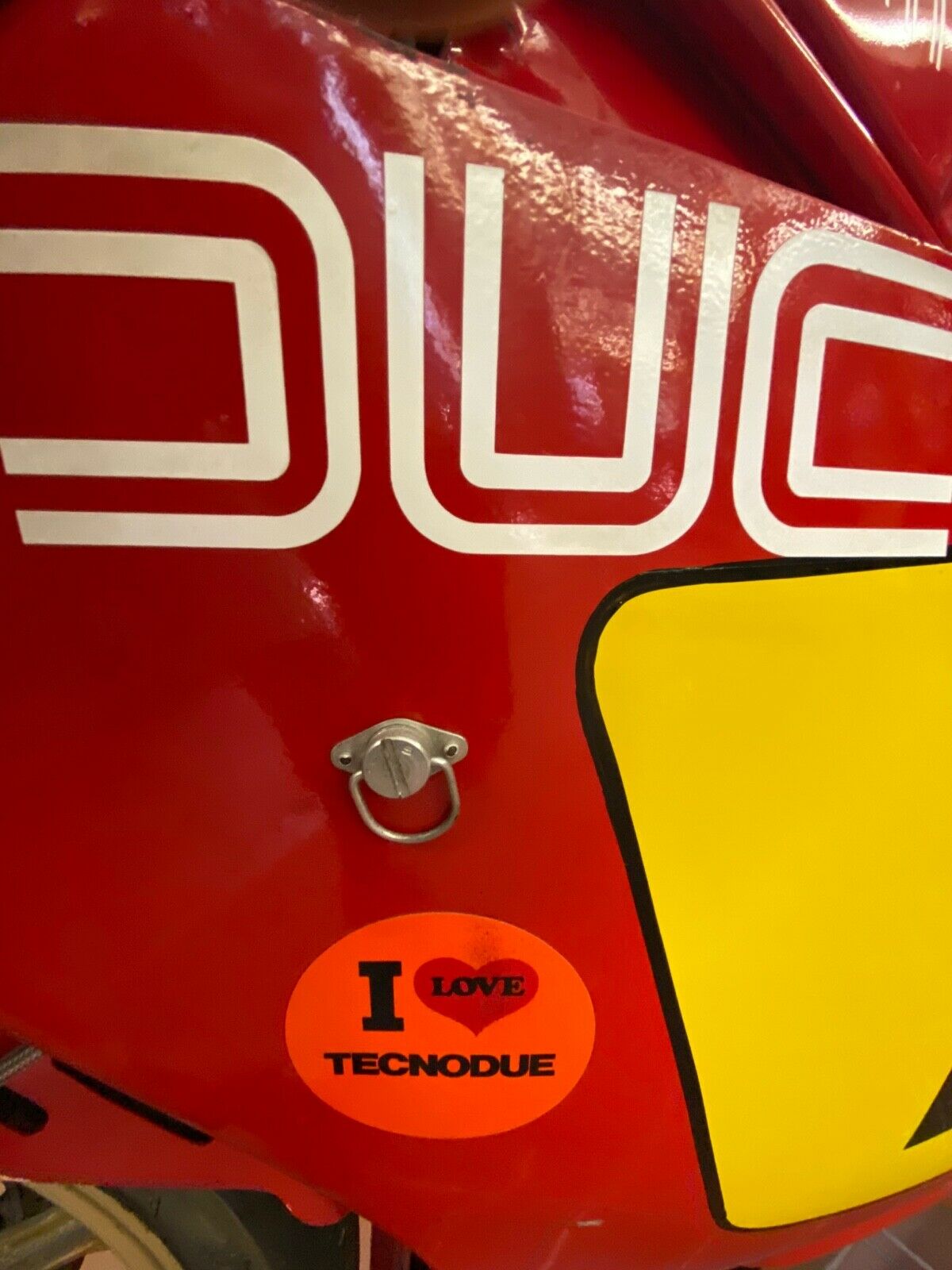 This bike is available in sunny SoCal, but you'd better bring your sponsor along. There is no reserve that I can see, with a $35k ask. These bikes are a little hard to value as they are ex-racers and all potentially different in terms of setup and trim, but that is probably fair number for such a clean example with documented history on the island AND a mountain specialist as the previous owner/rider. Sadly we lost Tony Rutter in 2020, making this a rather difficult to duplicate opportunity. Check out all of the details and beautiful photography here, then Dream, Drool and Decide. Good Luck!!
MI