Warning!
This post is in our archives. Links in this post have been updated to point to similar bikes available to bid on eBay.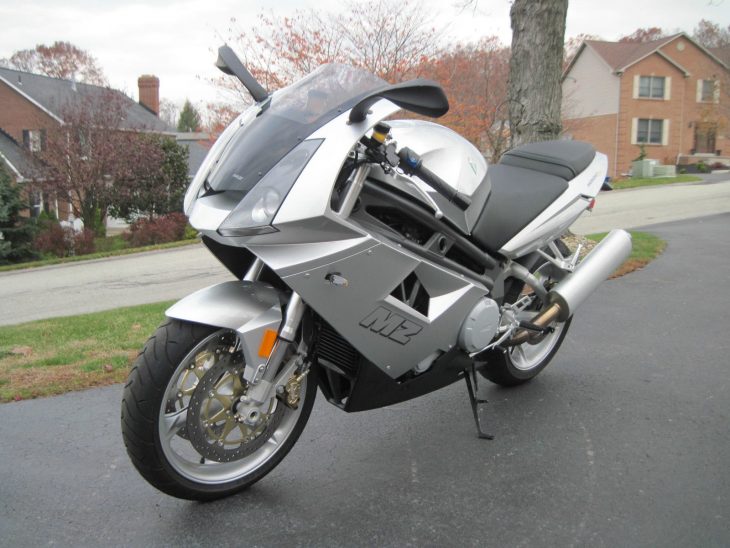 Looking a bit like Aprilia's Falco, the MZ 1000S was a high-end sport-touring motorcycle from a largely forgotten East German manufacturer that was powered by a big-bore parallel-twin engine. What could possibly go wrong? Well, not much really: as the seller mentions, parts to maintain the 1000S are available online, they've got a good reputation for reliability, and are apparently relatively easy to service. If you're looking for something quirky and practical, with real-world performance, this might be worth a look.
Unfortunately MZ or Motorrad und Zweiradwerk is relatively unheard of outside vintage biking circles and fans of weird 90's bikes powered by Yamaha singles. And even if you know the name, you might associate it with agricultural-grade, commuters and smoky two-strokes, which is hardly the image they were trying to present with this upmarket machine. More likely, they'd want you to remember their racing roots, and the fact that MZ two-strokes developed by Walter Kaaden basically set the standard for two-stroke performance and dominated the smaller racing classes between 1955-1976. The Japanese really only broke their stranglehold when racer Ernst Denger defected and took the brand's racing secrets to Suzuki…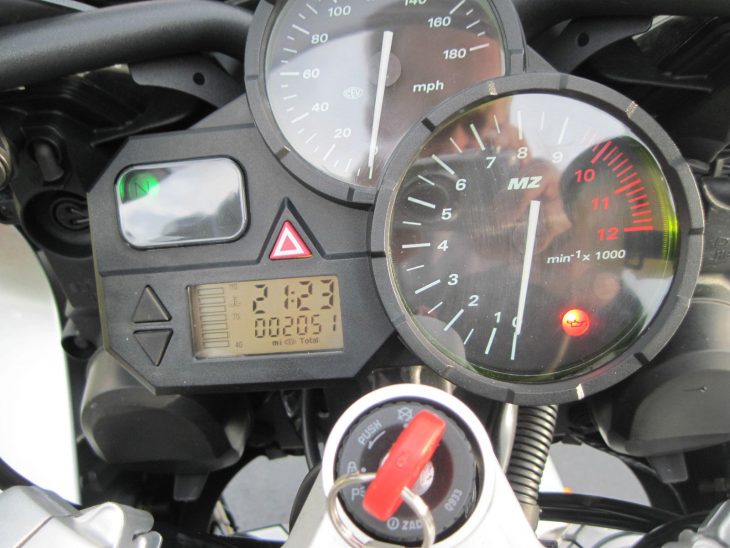 Parallel-twin engines aren't found in too many premium motorcycles these days: they're reliable and very compact, but tend to vibrate badly as displacements increase. Just ask Norton and Triumph… But with modern balance-shafts, vibration is manageable, and parallel-twins offer up the character and midrange of a v-twin without the packaging challenges, and the MZ's engine was backed by a six-speed cassette gearbox. Made for just three years before disappearing, along with the rest of MZ, the bike received positive, if not glowing reviews.
From the original eBay listing: 2005 MZ 1000S for Sale
You are bidding on my 2005 MZ 1000S "sport touring" bike. This bike is in great condition with very low mileage, a little over 2,000 miles,and ready for thousands more. This bike is totally stock with no mods, and really a steal for what you are getting. There are many "Chinese" bikes going for this price, but you get real German engineering/quality with this one. Here are the details:

This bike is in great shape, and I just had the following done within the last month. All oil/filters changed to factory spec Silkolene products, as well as brake & clutch fluids. Battery replaced at the same time, so this bike is ready for many miles. Starts right up,and runs though the 6-speed cassette transmission with no issues. Previous owner swapped out the gearing from factory original 17/43 sprockets to Vortex 16/45 sprockets to aid in upper end tractability. I do not have the original; sprockets, but they are easily obtainable on eBay if desired. The original turn signals were replaced by the previous owner, and I do not have the originals.

Cosmetically the bike is in great shape with a small amount of scratches in the factory paint here & there, but by no means rough. Hard to actually photograph to be honest.

Parts are easily obtainable from Grahams Motorcycles in the UK, and a lot of the the consumable items such as sprockets, brake pads,filters are readily available on eBay. Original factory owners manual included. Clear title ready to transfer.

Overall a really nice bike that will not get "lost in the crowd" of also ran sport bikes. Please ask questions, as all sales are final, and shipping transport must be completed within 2-3 weeks unless prior arrangements made. A Paypal deposit of $250.00 due within 48 hrs of auction's end, and full payment within 7 days. Also, please make sure you clear it with your wife/girlfriend/boyfriend /dog/cat before bidding. Thanks!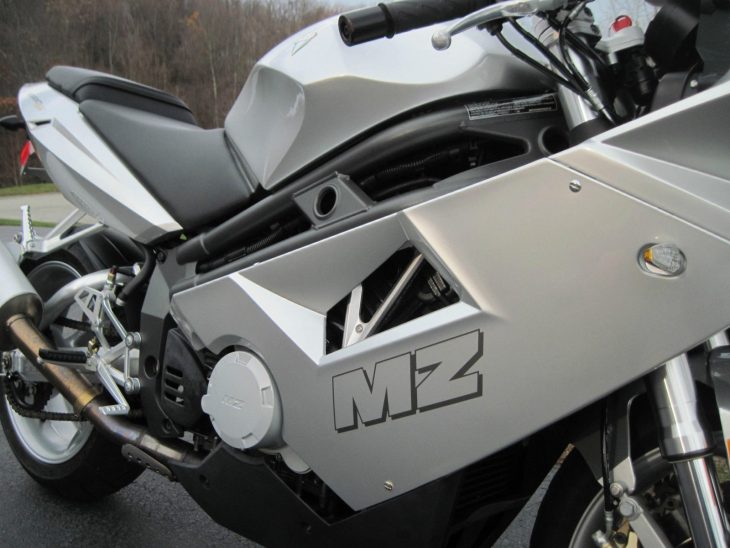 The Buy It Now price is listed at $4,499.99 which, aside from looking like it belongs in the window of something on a used-car lot, is a pretty screaming deal, considering the performance and rarity. It's not going to offer cutting-edge performance, but that was never the intent. Instead, it's a mature sportbike you can ride to the twisties, then through the twisties, without needing a chiropractor at the end of the day.
-tad