Location: Dickinson, North Dakota
Mileage: 22,750
Price: $4,749 BIN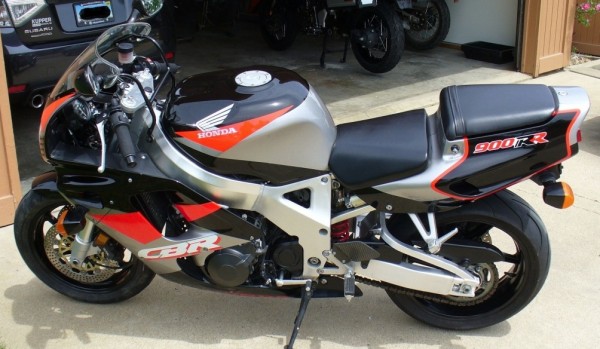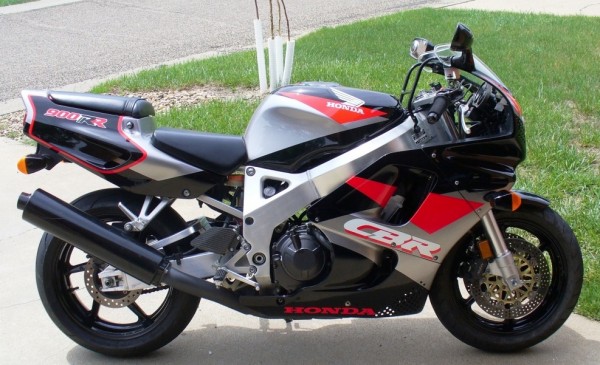 I guess when it rains, it pours. Here we have yet another clean CBR900RR for sale. There's been of run of these of late on RSBFS, so if you've been shopping, you're in luck. Of course if you have been shopping, then you know what these bikes are all about. A legendary ride that changed the approach to sportbikes after it's release, the CBR900RR remains relevant today. If you were to build a collection of the most important bikes ever, it would be incomplete without the 900RR.
Here's what the seller has to say-
Classic 1993 CBR900RR in excellent condition.  Early build date, low VIN number.  22k original miles (I have added a few miles since these pictures were taken).  I am the third owner of the bike; second owner owned the bike from 1994 to 2012, so for all practical purposes it was a one owner bike until I purchased it a few months ago.  Interestingly, second owner, a local anesthesiologist, rode the bike from North Dakota to California and back regularly while he attended medical school on the West coast.  Being a little older these days, he now owns a Harley that he rides locally with his wife, and hence the usual story – the CBR wasn't getting used anymore and so I bought it when it came up for sale.  Bike was originally purchased in California so it is a CA model.  The bike is not, however, cold-blooded, and carbs are in very good tune.

Bike is very, very clean, especially considering its age.  Look at the pictures – it was obviously never left out in the weather.  Runs great, motor pulls extremely hard, no leaks, doesn't use oil.  Rides and shifts as it should.  Clutch is firm and engages exactly like it should.  Everything feels tight and right.  Tires have plenty of tread and are not showing any signs of age. 

There are a few flaws as might be expected on a sportbike of this age.  Previous owner told me that bike went down at low speed right after he purchased it in '94, cracking and scuffing one side of the fairing.  Whatever plastics were damaged were replaced immediately with OEM pieces wearing the proper OEM graphics.  All plastic is excellent shape with no cracks anywhere.  The only remaining evidence of this spill from long ago is some gouges on the metal throttle cable guides near the throttle grip; you can see them if you look closely at the picture showing a side shot of the instruments and inner fairing.  There is also a small dent on the bottom of the tank near the frame spar on the same side as the throttle guide.  There is also a little gouge on the frame right below the dent on the tank.  See pictures for a good view.  Inside of tank, however, is clean as a whistle with no rust whatsoever and appears as new.  There are also some scuffs on the muffler, but no dents or impressions evident.  The flaws as mentioned are in the interest of full disclosure, so that there are no disappointments for the new owner, but again they are hard to notice and the bike is otherwise excellent throughout.

The only variances from stock I can see are carbon fiber heel guards, and the rear fender was trimmed to bottom of license plate area.  For the purists out there, these could fairly easily be returned to stock with intact OEM pieces.  Additionally, I believe the front fender was painted black, whereas the stock 900RR front fenders were silver.  It looks to have been professionally painted, however (very nice paint), and even though it isn't strictly the OEM color, I now prefer the look to the silver front fender.

Other than those rarely appearing, mint, museum quality CBR900RRs, you will be hard-pressed to find a cleaner, better running 900RR.  Needs nothing mechanically, ready to ride or collect.  This bike would be ideal if you already have a pristine, low mileage 900RR that you don't want to add a lot of miles or additional wear to.  Again, this bike is extremely nice, with only a few barely noticeable flaws.    And when was the last time you saw one for sale that has recently had a full, comprehensive service with the documentation to back it up?

Right after I bought the bike, I had the following work performed at a Honda dealer I trust.  Total cost:  $1054.55.

·        New Fork Seals

·        New Front Brake pads

·        Carbs Synched (They were also cleaned last year, along with new spark plugs, confirmed by dealer's computerized service history)

·        Brake Fluid Replaced, Brakes Bled

·        Oil & Filter Changed – Synthetic (According to previous owner, he used synthetic oil from day one of his ownership)

·        Clutch Cable Lubed

·        Cooling system inspected – Good

·        Chain & Sprockets inspected – Good

·        Several Fairing Fasteners that had gone AWOL replaced with OEM items

So why am I selling?  I probably wouldn't be if there were anything other than straight roads where I live, but unfortunately, there aren't, and to get anywhere where there are some curvy roads on this bike would be a little too much for my 48 year old body.  So let's just say I had my little 'fling' with the bike, but now it's time to move it along.

Sale will include recent service receipt, original owners manual, factory service manual and intact factory toolkit.  I also have an excellent condition Corbin seat for the bike that I will throw in for an extra $50.  I will also include the vinyl tank bra that came with the bike if you want it.  I installed clear bra material on the rear and sides of tank after I bought the bike which I think looks much better than a vinyl bra.  The foam 'grip puppies' as shown in the photos are not included with the bike and will be removed once bike sells.  Reserve is set at not much more than the total of what I paid for the bike ($2500) and the service noted above ($1055).  As long as selling price is a few hundred above that, I can live with it.  You do the math.

I will assist your shipper with pick-up however I can.  If you have a less than 10 feedback score, you must contact me before bidding or risk having your bid cancelled.  Your winning high bid is a contract, so please, do not bid in this auction if you don't have the intent or means to purchase this motorcycle.
And photos-
This bike looks to have a good maintenance record with the seller detailing what has been done recently, with a photo of the receipt in the auction. The issues are mainly small cosmetic ones and the bike was apparently dropped a long time ago but the damaged fairing was replaced with OEM parts. The bike looks stock and the mileage is not too bad. If it's in good shape there should be plenty more miles to ride.
The seller says the reserve might not be too much more than what it was bought for and the recent maintenance. So maybe $4k takes her home? Just a guess, but these bikes are cool and legendary. If you're a Honda guy or girl or a sportbike guy or girl (which you are cause you're reading this) then this has to be on your list. If so, go check this auction!
-RN