The ( original ! ) owner of this 900 SS/FE must've been at the dealer in late 1997 to have cadged chassis number 016 of 300.  The end-of-model commemorative had mostly the best of the 900SS years, and where Ducati left off, this owner has updated to even better.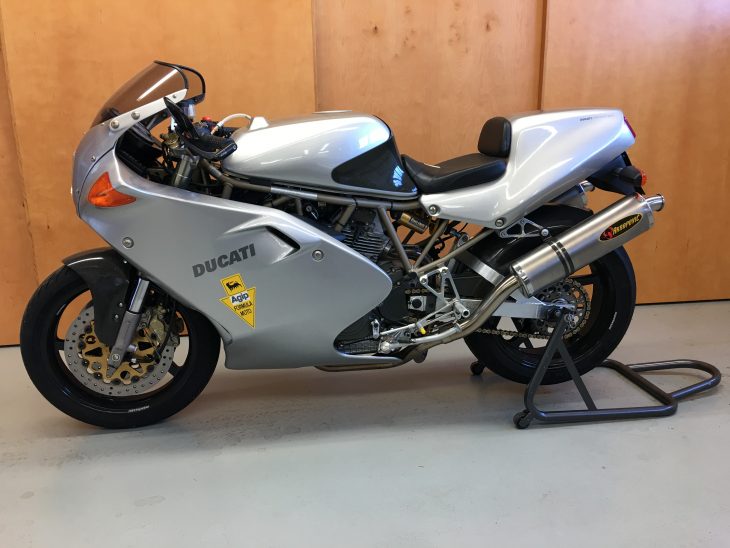 Ducati's 2nd generation Super Sports had the first generation of 904cc air-cooled desmo, with single overhead belt-driven cams helping deliver 84 hp.  Though for most of the 90's the SS had been a white frame and red or yellow fairing, the cosmopolitan FE had a dark gold trellis frame and silver monoposto bodywork.  Showa forks and monoshock were specified and of course Brembo's finest 320mm hardware.  Carbon fiber dash and mudguards provide a technical accent to the black 17-inch wheels.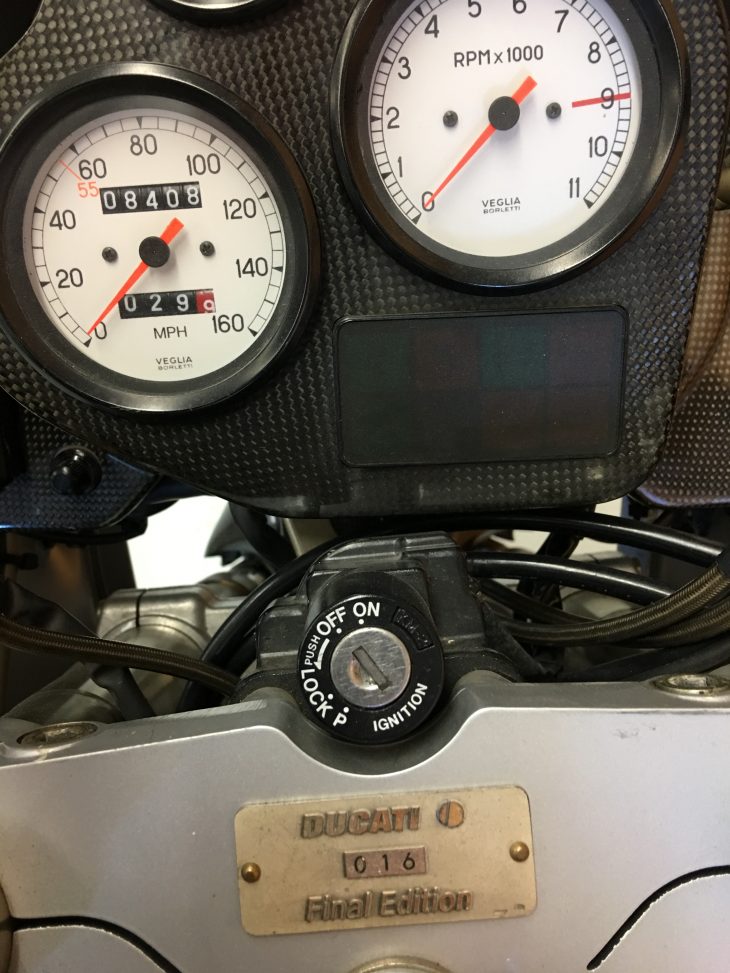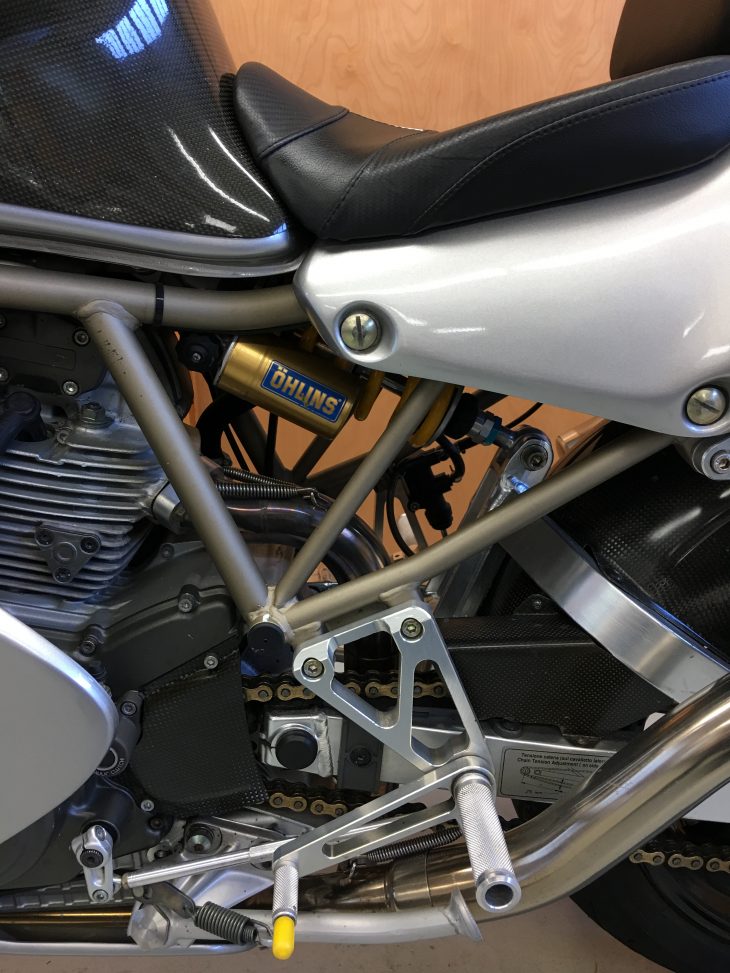 Offered on the fan site ducati.ms, it sounds like the then-new owner poured darn near the purchase price right back into his new FE in engine and suspension work.  And then rode it sensibly to its current 8,400 miles.  The coordinated look of the billet rear sets and muffler brackets is outstanding, and it's rare to see a full Akropovich exhaust of this vintage.  The owner's comments from the for sale -post- :
Bought the bike new in 98 , it is #16 of 300 final editions Ducati produced of that generation of the SS (91 to 98) a great series , I also had a 91 and 93 super light but this was/is the nicest I've had.  To make it the best for me, (I didn't like the "fuel infection" and looks of the 99's) I took it to my friend Jeff Nash ( owner of AMS Ducati Dallas) soon after I bought it to massage it and work his magic   As I recall, it was to the tune of about 9-10k dollars extra spent back 20 years ago - I'll try to remember all what's been done .

He went all through the engine, balancing /lightening/polishing/porting, and adding the higher comp/displacement 944 kit, and added Kiehin FCR's 39's (he advised the 39's would be much smoother than 41's for street , and he was right) I added a 50mm Spaghetti / Titanium exhaust made by Akrapovic ( very hard to get that or Termi's back then) also have the K+N filter airbox mod.

Ohlins rear shock , and RaceTech mod to front forks, and then the really nice/light Marchesini magnesium 5 spoke wheels.  Custom billet pipe hangers footpegs and fully adjustable clip on bar assemblies, Corbin seat, recent Optima gel battery, rear stand ,tank bag ,tinted windscreen assorted extras carbon goodies etc ..

I believe I have all the original parts , and have new tires on bike.  And sitting on the shelf , new belts, fluids and filter I haven't got around to doing this year.
The FE reviewed as a sharp all-rounder, in hindsight made all the sweeter by the next year's emissions-driven re-design.  Just in time for the Final Edition ( and hopefully #016 wasn't too early to get it ) was a three-phase charging system which ended battery life woes for the air-cooled desmos.  Ducati took flack at the time for charging a premium for already depreciated tech, and with the updates this owner made, it would be interesting to know how the sale goes.  Hopefully the new owner is an RSBFS reader and can give us an in-flight report...
--donn