Though the Supersport has been a Ducati staple through thick and thin, the late 90's re-design by Pierre Terblanche was met with either a cheer or a wrinkled nose.  Having mostly been riders, not many have been nicely modified and barely ridden like the one here.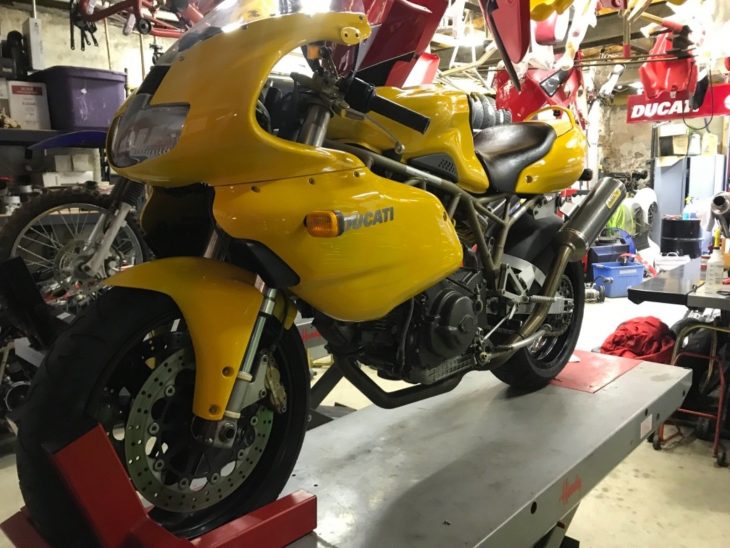 Not just a facelift, the Supersport re-design brought a host of mechanical improvements, like fuel injection, an improved charging system, and a wider rear tire.  The 904cc desmodue has revised cam profiles to help bring 80 hp at 7,500 rpm, and mid-range has a healthy 57 ft.-lbs. torque.  As on Supersports past, the suspension was supplied by Showa, and brakes by Brembo, who also cast the hollow-spoke wheels for this generation.
This 900SS is owned by a N.J.-based parts re-seller, and has just 2,772 miles despite some premium upgrades.  An act of faith to tear down a factory new engine, the 944 upgrade is a piston and cylinder swap for 40 more cc's, but higher compression results in what should be 85-90 hp.  Seems only right to fit an Arrow "spaghetti" exhaust and re-flash the ECU.  Hard to argue with new cam belts and battery.  From the eBay auction:
Very nice low mileage injected Supersport.  944 kit and ecu flash by Certified Ducati Dealer when bike was brand new.  Full Stainless Arrow 45mm big tube exhaust, Ohlins rear shock, Yoyodyne clutch slave, Custom matched seat, Billet gas cap.

Bike is in very nice condition and it would cost you $4500 to build the motor, buy the exhaust and flash the ECU.  Ohlins shock is another $1200.  You are well over that price I am asking for just these few items.

New timing belts, New battery.
The revamped SS had slightly raised bars but the ergonomics were still unfriendly until you were moving well, and the love-it / hate-it design didn't help matters.  Sculpted fairings have since come back into fashion, and the upper-only set are few and far between.  I'm with the owner that the value is there, but since I'm not in the market, someone else will have to push Make Offer.  Not being very suitable for collateral duties like touring or commuting, the late Supersport is just for a nice weekend afternoon, but for that it is perfect…
-donn