Warning!
This post is in our archives. Links in this post have been updated to point to similar bikes available to bid on eBay.
Every post will be sent right to your inbox every morning when new posts are made. We will never sell our list or spam you. Plus you can click links to bid or buy right from the email and skip the site entirely. Subscribe to Rare SportBikes For Sale today!
Heck With The Wedding:  1995 Ducati 888 SP5 In The UK
Now this is something to pay attention to in the UK, not some silly wedding.  Didn't we politely ask the Brits to leave years ago so we wouldn't have to witness such events?  Lets talk Ducati history though not American history!  They still look good don't they?  More than good, they just look "right".  There is nothing extra there, just a bare bones racing motorcycle disguised as a street bike.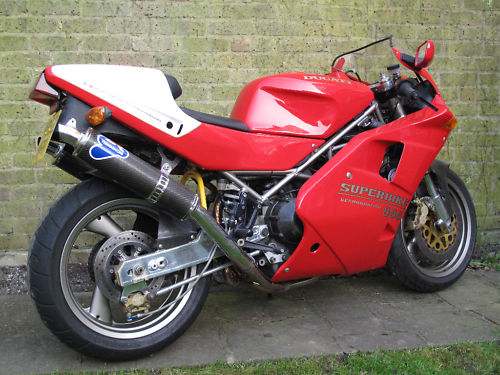 Exclude the Supermono and former race bikes; are the 888 SP's the most collectible Ducati's?  How about this one: if offered a 2011 1098 Tri Color or a 888 SP4 or 5, which would you take?  I'd take the classic in a heart beat.
While looking up info on the SP5, I came across a good discussionon the SP4 vs. the SP5.  Guys were arguing the case for both bikes and then someone tossed in the info that the SP2 was the last of the SP's to be built in Ducati's race shop. Does that give it more points to Ducati purists?  Interesting stuff to say the least.
This particular example has traveled 8852 miles.  It is relatively stock with a Termignoni exhaust and White Power shock added to the mix.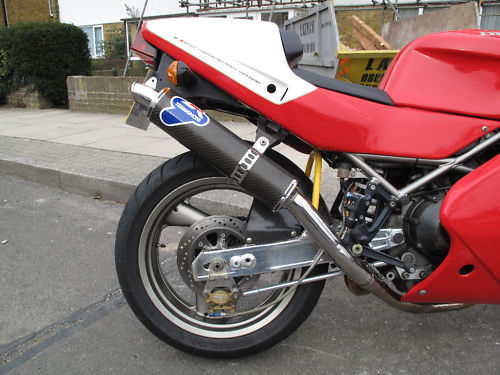 Ah, the music that must come from there (see below).  It can be yours, .
This isn't the bike for sale but it would be a crime to have no audio with this post.
Ian