Launched at almost the same time, MV Agusta's Brutale has always lived in the sleeker F4's shadow. Styling aside, it was just a little bit lower-spec, a little less focused, a little too practical. Like that's a dirty word. I happen to love the design, although it's hard to argue that the F4 isn't a better-looking bike. But you have to suffer for that sublime style. The fact is, as much as I love the F4, it's hard work: the riding position puts lots of weight over the front wheel, the pegs are high, and the suspension is stiff. The Brutale, while by no means plush, certainly can feel that way after spending time on an F4. Which makes sense, since the F4 was designed for the track. For the road? It honestly doesn't get much better for canyon hooliganism than the Brutale.
Like the original F4 750, the Brutale 750S was considered by some to be "too slow," as if 127 high-strung horses in a lightweight naked bike with a nearly dirt-track riding position isn't a recipe for a good time. The 910R seen here followed the original Brutale and displaced… 910cc. At 136hp, claimed power isn't up all that much, but midrange is improved and honestly, it's all the power you need in a naked road bike. Seriously, who is riding these things and really thinks they're not fast enough? Sure, moar power is great and all, but the later 1078 and 1090 versions just seem like overkill, making the 910R the Goldilocks of the Brutale range: not too fast, not too slow. Just right.
The seller of this very clean example mentions a Titanium exhaust, and it looks like a set of beautiful headers and a de-cat link pipe have been fitted, but the bike retains the original "shotgun" style end-cans. Not the worst choice, as the aftermarket never really did come up with anything that looks quite as elegant as these slash-cut bits, although the actual openings in the ends do look kind of… inadequate. But if you're worried about a lack of noise, trust me: this one probably isn't all that quiet.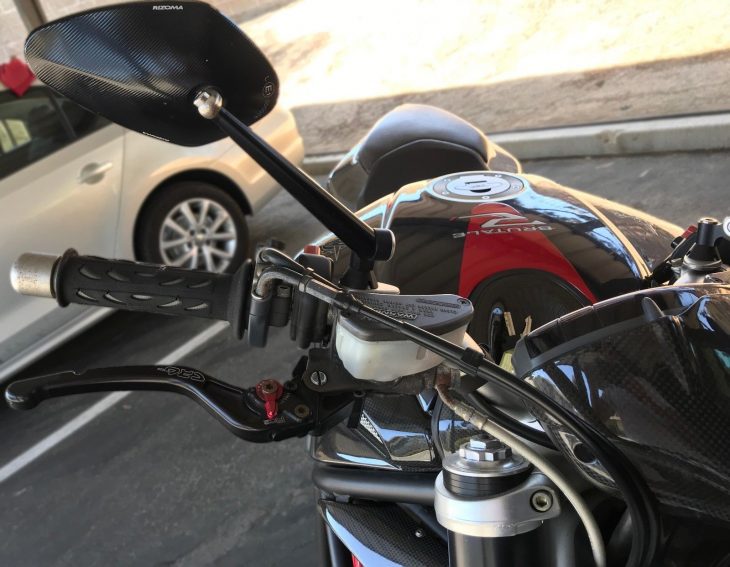 The only problem I see here is a lack of a Power Commander. MV's of this era can generally use fueling help. They're typically very lean through most of the rev range, then run overly rich at the top end. It makes sense, given limited development resources and the fairly crude technology available when the bike was introduced, but an aftermarket fueling module and some dyno time gives the instant response and fluid midrange the bike was always designed to have. It's perfectly rideable without one, but is well worth the investment.
From the original eBay listing: 2007 MV Agusta Brutale 910R for Sale
Selling an MV Agusta Brutale 910R in excellent condition

KBB value at $5880 without considering the premium extras we have here. Price firm.

With top notch quality accessories
1. Titanium exhaust
2. Stock carbon fiber body parts (from MV Agusta)
3. Rizoma mirrors
4. CRG clutch and brake levers
5. MV Agusta cover and upright stand
6. Trickle charger

Title status: clean 
Transmission: manual 

Never down or raced/tracked. Low miles:4890 !!! 
Serviced at Ducati dealer every time.
Have the stock exhaust as well.

Have title in my name.
Good to know the title is clean, but did the seller really need to tell us the transmission is a "manual"? Does a constant-mesh, sequential gearbox even qualify as a manual? The seller also seems pretty impressed by all the "premium extras" included but honestly, this is basically a stock bike, by MV Agusta standards. And that's really the appeal of this one: it's clean, looks very sleek in the unusual black, and hasn't been messed with too much, although the missing Power Commander is something I'd rectify as soon as possible if it were mine. Is it worth the maintenance hassles? Well that's a different story: a Street or Speed Triple certainly handles as well, has plenty of character, and is much easier to maintain. I'd like to say those bikes are less expensive as well, except at the moment they're not: the asking price for this particularly nice Brutale is $5,999. That's pretty much bang-on for a good 910 these days, but Brutales in general are a screaming deal, considering the looks and performance. Anyone have $6,000 they can loan me?
-tad