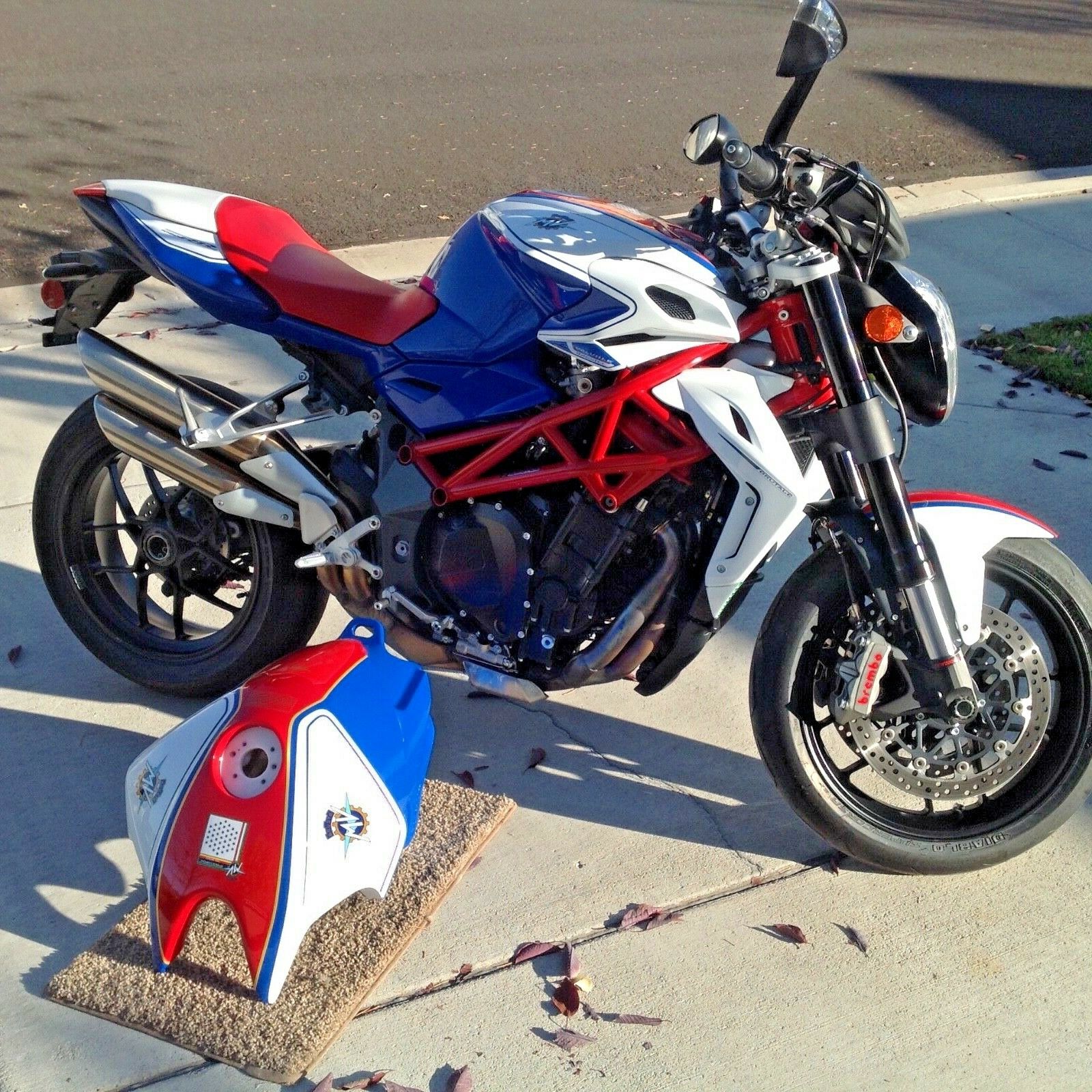 Let's just pretend that you've got your Super Dave Osborne stunt costume hanging in the closet with no place to go. Or, if you're from another generation entirely, how about some Evel Knievel stars and stripes on leather? If so, we've go the perfect bike for you. Boisterous and bad in a user-friendly sort of way, the Italian-born MV Agusta 1090RR Brutale in rare "America" livery is the ideal accompaniment for those fourth of July rides in full regalia.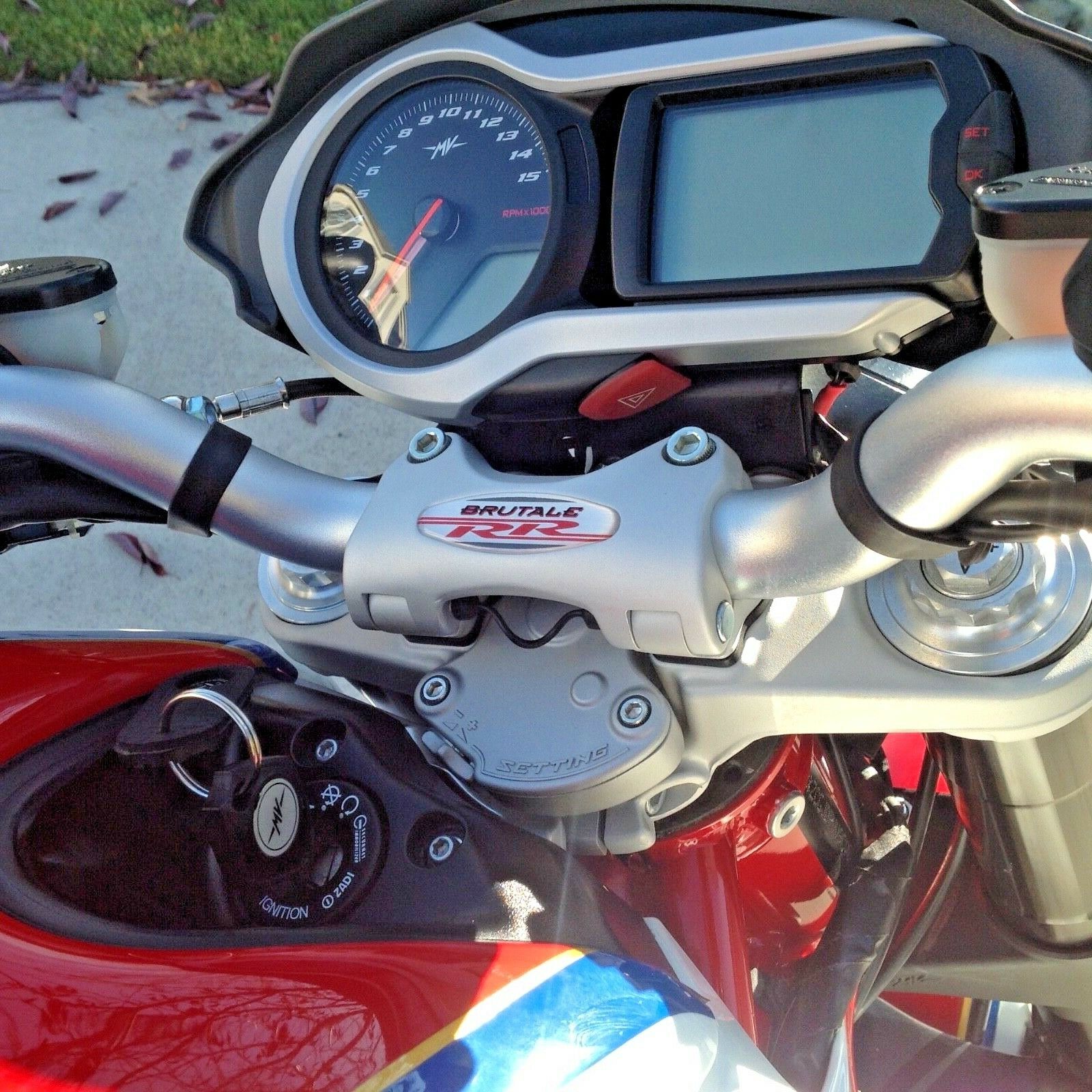 The heart of the Brutale 1090RR is the famed MV Agusta radial-valve inline four similar to what is found on the F4 series – but punched out to a larger (1078cc) size. With a sophisticated Weber-Marelli sequential multi-port fuel injection system, the aforementioned 4 valves arranged in a radial manner (thanks to Ferrari F1 team engineering) and a 13.0:1 compression ratio a rider can expect nearly 160 robust horsepower at the ready. Coupled with a chrome-moly trellis style frame and a huge aluminum rear single-sided swingarm, the Brutale strips down the essence of the F4 1000 much like the Ducati Monster stripped down the respective Supersport and Superbike models. With an upright seating position and not much bodywork to speak of, the Brutale is a standard motorcycle on steriods; a powerhouse of style and substance.
From the seller:
This is for a MV Agusta 1090 RR Brutale America.
Original Owner bike is Mint showroom condition
Extremely Rare only 7 brought into USA

Sale comes with a brand new tank to be used with ethanol. The new gas tank is worth $3500.
A GREAT COLLECTOR BIKE Ready to show , put in a collection , or Ride .
No tech specs given , a true MV fan knows.

Everything on bike works as new . NO issues! ORIGINAL TIRES
Mint Condition NO dings dents scratches rust or corrosion .
ORIGINAL DOC ORGANISER PLUS A MV ENGINE CD AND A MV FRAME CD
THE FIRST SERVICE HAS BEEN DONE

Thank you for purchasing a really cool bike!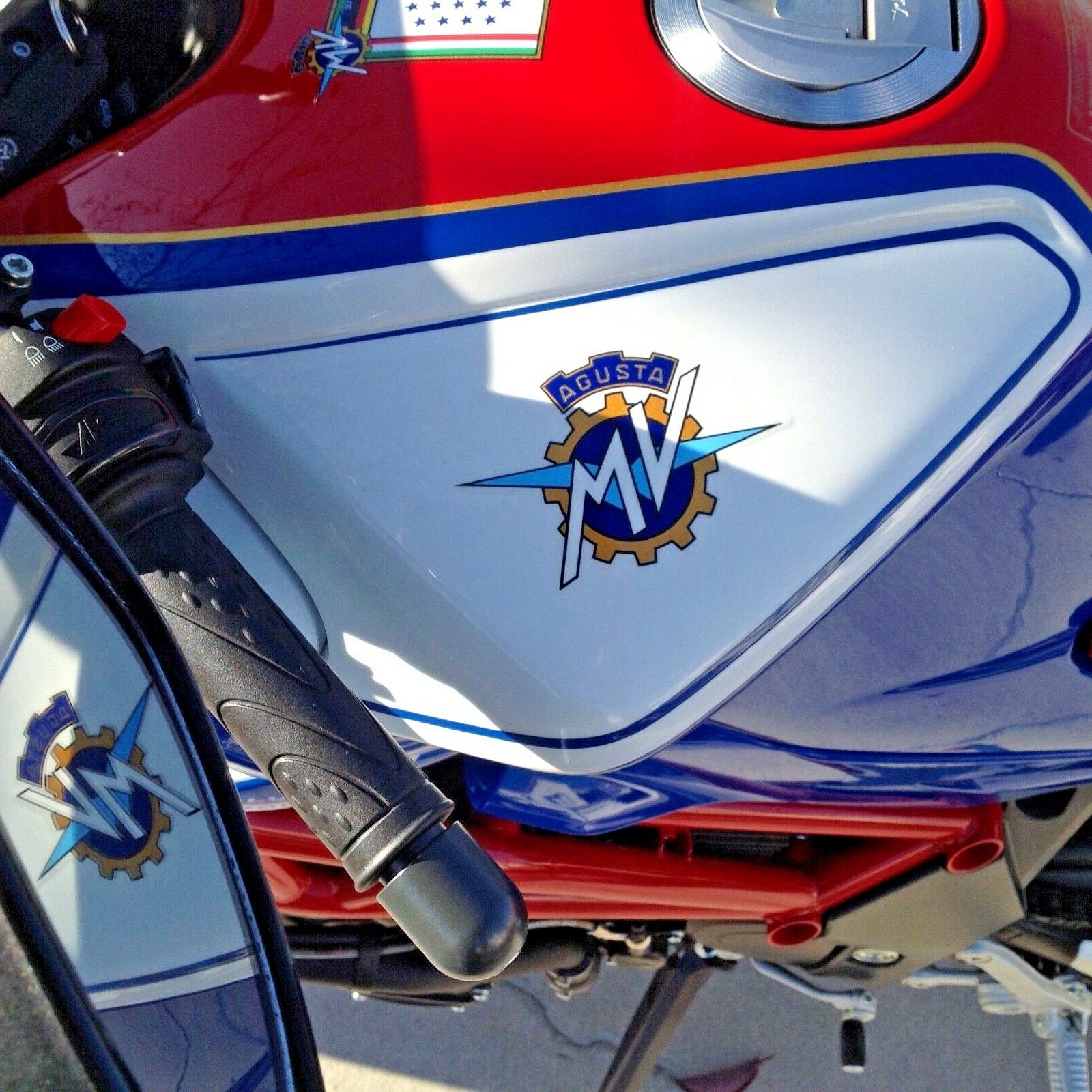 Say what you will about the livery, but the Captain America coloring book approach really stands out. The Brutale tends to become invisible in the more common black scheme, and even the plain white lacks any great visual panache. But this star-spangled banner approach ensures that you are seen as opposed to simply being heard. Again, match up your very best Evel or Super Dave outfit for maximum effect. As for rarity, there is no denying that for a factory paint job this ranks up there. Has anyone reading this RSBFS post ever seen one in the wild? Unfortunately rarity of color scheme on what is not exactly a hotbed of collector activity does not automagically turn this beautiful Italian supermodel into an RC30 or NR750.
There is scant time available on this auction, and with a Buy It Now just a hair shy of $12k, it remains to be seen if this very cool bike will find a new home. The market has been strong in the first quarter of this year, so it will be worth watching. Check out all of the details here, and Good Luck!!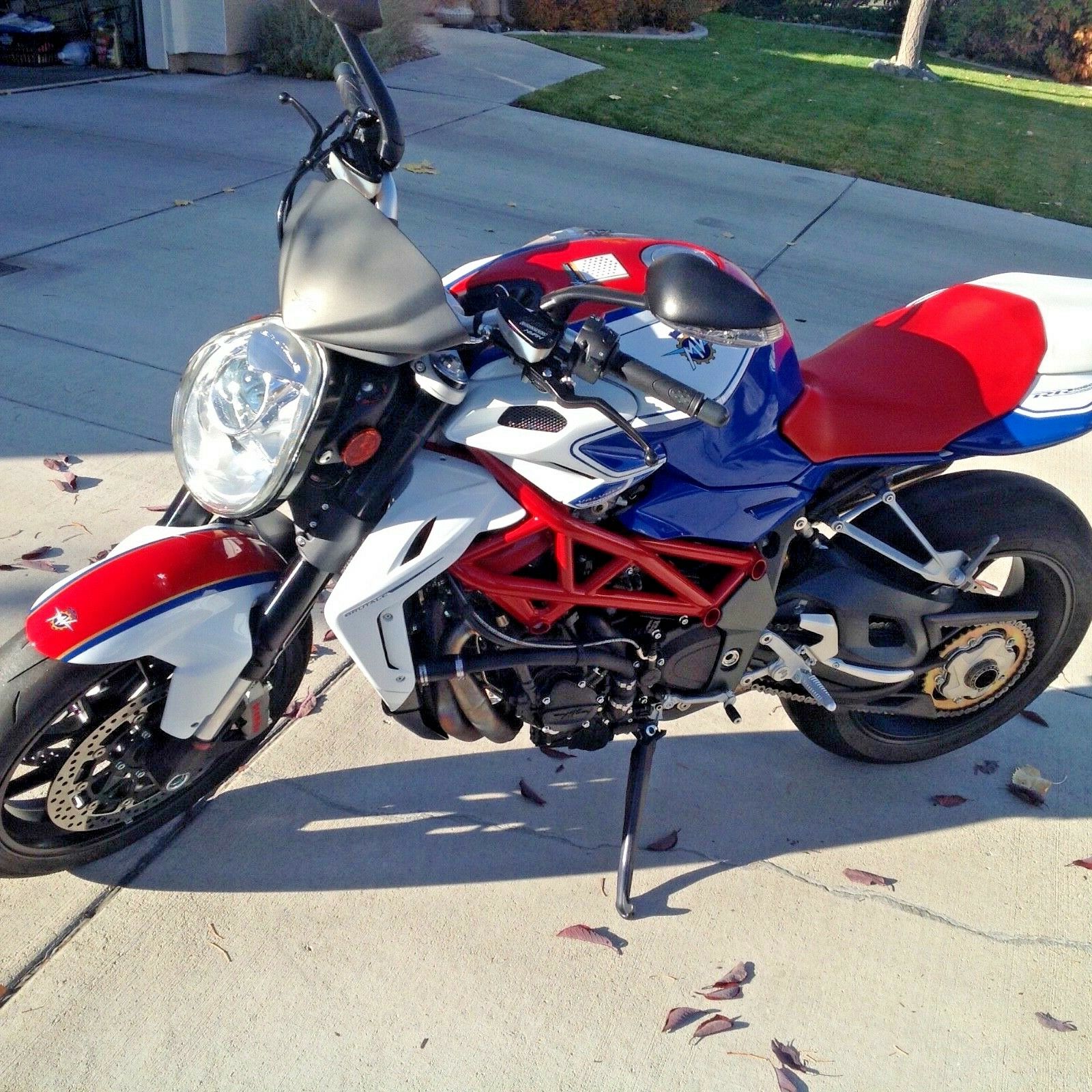 MI
3 Responses.