Warning!
This post is in our archives. Links in this post have been updated to point to similar bikes available to bid on eBay.

GP Blood Line: 1998 Yamaha TZ250
It has to be a good sign when a bike looks fast just sitting there. I wonder how many TZ's have launched riders into the professional ranks? I know one for sure as Colin Edwards old TZ250 is on display at the Barber Motorcycle Museum. While for years they have been a mainstay of up and coming racers you might have to put them on the endangered species list. They won't disappear overnight but racing overlords have changed the game and the strokers are out except at lower levels of racing. Maybe this is a good thing for those track day warriors that want a sharper tool.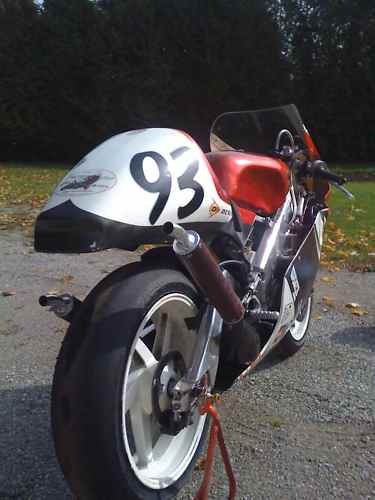 Anyone remember Tetsuya Harada? Every time I see that droopy tail I think of him on his TZ250. Here are the details on the bike:
Illness in the family forces the sale of my 1998 TZ250 roadracer. 1998 is one of the most coveted years to own and most reliable and cost efficient. I will ship anywhere in the world. Not all parts are shown in pictures.

This bike was the number one TZ in 2005 Can -Am series. Super wicked fast but not a grenade is the best way to describe it. Maintained by a Yamaha factory trained mechanic. I bought the bike as a trackday bike and rode it 3 times last year. It has approximately 100km on a fresh top and bottom. I have not ridden it in 2011.

The body work on it now is battle scarred and true to the bike's racing heritage. It looks good from 15 feet. I bought brand new Sharkskin fairings, fender and seat that are just arrived and ready to go to the new owner. Also included are 2003 farings, upper and lower and fender so the new owner can choose to upgrade to the more aerodynamic bodywork. You will need the 03 fairing stay and ram air bend.

Tires are dunlop and have about 3 trackdays left on them.

Way too many spares to list. When I bought it I got all of the racer's spares including:

marcheseni rims with top condition rains and rotors
two sets of body work as listed above including what is on the bike now
spare fresh crank
ready to go cylinders
Bickle Tire warmers
two stands
two batteries and charger for fuel pump
enough parts to do a couple of bottoms and another top
extra everthing that you could break off during a race- pegs, bars, rearsets
jetting kit with jet and needles
spare chain
a whole bunch of still in the package spare bits for rebuilds
clutch parts, sprockets, gears, cables, and other misc parts
two brand new pirelli diablo corsa racing slicks
brand new windscreen for 1998 body work
spare new siliencer
I am probably forgetting many items…oh yeah a box of spare carbon reeds, spare gaskets, two factory manuals, and it has a carbon fiber rear fender

The fairings are worth $2,000.00 on their own, tires are another $500.00, tire warmers were $400.00, add in the spare rims, crank, cylinders and the spares alone are worth a small fortune. They will be sold with the bike and not separately.

I will ship anywhere in the world and have experience doing so with two other racing bikes I used to own. I will help you arrange the carrier but you need to take care of the shipping transaction. I will supply tie downs and have the bike on an open wooden bike skid.

Again this bike is very fast and runs on race fuel in it's current tune. The bike, in my intermediate hands, at track day speeds ate 600's and 750s for lunch.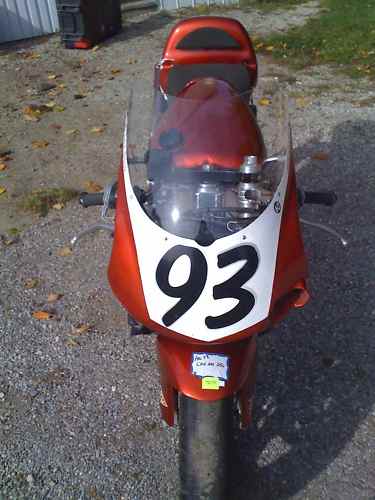 1998 was the first year of the ram air and sealed air box. By the way, if you aren't that familiar with the TZ250's or just need more info, I'd head over to TZ250racing.com. It is a good resource a for any two stroke owner as they they have a good list of suppliers and tuners.
Maybe as important as the bike, is the amount of spares the seller is including. This looks to be about the standard fare but remember he also has the more aero friendly 03 fairings.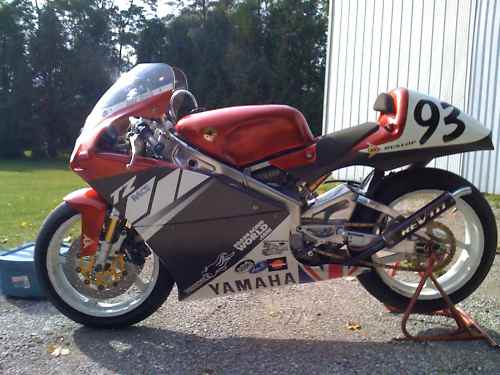 I'm such a poser, I'd like to buy one, rebuild it, splash it with Yamaha GP colors and just admire the technoloy of it. You don't get a whole lot closer to a true GP bike. To get out on the track with this one you can place a bid here.
Ian