Location: Newport Beach, California
Mileage: 45,800
Price: Auction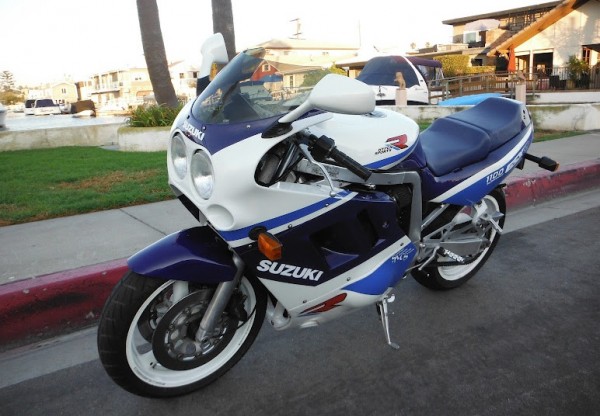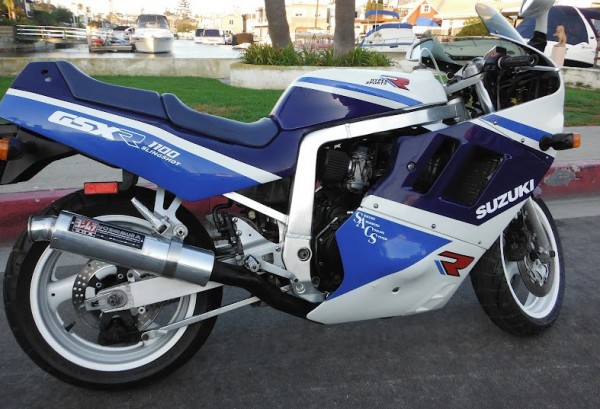 The GSX-R 1100 is one of the most iconic liter bikes ever built. The first generation bike generated an instant following cause, well, cause it was somewhat insane. A huge motor in a chassis that had some issues handling it. Suzuki addressed those issues and then you had a bike that just created huge power from a bullet proof motor that would live on in some form for years to come. Many people have many opinions about which versions of the 1100 were best, but I like them all.
Here's a breakdown from the seller-
Up for sale is my 1989 Slingshot GSXR 1100 ( gsx-r 1100-k). See pictures below. This is the first the slingshots and would be a perfect for any collector or classic rider. I am hoping that any new owner of this bike will take care of  it like myself and the previous owners…there's not a lot of these bike left in this shape.  This bike fires up faster than my Ducati and gets far more attention. When I pull up to a crowd other bikes there always a lot of questions. This bike looks like it does in the pictures and is one of the best color schemes Suzuki had on the gixxers (pearl white and blue).  

When I first purchased this bike I had spent a lot of time looking for the right gixxer 1100.  This one was well taken by it owner and had no signs of heavy abuse. The plastic and paint was in great shape (minor nicks a couple of hairlines, small scrapes and faded decals) and there were no external indications that this bike had ever been laid down while riding. I partially disassembled the bike and was surprised to see how well the original equipment had held up. The bike even has the original harness.  Even the original rubber grommets were soft and pliable…. these are usually the first to go. The plastics were all removed and minor repairs were made. The right rear seat cowling had some stress cracks and missing tabs(left as well) from where it come into contact with the relocated shock reservoir(i moved) ,the lower left cowling had a inch long crack on the inside from where it contacts the clutch cover with dechellis spacer. Other than that the few small scratches…..all repaired with marine grade epoxy. All factory colors(pearl,blue,blue) and layout were colored matched and sized exactly. Decals were then laid out and clear coated over with house of color cleared. Three stage paint job.Some of the aluminum was sandblasted and clearcoated. lots of missing or worn oem parts were replaced with stock suzuki parts.

The bike runs great and I have been using it the past couple weeks as a daily driver to work(70 miles). It has recently been service(about 500 miles ago) to dial it in(carbs,plugs,front pads,ect). Tires are new(800 miles..dunlop d616, size 180 and 120). The bike is very stock minus a few items such as airbox,jet kit and old school yoshi pipe and rear pegs(ect). The clutch cover has a dechellis spacer(clutch upgrade)The bike pulls fast and rides well balanced down the road. It has been jetted and comes into its own after 3500rpm(its not a fan of the low rpms).  All lights and switches and electric work as they should(fuel light,neutral light,high ect) with the exception of horn, the neutral safety,kickstand has been bypassed.

Again this is a 23 year old bike and is not a fully restored museum piece…it is not perfect(Although I havnt seen a nicer old school slingshot on the road). There are a few small nicks here and there. The flaws most notable are(please see pict): One of the original left minor has some silver faking on the inside, there is a small color sanding burn on the upper fairing on the pearl but it is base is clearcoated(not real obvious unless your looking for it). there is a internal paint crack(I reinforced the back but no way to get around it with an upgraded clutch) on lower right fairing where it contacts dechellis spacer clutch cover. There is a small crack on chain cover. I have a good record on ebay and its important that there are no surprises. So please ask questions and I will answer and post them to the best of my ability. I am not a gixxer expert so if you have any comments or info on the bike I will post those as well. I reserve the right to end the auction early if the bike sell locally. Please note that the bike has a very reflective surface for photos so there are a a few of pictures that have reflections that may look like flaws such as a picture of the left side mid fairing that has a red circle marked small scuff. Only the flaw is circled….the white lines around it are only reflections… not scuffs. Thanks and good luck
Here's only some of the many photos in the auction-
At a little over 45k, this bike has a lot of miles on it. But for all those miles, the bike looks to be in really good condition. The seller highlights some of the cosmetic issues in the photos and the bike is clearly not 100 percent stock. The pipe is a Yoshimura, which isn't exactly a bad thing, and the chain guard isn't stock. The seller also highlights all of the restoration work done to get the bike into this condition. It's not a museum piece, but it's still a good looking bike and rare to see in a mostly original and non-wrecked condition. The engines in these are known for their toughness but you'll want to make sure the bike is solid in the maintenance department.
I love all GSX-R's and this one is certainly good looking to me. If you want to own a classic sportbike that will turn heads, this one may be for you. To find out, check this auction!
-RN