Well this is obviously not some perfectly-preserved replica, so if that's a problem, just move along. Me, I'm always glad pristine originals exist in museums, so we can tell what those original, factory-supplied decals on the tank looked like before years of spilled gasoline caused them to flake and peel. But I don't really want to own those bikes. Original carbon canisters that clutter up a Ducati's clean lines? Massive exhaust cans that make a superbike sound like a sewing machine? Ugly plastic fenders and bulky signals and all that are optional, in my book. A bike is a blank slate. Sure, you can go too far and create something tacky and ill-advised. But this particular Suzuki GSX-R750 walks that line perfectly, with classic, if not original graphics, and great 80s endurance-racer style.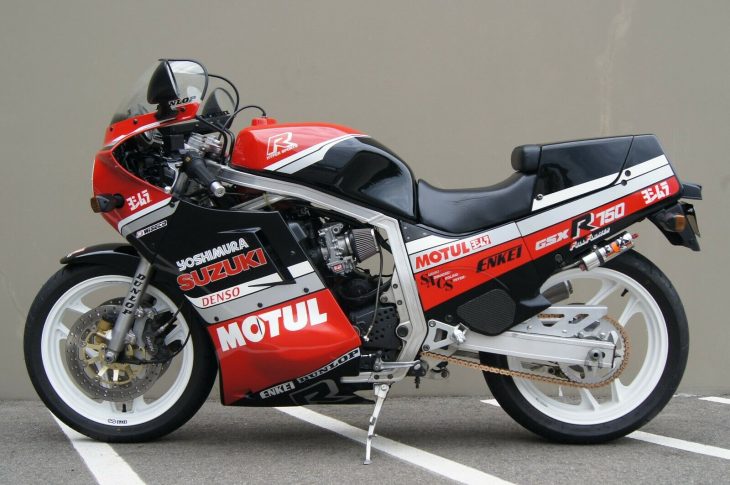 Flat-slide carbs now feed the air and oil-cooled inline four, but it otherwise retains the classic GSX-R oil-boiler powertrain. The inline four had twin cams and four valves per cylinder, but it saved weight by eschewing a radiator and water cooling system. Instead, Suzuki's first couple generations of Gixxer used the Suzuki Advanced Cooling System or "SACS" that featured a double-chambered oil pump to circulate and cool the bike's lubricant, along with oil jets that sprayed the undersides of the pistons.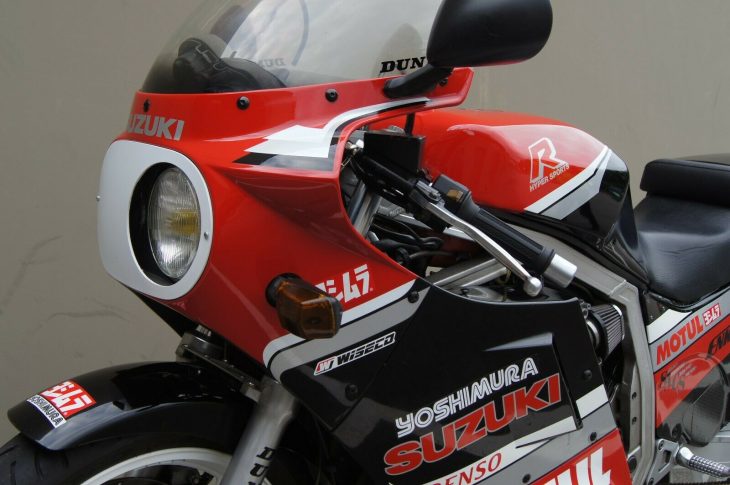 The colors here match the black-and-red Japanese-market Limited Edition version of the bike, decorated with tasteful period sponsor logos. I don't know if this Yoshimura setup is period-correct, but it looks the part, and makes the bike look more lithe and nimble, more modern. There may be fans of the huge, perforated cylinder that passed for an exhaust can on the original bike, but I'm not one of them. Stainless-steel braided brake lines are obviously a later edition, but look good and should improve feel from the old-school four-piston calipers. The Fox shock out back should get handling closer to modern standards, and I love the single-lamp endurance-style fairing.
From the original eBay listing: 1986 Suzuki GSX-R750 Race Replica for Sale
INTRODUCTION:

You are looking at a 1986 Suzuki GSX-R750 endurance race bike replica. This GSX-R750 was custom built to race spec but was never raced, it was mostly a show bike, this race build was inspired by the 1986 endurance race bike. The motor was fully race built from the crank up and a lot of performance bolt on parts were added or custom fabricated to replicate the endurance race bike of 1986. This bike is extremely fast and truly feels like a real race bike with the motor modifications and bolt on performance parts. But please feel free to read more about the specifics of this bike and see the pictures for detail. If you have any questions, please do not hesitate to contact us. U.S. and International bidders are welcome to bid on this motorcycle but must arrange shipping themselves…

BODY:

The body work is all original and is in good condition. There are absolutely no cracks on any of the body panels, but there are some minor nicks and scrapes on a few of the panels.  We took pictures of the body work before all the decals so you can see the decals are not hiding any cracks or paint flaws. The wheels are perfect with no rock chips or scratches anywhere. The frame and engine have no corrosion and are nice and clean. Overall cosmetically this bike is in very nice condition.

MECHANICAL:

The bike runs and rides perfect, and shifts smoothly through all 6 gears. A full service tune-up was performed which included new spark plugs, chain, air filter, brake pads, oil change, new tires, and fluids flushed. All of the lighting, switches and electrical components work as they should.

RACE PARTS:

Professionally fully built motor from crank up, balanced crankshaft, over sized Wiseco pistons, race cams, adjustable camshafts sprockets, extended hardened rocker arms, performance valve springs, titanium valve retainers, and camshafts were degreed top performance race spec. 34mm Mikuni flat slide carbs, velocity stacks and pod filters included. Yoshimura race exhaust, fox fully adjustable rear shock, progressive front springs and emulators, larger 4.0 rear wheel, 520 chain conversion, pro flo clip-ons, larger diameter front brake rotors, braided steel brake lines, 4 piston large calipers. this bike also comes with a full JDM lighting kit for street, which includes JDM turn signals, and front headlight kill switch with city light options too.

CONCLUSION:

This is a great opportunity to buy a 1986 Suzuki GSX-R750 endurance race replica. This race build was inspired by the original endurance race bikes of the time and was built to closely resemble and perform as the original Suzuki team endurance race bike. If you would like any additional pictures or have any questions please feel free to email us. Domestic & International buyers are welcome to bid but must arrange the shipping themselves. We will however be glad to assist with any loading of the motorcycle.  We have helped with the shipping of motorcycles across the country and overseas for other customers in the past. Please feel free to bid as long as you make the shipping arrangements.
This is a very sharp bike, although the gauges are pretty faded and some other details show the bike's age. Overall, it seems like a very nice rider, a bike to be enjoyed and shared, not bubble-wrapped or displayed in a museum. Bidding is very active and up to just north of $5,000 with several days left on the listing.
-tad