Location:Graham,Washington
Miles: 12,915
Price: $5,000 starting bid with NO RESERVE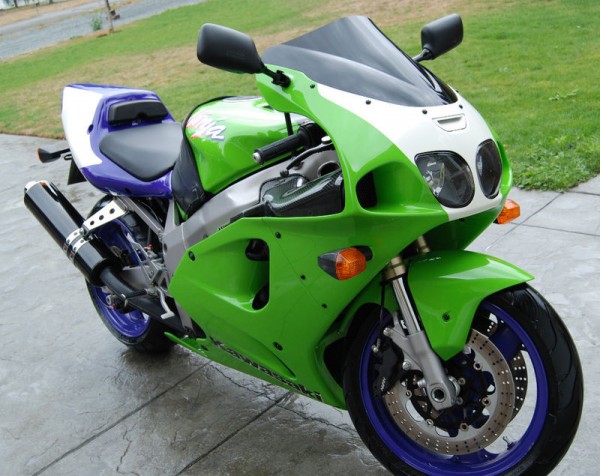 It's been just a couple days since we posted one of these N1 ZX-7RR's on the site, but here we have another clean example with moderate mileage up for grabs. If you aren't immediately familiar with the N1 7RR and what separates it from the standard 7R, then bear with me. The RR came with adjustable steering geometry and swing arm, 41mm flatside carbs, solo seat, close ration gearbox, 6 piston Nissin brakes, and a few other homologation parts. Though some say this made the 7RR a little strange on the street and that the 41mm carbs were finicky and either ran too rich or too lean. Still, these bikes were designed to be tuned and raced, and definitely represent the sadly dying breed of homologated race specials of the 90's.
From the seller:
"YOU WILL BE BIDDING ON OUR 96 KAWASAKIZX7-RR MUZZY BIKE, THIS BIKE HAS BEEN GARAGE STORED SINCE WE'VE OWNED IT. BIKE RUNS AND LOOKS GREAT, WE ARE SELLING THIS BIKE ALONG WITH OTHERS AS WE ARE CURRENTLY MOVING AND MUST REDUCE OUR INVENTORY OF BIKES ON HAND.

CLEAN TITLE, MILEAGE ON BIKE IS 12915, BIKE IS NOT LICENSED AND WILL NEED A BATTERY.

EVERYTHING ON THE BIKE IS ORIGINAL, KAWASAKI GREEN, WITH PURPLE AND THE LIMITED ADDITION SIGNATURE FROM ROB MUZZY ON THIS YEAR AS HE PRODUCED ONLY 500 OF THIS MODEL."
The ZX-7RR up for grabs here looks to be all stock except for the carbon covers on the intake
ducts. The seller states that a new battery will be required and I would be interested to see what the tank looks like underneath the cover, just to make sure there isn't any scratching or scuffing. Opening bid is at $5,000, and I would suspect this bike to go for about a couple grand more than that. If you're a collector of homologated specials, this would be a good one to score. Even if you just want a cool bike with some history behind it, then check out the auction and make this bike yours!
-JS