The sagas of some of the most well-known European manufacturers can read like film scripts, full of action and intrigue. But if Ducati's story is a bit like an Indiana Jones movie, with death-defying thrills and narrow escapes from doom, Triumph's history is a bit like a zombie movie, since they were basically dead and buried when John Bloor came along to resurrect the company. So how does a shambling, undead motorcycle manufacturer with limited resources and a less-than-stellar reputation for quality create a successful range of motorcycles from scratch? With interesting niche machines like today's Daytona 1200.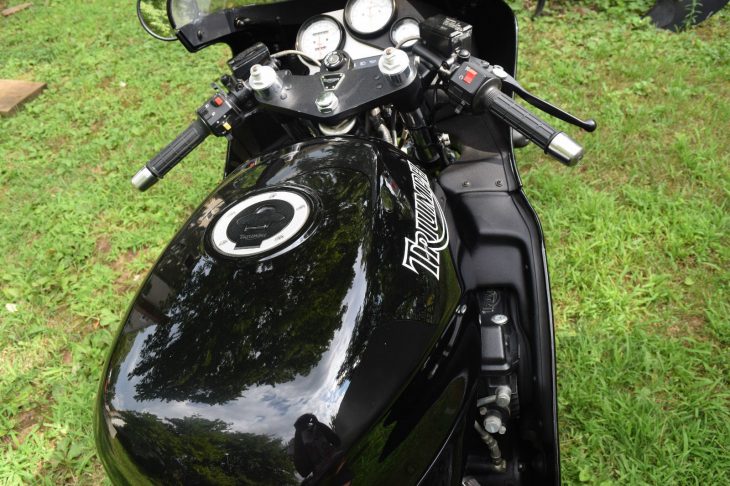 Triumph's bikes of the period were designed around a modular concept that allowed Triumph to develop a wide variety of motorcycles for different riders with a minimal cost. It also allowed them to quickly introduce new models and capitalize on market trends. Introduced in 1993, the Daytona was virtually identical to the touring Trophy, with new bodywork, suspension, and tires. But those small changes resulted in a bike that was much more than the sum of its parts.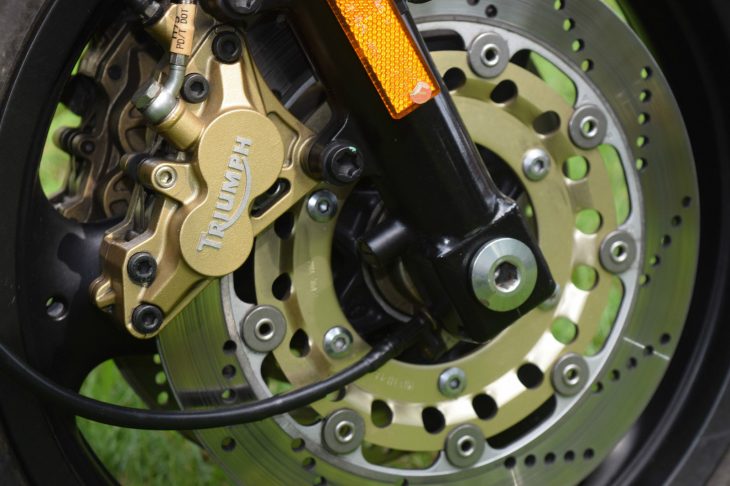 The Daytona 1200 is much like the 900 in terms of character, only more so: the big 1180cc inline four isn't so much a lightweight sportbike as it is an alternative to something like the ZX-11, a fast, big-bore GT. And while the other bikes in the class battled it out for top-speed honors, the Daytona wisely demurred and stuck with road-biased gearing that emphasized the beastly midrange stomp of the big four and gave the bike seriously rapid acceleration up to 100mph. The engine produced a claimed 147hp and 85lb-ft of torque, pulling around 550lbs wet. That horsepower number may not scream "high performance" but take a look at that torque figure: right on par with modern literbikes, although the Daytona obviously has more weight to lug around. Handling was very good, but limited by the bike's 550lb wet weight, a downside of Triumph's modular construction. Comfort was excellent as well, almost as if Triumph expected their customers to actually ride their machines…
From the original eBay listing: 1995 Triumph Daytona 1200 for Sale
This is a one owner bike purchased from new. It has 5,093 100% original miles. This bike is 100% original except for the D&D exhaust system. It has never been in an accident of any kind. We have the original clean title, everything is authentic.
Very few miles have rolled under the wheels of today's example. It appears to be in excellent condition, and includes an aftermarket exhaust that should reduce the weight slightly and increase the volume and quality of the noise, although D&D exhausts can be a little on the loud side. That $6,588.00 Buy It Now price is pricey for an old Daytona, but I bet you won't see one nicer anytime soon. The seller also includes a very nice, high-resolution video of the bike to give you a good idea of what you'll be buying.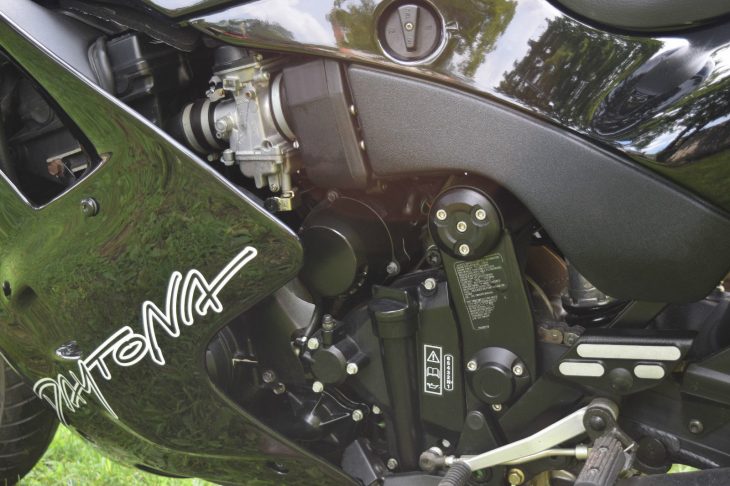 Triumph knew that their modular design was never going to compete directly with specialized bikes from the Japanese manufacturers, so they simply went their own way, and focused on maximizing the performance of their platform, improving the quality, and styled their products to appeal to a more sophisticated, mature rider who didn't need to pretend they were going to win races on their machines. That may not have led to bragging rights at the time, but it made for a very well-rounded machine that's aged very well: styling is classic and the bike offers very real performance. All of the Daytonas, and even the later 595 and 955 versions are starting to increase in value of late. If you're looking for a handsome bike with character and the ability to munch miles, a Daytona like this one might make an excellent addition to your stable.
-tad