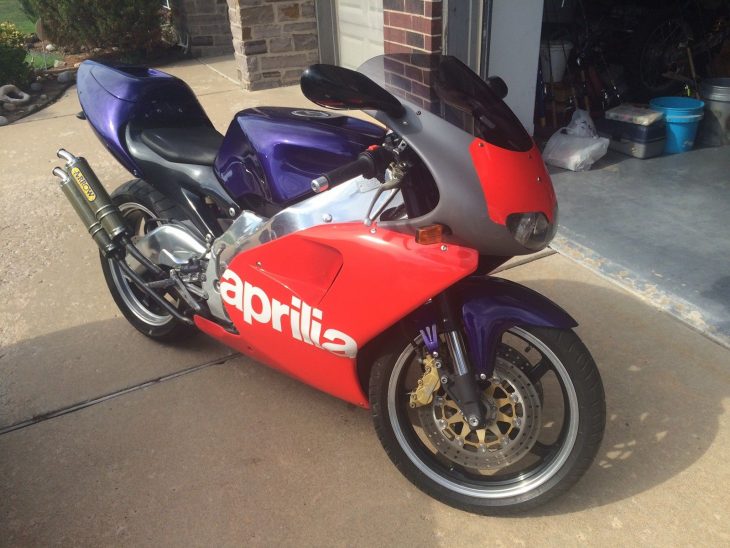 Suzuki has a long-standing relationship with the smaller Italian brands, providing their well-engineered powerplants to the likes of Bimota, Cagiva, and Aprilia. It makes sense: big companies may have excess production capacity, and it's practical for smaller companies to purchase powerful, reliable, thoroughly-developed engines and transmissions and instead focus on frames and styling. In the case of the Aprilia RS250, they used Suzuki's two-stroke v-twin from the RGV250 that competed against Honda's NSR250 in the hotly-contested quarter-liter sportbike segment.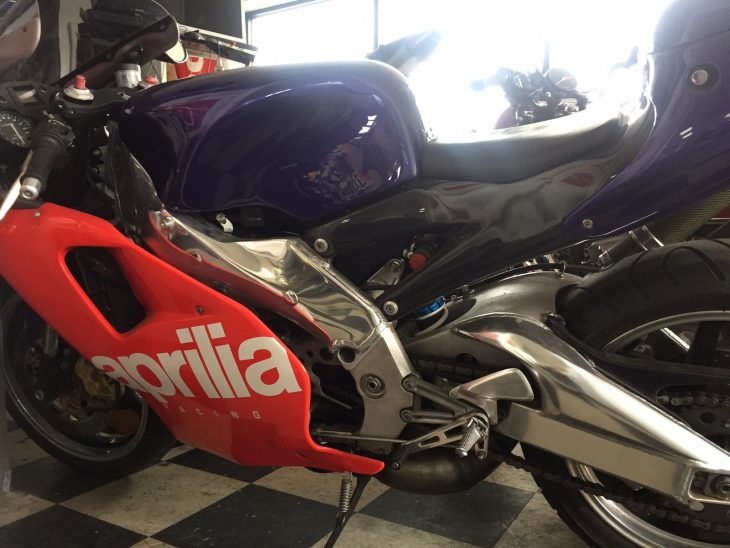 Specs for the bikes in the class look virtually identical at a glance, a case of convergent evolution. While some machines like the Yamaha TZR started out motivated by parallel twins, by the time the class was legislated out of existence they all used liquid-cooled 249cc v-twin two-strokes with some form of powervalve, and they all produced a strangely specific 45hp… Distinctive, asymmetrical "banana" swingarms featured prominently as well, and created space to fit the required exhaust expansion chambers for maximum power, while still allowing extreme lean angles. All of those features can be found on the RS250, although it appears at first that Italian tuners went to work modifying it with a much higher claimed output than Japanese rivals. But the reality is that the Japanese bikes were hobbled by home-market legislation that limited their power output well below what was possible, something that didn't apply to Aprilia.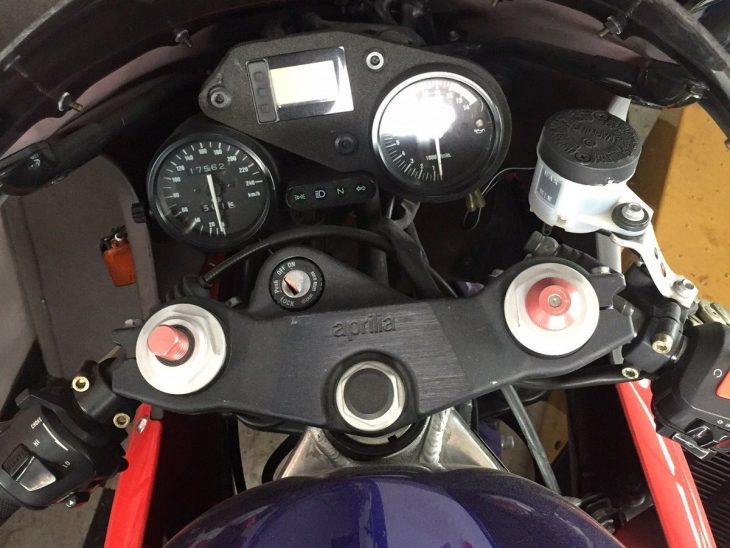 So performance was on par with bikes like the [de-restricted] NSR250, with surprising power, agile handling, and a dry weight in the neighborhood of 300lbs. But while the Japanese bikes are handsome and certainly look great in race-replica graphics, the Aprilia has unmistakable Italian style, and the sculptural, polished frame that makes the simple beam units from Honda, Suzuki, and Yamaha look like crude, industrial extrusions. I'm a big fan of this particular bodywork and color combination, and I think it's one of the very best-looking bikes of the 1990s: balanced and aggressive without being cartoon-y, with just a splash of garish color. And I like the earlier dash seen here, with that added-as-an-afterthought speedo and idiot-light section that looks easily removable for track day excursions or racebike conversion.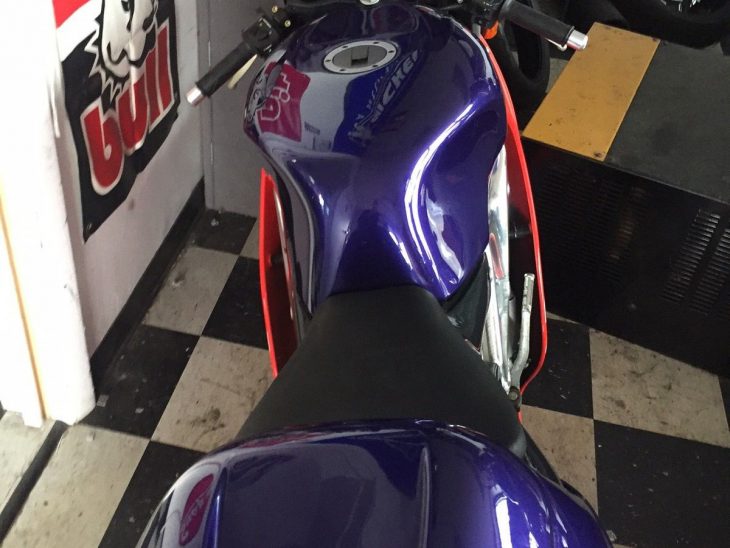 From the original eBay listing: 1995 Aprilia RS250 for Sale
This is a used RS250 2 stroke. This bike was purchased by a Marine in Germany and shipped back via plane to the USA. It has 10,280 miles or 17,000 kilometers. Bike has a fresh change of oil and carbs have been taken apart and cleaned. Bike is currently running and has great compression. I have all the keys and manuals. I have every single document to convert to a US title. I also have some spares. (please see photos) There are minor scratches on the bike from normal wear and riding. A very clean and well preserved RS250…
The photos provided by the seller of this example are decent, but it's had to get a real sense of just how nice it is. There are some graphics/logos missing from the tank and bodywork, so maybe a nicely repainted set of plastics? Mileage isn't museum-quality low, but that just means you should get out and ride it! As the seller mentions, the bike was imported from Germany [see: post title] at some point, and it apparently doesn't have a US title as yet. As always, do your research before buying, as titling these kinds of imports will vary significantly from state to state: there's a very good reason you see so many Oregon and Nevada plated cars and bikes running around Southern California…
-tad