Warning!
This post is in our archives. Links in this post have been updated to point to similar bikes available to bid on eBay.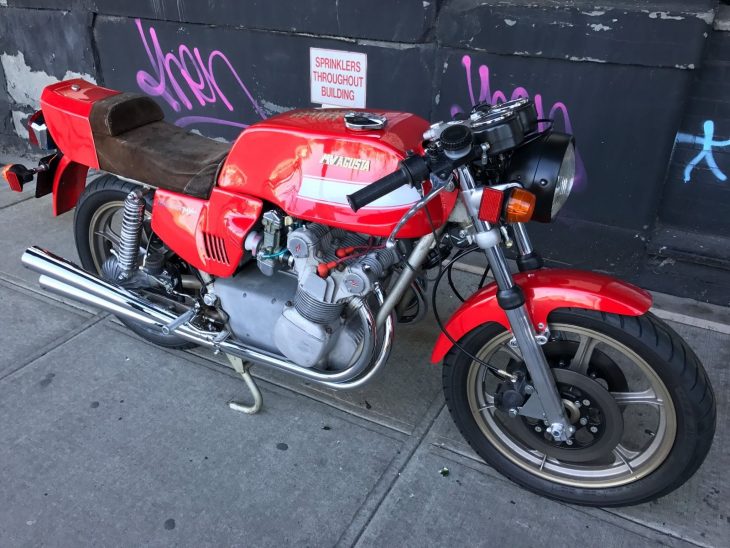 Most factory racing efforts are intended to raise the company profile and sell more bikes, or are used to develop and test new technology that filters down to and improves road-bike performance. But the early road-legal efforts of Ferrari and MV Agusta were basically afterthoughts, and sales of these vehicles were simply intended to help fund the companies' racing teams. In fact, MV Agusta didn't even make a serious sporting multi-cylinder roadbike until 1967's 600 4C, a notoriously half-arsed attempt at a production machine. Luckily, the follow up 750S and 800 Super America rectified that problem, although there were some pretty obvious indications that Count Agusta was uncomfortable putting his company's hard-won knowledge into a bike that was available to the public…
First of all, there's the literal elephant in the room: that 560lb wet weight. Sure, the MV Agusta carried that weight well once on the move, and plenty of other sport bikes of the late 1970s were heavy beasts, but considering the 750S cost an eye-popping $6,500 new, you'd think they could have put at least a modicum of effort into weight-reduction. The other component hamstringing the four-cylinder MV's performance was that strange contraption stretching from the back of the gearbox to the rear wheel: a driveshaft. Supposedly, it was decided that the bike for sale to customers would swap the normal lightweight drive chain for a shaft in order to prevent customers from simply racing their roadbikes. It means maintenance is less messy, but I doubt many of these were ever going to cover the mileage for that to matter. The specialists at Magni made a chain-drive conversion for these bikes, so it might be possible to track one of those down if you have extra coin to spend.
The original 750S made 75hp which was respectable at the time, considering the output of bikes like the CB750 and Ducati SuperSport, but nothing to write home about, then or now. The later 750S America or, as it was known in some parts of Europe, the "800 Super America," bumped displacement to 788cc and swapped the gearshift across to the left side to appeal to riders in the USA although, considering the low numbers produced for all markets, I'm not really sure why they bothered with that…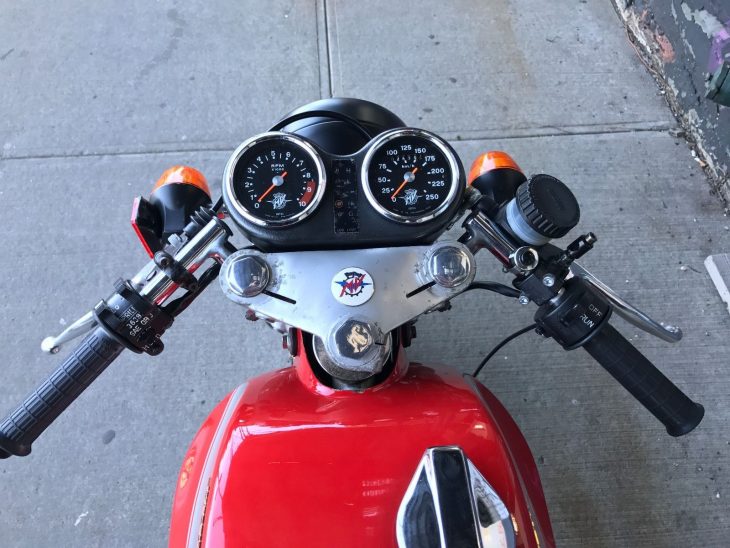 So if the 800 Super America is basically fat, slow, and expensive, then what's the point? Well if you equate "inline four" with "sanitized and boring" then prepare to have your eardrums shattered. The beautiful sand-cast, dual gear-driven overhead cam engine with a four-into-four exhaust makes a sophisticated shriek likely unknown to motorcyclists familiar with modern machines. It's narrower than a period Honda CB400 and it does handle, you just have to respect the weight and the monetary value. Which makes it pretty much ideal for the modern rider: a genuine race-replica would probably just be a pain to own, and you'd hate to crash something so valuable, so you're likely to ride at a fairly reserved pace anyway. Perfect for enjoying the play of sunlight along the tank on a beautiful afternoon and the sound of the engine bouncing off the canyon walls.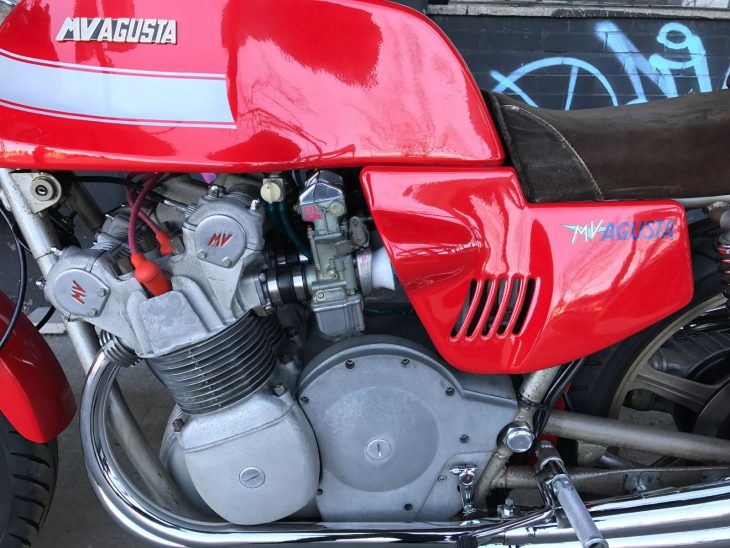 There's some good information from the seller in the listing, although describing the unloved 600 that preceded the 750 and 800 as "suffering from an identity crisis" is diplomatic in the extreme. Basically, the thing was so pug-ugly it was as if MV had extended their mechanical hobbling to include the style…
From the original eBay listing: 1977 MV Agusta 800 America for Sale
This is a very, very low mileage 4,629km/ 2,876 original miles bike! This example (VIN: 2210507) has 4,629 km was imported from Japan last year and previously was imported to Japan in 1990 and had one owner since then. It's gorgeous and sounds amazing (refer to running video at link below) – what more could you want? Bike is an original and an un-restored example with great, great patina. This bike needs one thing to ride – GAS! Bike is fully commissioned and ready to ride.

https://www.dropbox.com/s/1us90cevf2xp765/mv%20america.mp4?dl=0

Comes with US Customs import docs so that it can be registered/titled easily in the US.

Feel free to contact me for more information, or for more pics. I can assist with worldwide shipping. I ride and collect and I am always happy to connect with new owners who have the same passion as I do. Oh, and I did put this little bike show on last year… https://petrolicious.com/art-of-the-italian-two-wheel

Frame# 221-0507 Engine# 221-0300

75 bhp, 789.3 cc DOHC four-stroke transverse inline four-cylinder engine with four Dell'Orto carburetors, five-speed mechanical transmission, oil-immersed multi-plate clutch, front hydraulic telescopic fork suspension, rear swing-arm telescopic shock suspension, and front double-disc and rear single-disc brakes. Wheelbase: 1,390 mm

Originally a helicopter manufacturer, MV began manufacturing motorcycles in 1948. The company eventually went racing in earnest, and its dual overhead-cam singles, triples, and four-cylinders dominated international racing from the 1950s through to the 1970s.

John Surtees won his first world championship in the premier 500 cc class in 1956, followed by three successive world titles in 1958, 1959, and 1960. Surtees then turned his attention to Ferrari sports and Grand Prix cars, and to this day, he remains the only world champion on both two and four wheels. The torch was passed to Gary Hocking in 1961, then to Mike Hailwood in 1962, 1963, 1964, and 1965. That indomitable championship run was followed by Giacomo Agostini, who racked up an incredible seven world championships for MV from 1966 to 1972.

Driven by its dominance on the track, the MV, designed by the engineer Remor, was a major success. The beautiful DOHC inline four-cylinder engine was a genuine wonder, and MV thought it best to produce a road-going version for the public. The 600 "Quattro Cilindri" was unveiled at the Milan Motorcycle Show in November 1965. Innovative as it was, however, the 600 was not a major success. Suffering from an identity crisis, it was too expensive and not sporty enough to remind buyers of the MV Agustas ridden by the legendary Surtees, Hailwood, and Agostini. In 1969, increased displacement of 750 cc paved the way for top-level road-going performance.

The ultimate version came in response to requests from American importers. The 750 S America was unveiled in 1975 and produced until 1980. Its displacement was further increased to 790-cubic centimeters. The company had finally produced an exceptional motorcycle worthy of both its name and its fabled history.

The styling is pure Italian and the MV exudes character that few bikes can match. The 750 Sport America is on every serious collector's shortlist, of which this MV is one of the finest.
The fact that this is no show piece, but a ready-to-go motorcycle just adds to the appeal. Shaft drive or no, these are incredibly desirable motorcycles, and probably the most valuable road-going MVs of all time. Performance obviously won't impress today and wasn't even really top of the class when new, but it was and is a chance to own a genuine bit of the MV Agusta racing mystique from an era that saw them as a dominant force in racing. Bidding is up past $35,000 with the Reserve Not Met, no surprise since previous examples of the 750S and 750S America have been listed with starting bids in the $55,000 to $75,000 range, depending on year.
-tad