Update 3.9.2018: Seller indicates that this bike is SOLD! Congratulations to buyer and seller! -dc
Built to commemorate the exploits of Ben Bostrom in WSBK, Ducati commissioned 155 units of a special liveried 998s for the occasion. With a fierce splash of color to celebrated the American rider, the Bostrom edition differs little from the standard 998s in terms of mechanicals, but pulls out all the stops with visual impact. This is a bike that stands out from the crowd and makes itself known – even when quietly parked. Crank over the desmo-quattro twin, however, and you will find motive power aplenty to push you along. And that is the great thing about this bike: It is a rare collectible, yet can be ridden (and serviced) like a more conventional (read: less fragile exotic) motorcycle.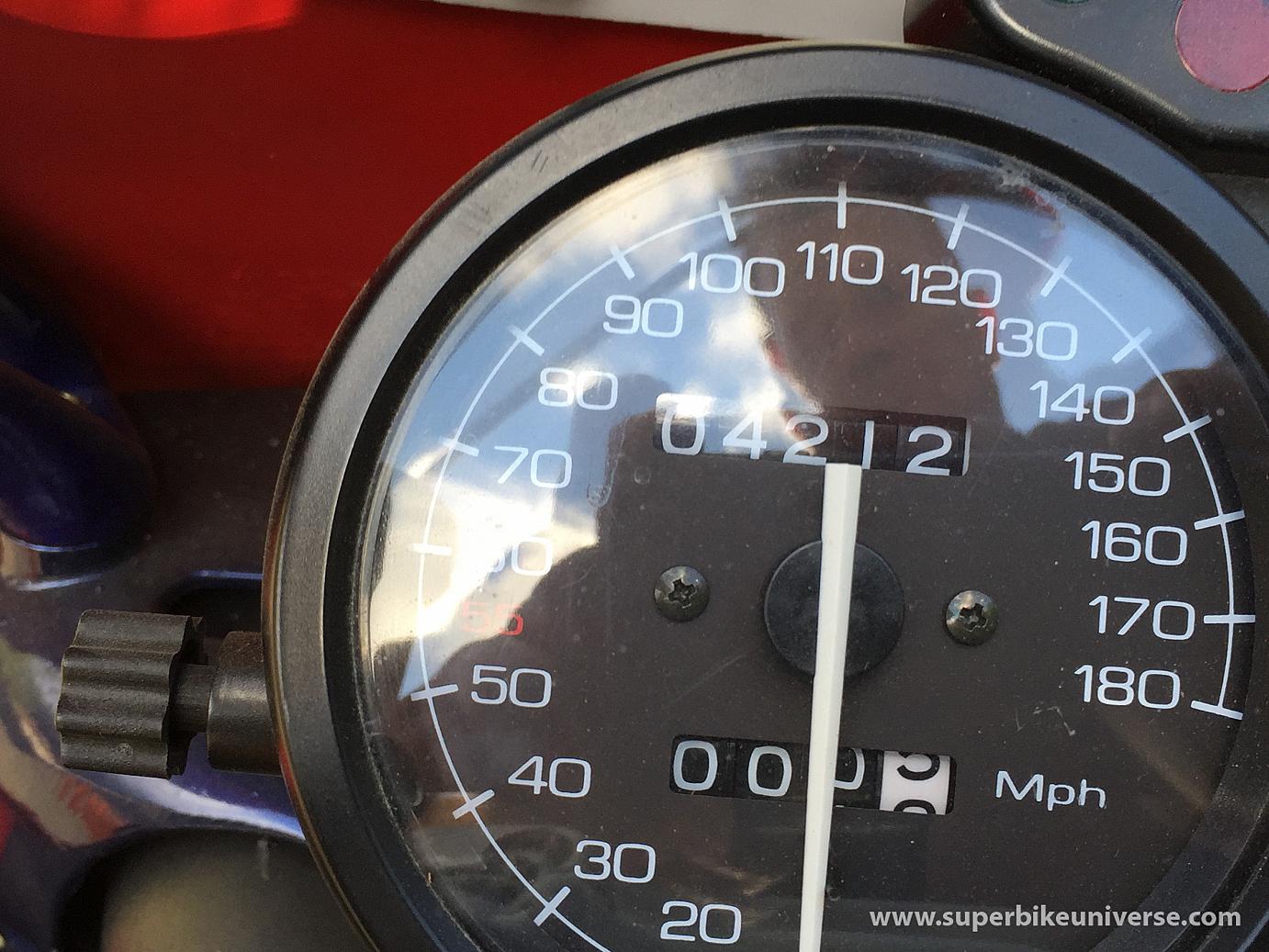 There is not much more that needs to be said about the Ducati 998s. An evolutionary example of the vaunted 916 series, this superbike was a frequent winner on the track (WSBK) as well as the showroom. The Testaretta engine with fuel injection, liquid cooling and requisite Ducati desmo valve actuation (opening the valves via cams AND closing them mechanically) makes for some great noise. Adding to the symphony is the rattle of a dry clutch. Bodywork is carbon fiber, and the excellent Brembo brakes actually use thinner rotors to cut down on unsprung and rotational weight. The chassis follows the 916 chrome-moly trellis theme, and suspension duties are ably performed by fully adjustable Ohlins units.
From the seller:
This 2003 998s is #108 of 155 produced by Ducat to celebrate Ben Bostroms superbike championship. It is essentially a 998s with a VERY patriotic paint scheme. I t has beautiful Ohlins suspension front and rear and Marchasini magnesium wheels. Some other extras on this particular bike include a full titanium Termignoni exhaust with carbon cans, a Ducati Corse ECU, some really trick NCR rear sets and a bunch of carbon accessories. The bike came to me form a collector in NJ with 2200 miles on it. I put on another 2000 and it performed flawlessly. What a great example of the icons 916 range. I just had a full service performed including belts,fluid flush, and fork seals by the Ducati specialists at ECS. When ever this bike goes out it turns heads. It is in perfect condition and will make a nice addition to any Ducati collection.
So why only 155 units? One look at the nose and tail section of the bike should tell you why. B-Boz rode with number 155, and that is exactly how many Ducati made of this limited edition (and numbered) model. Adding to the value of this particular machine is a few tasty bits: the Termi exhaust (titanium and carbon) with matching ECU upgrade and NCR adjustable rear sets. With only a few thousand miles on the clock, this bike could provide you with many, many exciting miles. Conversely, with only a few thousand miles, this bike could easily be preserved as a collector for years to come. In fact, it likely could do both!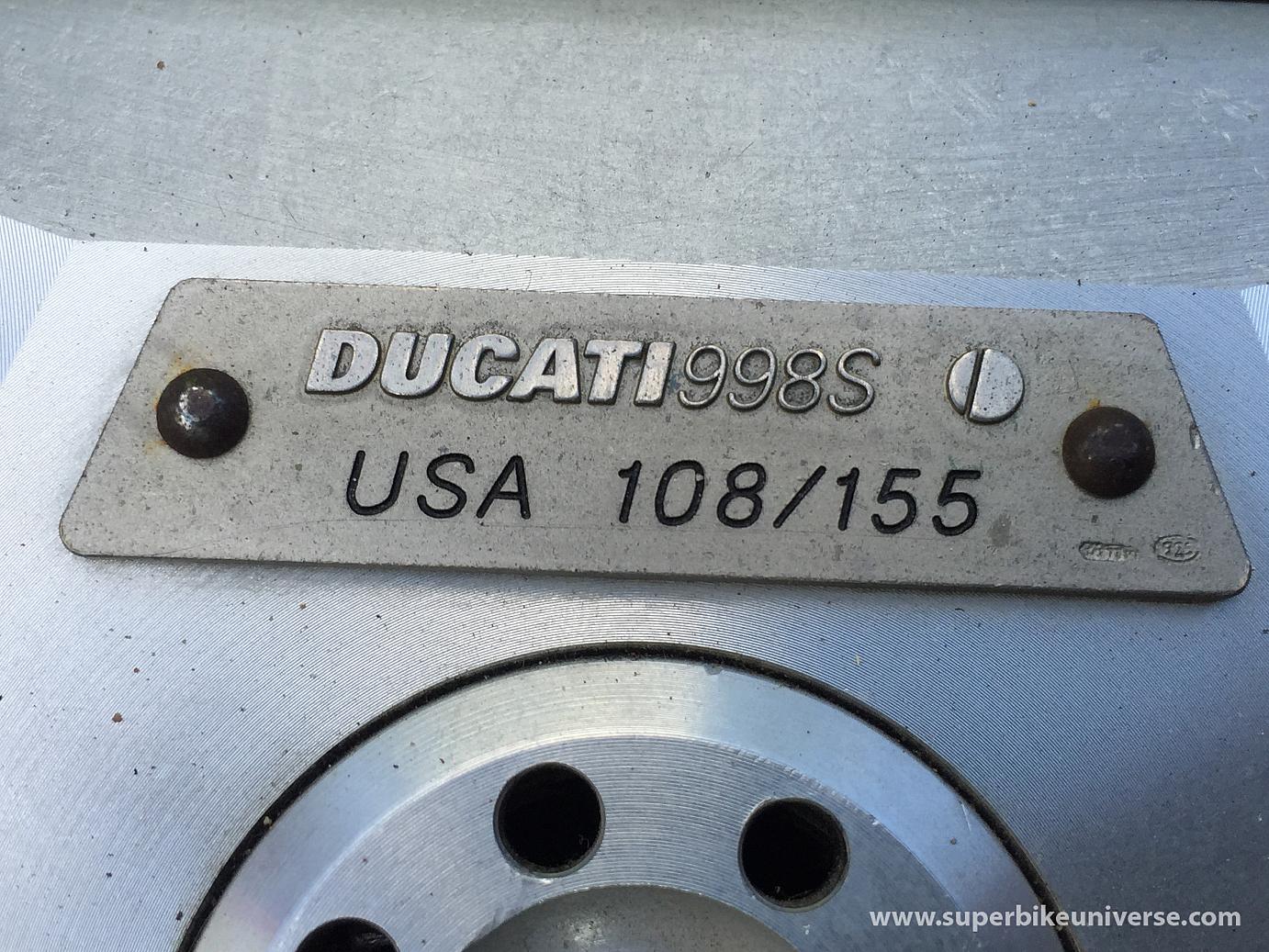 This seller has an impressive collection of rare sport bikes that will be listed on the pages of RSBFS. You can also check out some of the amazing bikes on his website: www.superbikeuniverse.com. We have seen some of these B-Boz edition models on RSBFS over the years, and they never fail to impress. Check out this wonderful and rare Ben Bostrom Edition 2003 Ducati 998s here. This is not an eBay auction, but you'd better move fast before this Italian take on Americana is gone!
MI