Warning!
This post is in our archives. Links in this post have been updated to point to similar bikes available to bid on eBay.

Update 9.18.2017: SOLD! Congratulations to buyer and seller! Email information removed. -dc

Update 9.14.2017: Price drop to $9,000! -dc

Update 9.7.2017: Price dropped again for our readers to $9,900! -dc

Update 8.30.2017: Now on eBay with a major price drop to $10,500! Good luck to buyers and seller. -dc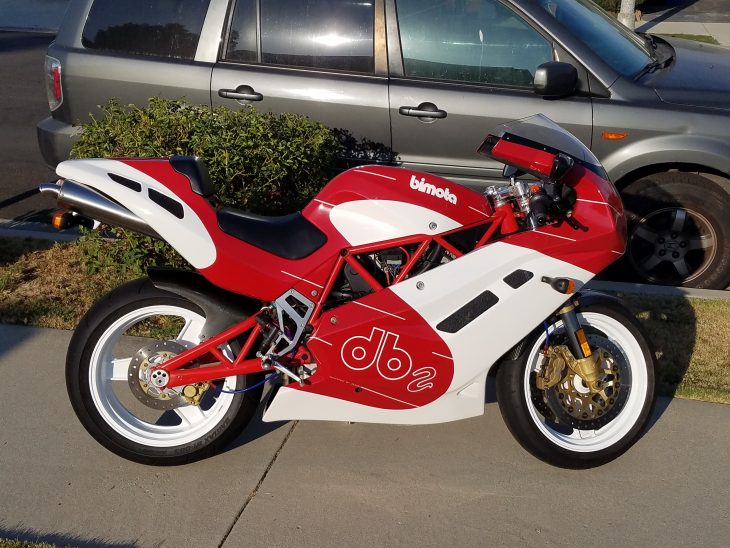 The Bimota DB2 isn't the fastest or even the rarest bike to wear the Bimota name, but it is among the most successful and helped pave the way for the raft of DB models that followed: we're currently up to the DB13 or something. By their nature, Bimotas are mutts, with proprietary frames and bodywork, but outsourced engines and that may be why used 1990s Bimotas are relatively affordable, considering how exotic they are. It also might be their unreliable reputation: light and fast they may be, but the 90s models especially have a reputation for kit-bike quality. Somehow, the air-cooled Ducati-engined models have managed to avoid that notoriety, so perhaps the Italian electrical gremlins of both marques cancel each other out?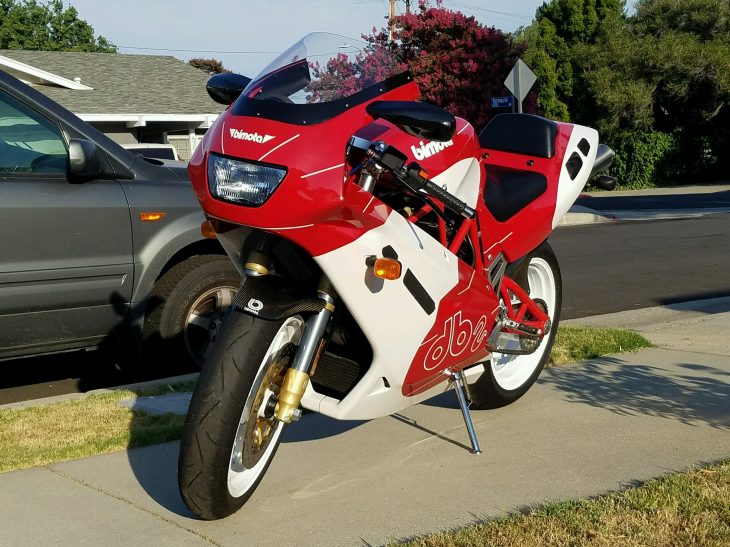 The original DB1, the first Bimota to be powered by an Italian engine, sold well enough [approximately 600 units] that it basically saved the company from ruin. For the DB2, Ducati supplied their six-speed-backed, 904cc air and oil-cooled v-twin. Any bike powered by the two-valve Pantah engine needs to be light if it's going to be fast, and the DB2 is very light. At a claimed 373lbs dry and with beefy Paioli RWU forks and adjustable Öhlins suspension at the rear, the svelte Bimota can make the most of its 86 claimed horses.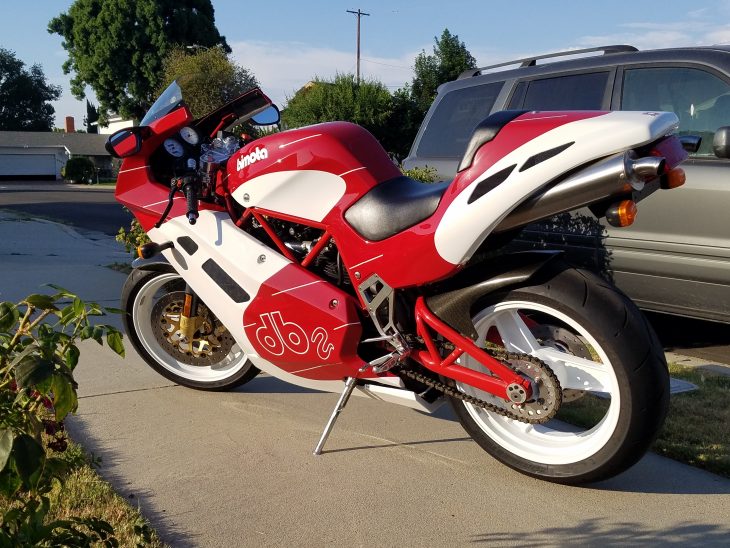 It's the perfect canyon-carver with nimble handling and a punchy motor tuned for midrange. The fact that it's one of Bimota's best-looking efforts doesn't hurt either, with swoopy, fully-enclosed or half-faired bodywork, a tubular trellis frame similar to the original Ducati part in terms of looks but not geometry, and a tubular swingarm to match. Period reviewers complained about the Yamaha-sourced headlight but it's less obvious now and fits the lines of the bike perfectly.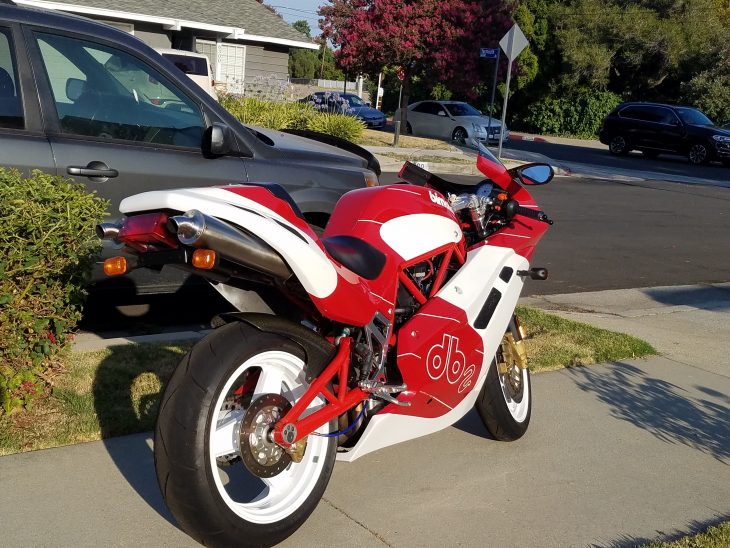 Some DB2 graphics are a bit too close to some sort of "urban camouflage" for comfort, but this simple white and red design look great, while also being very 90s in the best possible way. Confused about why this one is listed as a 1993/1994 model? The seller explains in more detail but basically: the VIN indicates a 1993 bike but the title lists it as a 1994.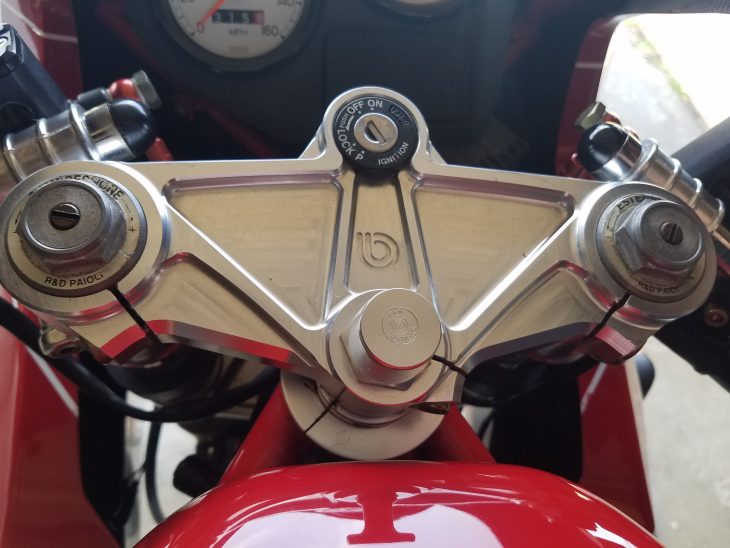 From the Seller: 1993/1994 Bimota DB2 for Sale
The VIN of this bike ZES1DB214PRZES001 shows it being the first US bike of the first year of production.  The VIN's 10th character is a "P" which means it's a 1993, the VIN sticker says it was made 6/93.  But for some reason the title states 1994.  It is one of 408 in the world.  I tried to contact Bimota to get and understanding of what being number 1 really means, they didn't reply. I doubt it's the FIRST DB2.  But whatever it is cool.  Currently the bike has 1921 miles.  I've had the bike about a year, I bought it from a collector in San Diego.  While I've owned it I've gone over the bike from top to bottom, I've listed the work and the parts out below.  I've ridden her about 300 miles and she goes as good as she looks.  This bike really needs nothing except maybe some lines to replace the unsightly (but functioning) blue Kevlar lines.  I have more pictures of the bike if you have questions about something or a certain area I can send them to you. 

Work:

Cleaned carbs
Replaced belts
Check valves (in spec)
Replace tires (still have originals)
Replaced windshield (still have crack original)
Changed all fluids (brake, clutch, engine)
Repaired minor scuff on tail
Serviced battery
Re-powder coated wheels
Replaced brake and clutch levers
Replaced some minor bits of hardware with matching zinc plated parts

Asking price is $12,500 $10,500 $9,900.
Around 400 DB2s were built, which is pretty much volume production for Bimota. They don't come up for sale often, but are typically in immaculate condition as they were always collectible. The question is: how do folks own these bikes and only put 300 miles on them?! At least the seller has taken exceptionally good care of the bike while it's been in his possession, and the low mileage means the next owner can put a few more on without adversely impacting its value!
-tad