Update 2.19.2016: I have received word from the seller that this bike is sold. Congratulations to buyer and seller! -dc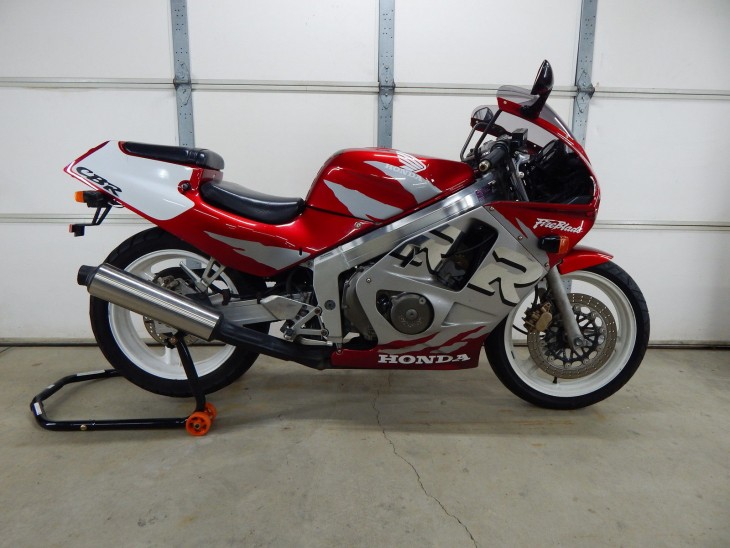 Well, I knew these Honda CBR250Rs existed, but I've never seen one for sale before. If you're thinking, "Oh jeez, so what? It's a four-stroke 250. A learner bike." Keep in mind, this is a 250cc four cylinder. Although sportbike redlines have crept ever higher over the past couple decades, a genuine 18,000rpm redline [I'm looking at you, Yamaha R6…] is still pretty impressive, even today. And learner bikes with cutting-edge specifications really just don't exist anymore, which is a real shame.
Produced between 1986 and 1996, this was primarily intended for the Japanese market although, like so many other bikes, many have found their way into other markets, particularly where such things aren't so heavily regulated.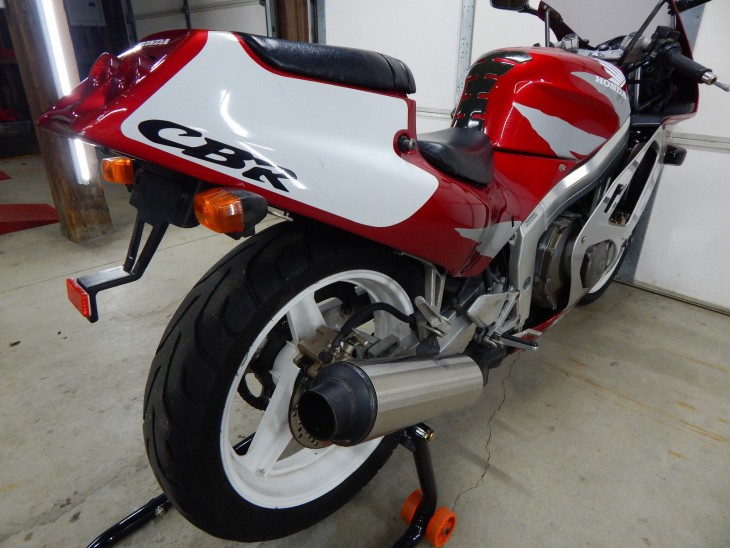 With a set of gears in place of a cam-chain and a six-speed gearbox, this is a pretty sophisticated package. And with a respectable 40hp pushing just 350lbs wet, there's plenty of performance to grow into: if you grew up somewhere with a tiered licensing system, this very well may have been your dream bike!
Thankfully, the seller includes a video clip of the bike in action that includes some static drive-by footage and some nice onboard as well where you can really hear the engine. I'd buy this just to listen those gear-driven cams scream!
This example isn't in perfect shape, as you can see from the dried, cracked instrument surround. But it is otherwise very clean and it looks well-looked-after, something that can't be said for every entry-level sportbike.
From the Seller: 1989 Honda CBR250R MC19 for Sale
1989 Honda CBR250R MC19. 14,478 Kilometers (8,996 Miles) Just imported into the united states from Australia. It is a lightweight sport bike with a six-speed gearbox and a 250 cc, four-cylinder, four-stroke engine capable of revving up to 19,000 rpm. This bike is 26 years old so it's not perfect, Please see pictures. I have gone thru the bike mechanically and everything works as it should. Turn signals, brake lights, horn, High and low beams, radiator fan, Shifts and revs to redline perfectly. I just serviced the front brakes, they needed attention. Tires are in fair condition. Perfect bike to restore or just leave it and thrash it around. Bike has USA Title ready to transfer into your name. Bike is sold as is. Buyer responsible for shipping.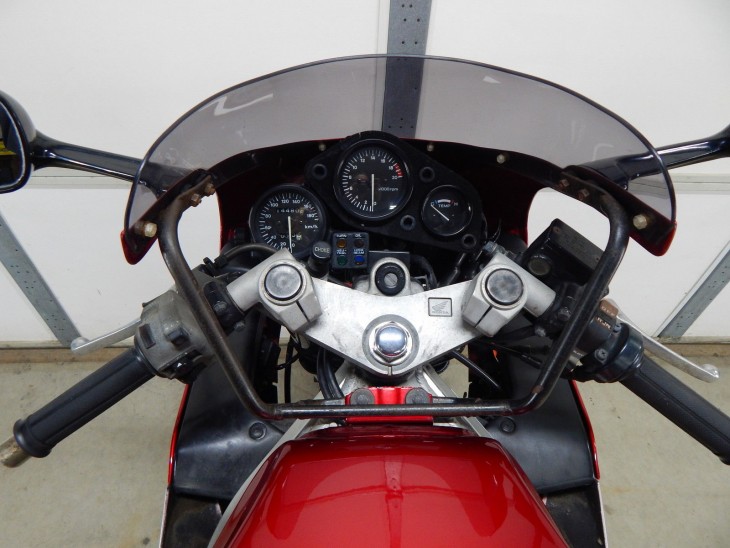 These aren't especially rare in Japan, so I can't imagine that spares would be all that difficult to obtain if you're okay waiting for them to ship. All in all, this would make for a pretty cool conversation-starter at your local bike night. Good luck to buyers and seller!
-tad