Update 7.23.2019: This bike has SOLD! Congratulations to buyer and seller! -dc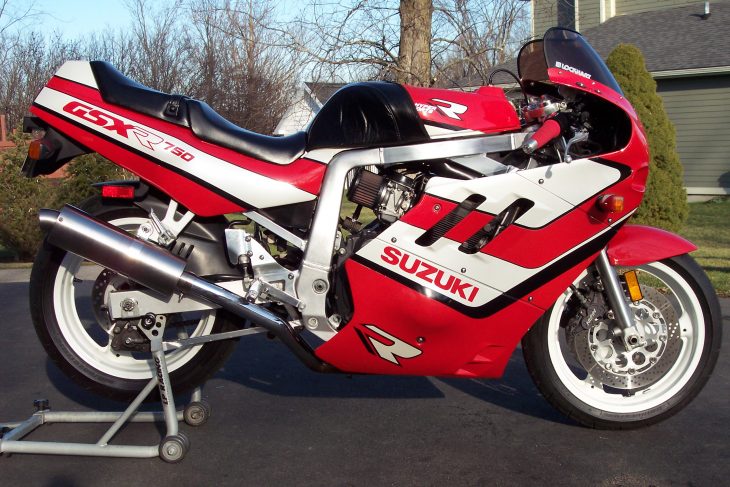 Presented in their alternate red and white livery, this K-variant GSX-R750 is ready to do battle at the next street cred concours. It has a careful 12,000 miles which is low, but more of a survivor than babied collector. Suzuki designed it with a laser focus on light weight and usable power, which made the GSX-R750 instantly popular.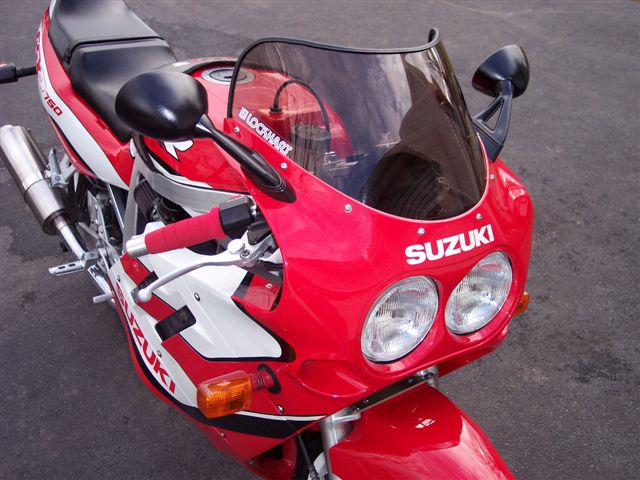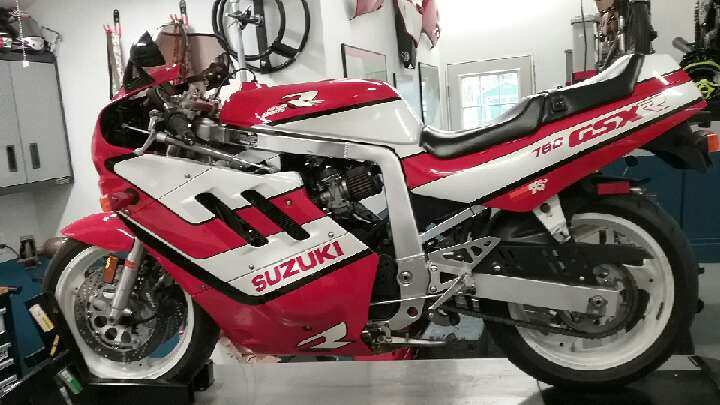 Suzuki went seriously oversquare in the comprehensive 1988 revision, the 73mm bore and 44.7mm stroke allowing 13,000 rpm and 112 hp. Still air/oil cooled though, which eliminated weight and complexity. 36mm Mikuni carbs featured the asymmetrical slide hence the "Slingshot" name, beside the way it took off from the starting line. The alloy frame was updated, but continued with its lightweight and braced theme, carrying the engine lower than before. Cartridge forks were still right side up, and the Full Floater swingarm controlled the rear. Brakes were a more modern size with 310mm front disks. Without a spec sheet or caliper you can see the wheels are wider and noise is contained by a 4-into-1 exhaust.
The owner Scott's comments:
If you've always wanted a really nice Slingshot here's your chance. Red with white just under 12,000 original miles. This is a true survivor which is mostly stock other than the airbox and Supertrapp silencer. New battery just serviced all new fluids and carburetor cleaning/rebuild, new rear brake line, petcock, and cush drive. Everything including dash lights are in perfect working order, its ready to go for the new owner. It comes with a hard to find unpainted rear seat cowl along with a back of the gas tank bra. It's a lot of fun to ride for a thirty-year-old bike. Rides very close to a modern bike and makes great sounds. It's never been down to the best of my knowledge.

Here's the back story, I bought it with the thought of turning it into a vintage race bike. When my friends saw it, particularly one that's a GSXR nut, they convinced me it was too nice the convert. They were not willing to buy it but would not let me race it! So I found a Slab-side that was a better candidate. As I'm more of a track guy my street riding in next to zero nowadays so this has been sitting in my climate-controlled Man Town.

I like to sell bikes with no stories hence the recent service. I would rate this an 8 out of 10. It's not a museum piece but a really nice original survivor that you will be proud to ride and turns heads wherever you go. There are a few stress cracks in the bodywork which is normal. There's also a crack in the top right side of the fairing right underneath the throttle.

I'm a fifty plus year old you guy that collects bikes so I am quite picky and tend to understate a bikes condition. It's registered in New Hampshire which does not title anything over fifteen years old, but I do have the previous owner's title. I do not need to sell this bike so please don't waste either of our times. I have a more pictures and happy to answer any questions. Thanks for looking!
1989 was the second year of the 2.0 GSX-R750, and small changes were made, mostly to increase available lean angle ! Otherwise it was a fitting second generation of a middleweight bred for the track, and a great value for the ante. Rather than a sheltered collector, this unrestored survivor could be enjoyed inside and out.
-donn