While BMW's wide-ranging catalogue didn't justify a MotoGP campaign, their sport division had a proper bike and its own support race series.  With the brand ambassador Randy Mamola's signature in paint on the fairing, this R1100S BCR has 20K miles and a spotless presentation.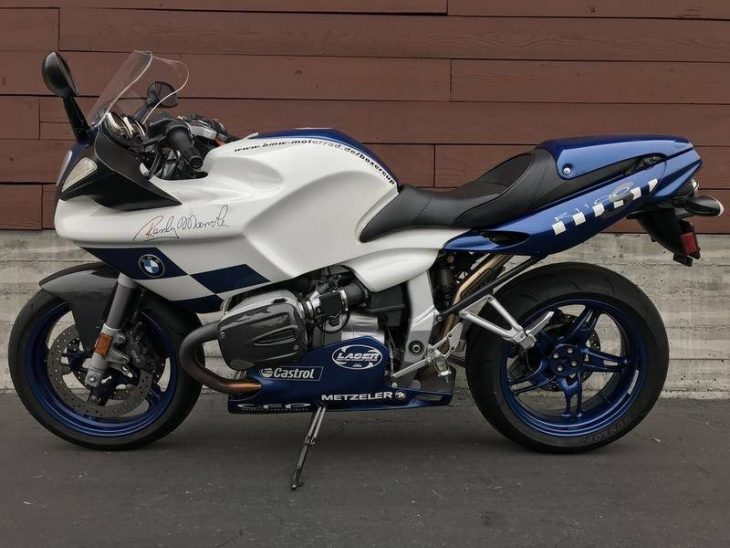 BMW put its then most powerful engine in the R1100S as early as 1998, with a single cam for each cylinder actuating four valves, resulting in 98 hp at just 7,500 rpm.  The engine was a stressed chassis member, with front and rear subframes attached top and bottom.  The Telelever front uses a compact monoshock, as does the Paralever shaft-drive rear.  The staggered 17 and 18-inch wheels help the heavyweight turn in sharply.  Special parts for the later BCR include dual-spark heads, longer fork tubes for greater lean angles, Laser exhaust, and carbon head covers and mudguards.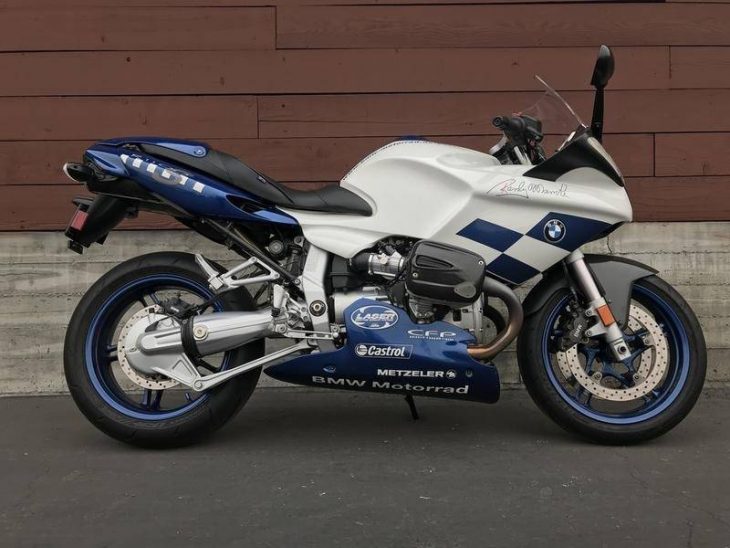 Despite some miles, this Replika is in outstanding shape, and offered by a Bay Area dealer.  Pictures are mostly overall views but indicate none of the usual brushes with reality.  From the eBay auction:
This is a track version of the R1100S, (albeit this track machine is shaft drive and comes with heated grips) and is the mostly unadulterated BCR version of the R1100S and retains everything that makes it a fantastic sport tourer including an upright riding position that allows for the ample leverage needed to wrestle the heavy machine from side to side.

Aside from the blatant difference in livery, rear-solo cowl, and carbon fiber valve covers – complete with sliders – there aren't many differences between the regular R1100S and BCR-spec models.  The Boxer Cup Replika (BCR) bikes were equipped with Ohlins suspension, a Laser exhaust, and a special paint livery with Randy Mamola's signature. The BCR's 1085cc twin makes 98hp at 7,500RPM and 71.5 ft-lbs of torque at 5,750RPM. A top speed of 140 mph is nothing too special, granted it does weigh in at just over 500lbs. A 31.5-inch seat height allows for surprisingly sporty riding (when you're not scraping that ridiculously wide engine) and it's 4.75 gallon fuel capacity is said to be good for a cool 150 miles.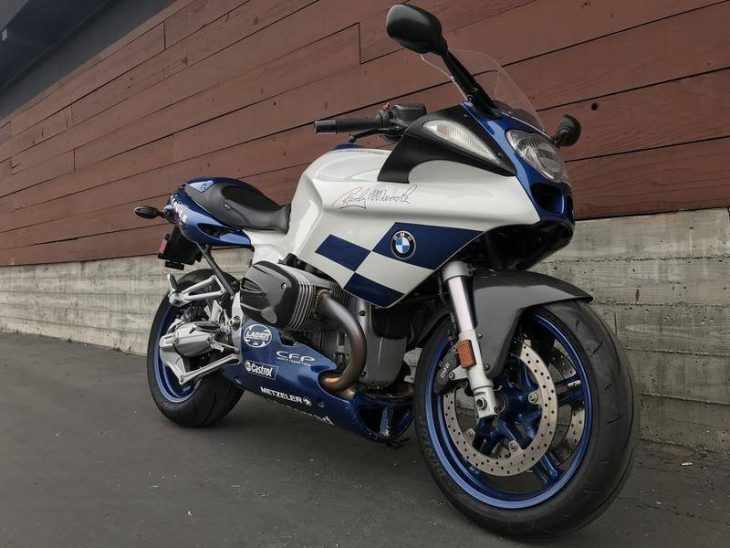 Randy Mamola might be the winningest Moto-GP rider without a championship, having placed 2nd four times in the series and 3rd twice, all in the 500cc two-stroke formula.  He went on to test-riding and race broadcast commentary, and hosted BMW fans in the Grand Prix paddock for Boxer Cup races.  This Replika is a highlight, at least among fans of the marque, and is a nice example for the miles…
-donn