For Sale: 1990 Yamaha FZR400
It really must be getting close to Christmas – because what other time of year can you find a super rare "must have" model (FZR400) augmented with carbon fiber everything and custom "go fast" race parts ready to mop up at your local A-level group track day? Now if only my skill level was up to the performance potential of this little rocket. Sigh. At least my leathers would match!
Does anything look better in the sunlight than the weave of biaxial carbon fiber? Well, not to me, anyway. Set up in full race configuration, this FZR400 – already considered a gem in the handling department – looks ready to do battle with liter bikes and two strokes alike. Bring 'em on – this is one Fizzer that appears qualified to take on all comers!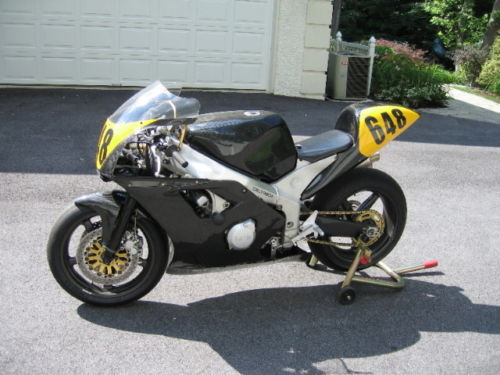 From the seller:
FZR-400RR 3TJ Race Bike

This is a race European model that was imported in boxes, assembled and used only for a few select track days by one of our wealthy customers. Oringinal engine & chassis build was done by BDK in the U.K.

The bike was dyno'ed at 86 hp by Speedwerks in Dover, DE. The bike was never raced, nor damaged and has very low hours. All while being kept in a climate controlled garage.

This bike cost over £16,000 (~$24K US)) to build, including shipping and import to the US.

This is a bike for a serious competitor who wants to win his class. You won't find many bikes that come close to it's performance, lightness and speed.

Just recently the bike has been professionally serviced, which included:
A rront fork service & new OEM seals
Complete carburetor cleaning and blueprint
Radiator flush
Oil and filter change

Here is a partial list of mods:
BDK Carbon Fiber Fuel Tank
BDK Carbon Fiber Seat unit incorporating aluminum sub frame
BDK Carbon Fiber Ram-Air System
BDK Carbon Fiber Front mudguard
BDK Carbon Fiber Fairing
BDK Carbon Fiber Carburetor Bell mouths
BDK Race Wiring Loom
BDK Adjustable Ignition Rotor Assembly
BDK Tapered Header Exhaust System (Stainless)(Titanium Race Can)
BDK Race Radiator
BDK Aluminum Triple clamp
BDK Aluminum Suspension Tie Rods
BDK Aluminum Fairing stays
BDK Aluminum Front Fairing Bracket/Clock Mount
Dymag Carbon Fiber Wheels (also including stock wheels)
BDK Race Generator System
Thumb operated rear brake conversion (by BDK)
Regina Race Chain
Taper Steering Head race bearings
Mini Front Brake Fluid Reservoir
Plastic-coating/anodizing of chassis parts etc
Handlebar grips
Lightened and Dynamically Balanced Crankshaft
ARP Connecting rods
1mm over-size Pistons/Rings
Race Camshafts to BDK specs
Big Valve Conversion (by BDK)
New oil pump internals
Race Kit Valve Springs
BDK Race Carburetor kit and mods
Electric starter
Custom Penske racing shock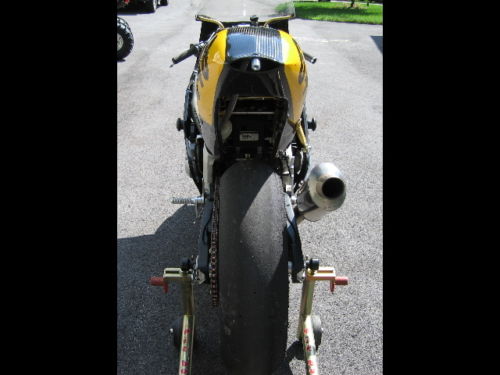 So what will it take to put you atop race-grade hardware for the holidays? Surprisingly, not as much as you might think. This particular carbon-ensconced sleigh ride is up for auction with a $12,500 BIN – and the seller is open to offers. Sure, that is quite a bit higher than the best FZR400s we have seen on this site, but they were OEM stockers and lacked the carbon, the Dymags and the 86 ponies that make this such a beast.
If nothing else, checking out this auction is a bit like indulging in wretched excess. There is some fantastic detail on this bike, and I sure wouldn't mind it in my garage. Sometimes it is fun to see what others with money will do – and building a bike like this is apparently one of those things. It may not be a hybrid two stroker GP replica, but I think it is pretty cool. Check out the details, and then let us know what you think!
MI