Big nakeds have finally come of age here in the US, with trick, high performance options from all of the major manufacturers. They're the perfect bikes for affluent, middle-aged folks who can't handle the crippling riding position of hard-core sportbikes, but still have a taste for speed and the skill to appreciate thoroughbred handling. But in the early to mid 1990s, things were just getting rolling for that market segment in North America, and the Ducati Monster and Triumph's original T309 Speed Triple were at the forefront.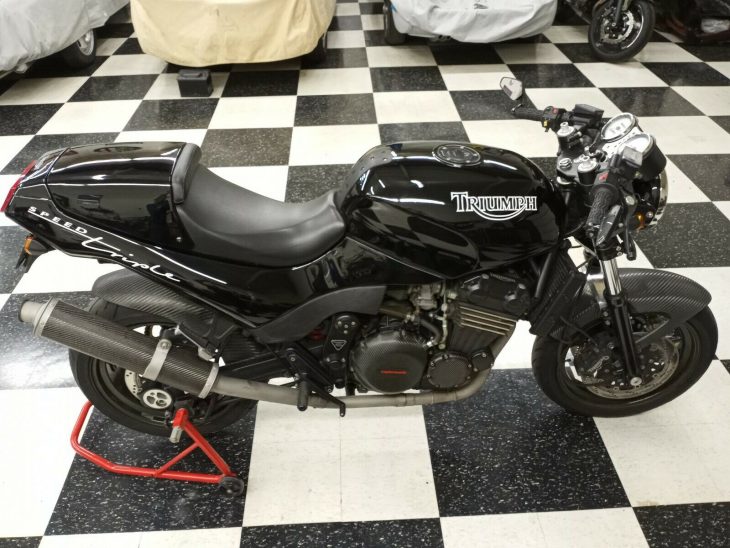 Both of those aforementioned bikes were designed with the same philosophy in mind and built using a similar formula: take an existing platform, in Triumph's case a variation of their modular spine frame and their proven three-cylinder engine and transmission, fit a simple dash, stick a round headlight on the front, and roll it out the door. The original Speed Triple was a bit more retro-looking than the Ducati Monster, but it was popular and profitable, helped to keep the newly reestablished Triumph afloat, and remains a mainstay of their production.
A claimed 98hp came from a liquid-cooled, four-valve per cylinder 885cc triple was backed by a five-speed gearbox, and the bike had adjustable suspension at both ends and beefy six-piston brake calipers up front. Unfortunately, the bike's modular origins meant weight was carried too high, and the bike wasn't really much of a handler. It all makes for a pretty ripping streetbike though, with retro-cool looks and plenty of performance for the road.
The bike shows 17,769 miles, which should be no problem if the bike has been sympathetically maintained, since the burly Triumph engines of the era were pretty durable. The carbon fiber wheels should go a ways towards both lightening the bike and improving handling, and the flat-slides, while less forgiving than CV carbs, should improve power and add another layer to the triple's characterful soundtrack that's already been enhanced by the full aftermarket exhaust.
From the original eBay listing: 1995 Triumph Speed Triple for Sale
Fast, fun, and reliable speed triple. Well maintained with many upgrades. Dymag carbon fiber rims. Taylor Made carbon fiber engine covers. Carbon fiber fenders. Keihin flat slide carbs. Staintune stainless and carbon full exhaust system. New tires 4 months ago with plenty of tread left.
Unfortunately, although this one has some tasty period extras, it's not cosmetically perfect: there's some surface corrosion on the pipes, wear on the tank pad, and the carbon fiber is pretty faded, considering the bike's $5,750 reserve price. From what we've seen, that's a pretty ambitious asking price for a first-generation Speed Triple, although the cosmetics could be cleaned up and the paint still looks very shiny. The first-generation Speed Triple is a collectible in the making, but so far prices have remained low. That's great for fans of bargain exotics, but not so much for ambitious sellers ahead of the curve.
-tad