When the flash flood of ultra-rare and highly collected models at auction dries up, RSBFS attentions turn to unique and under-represented specimens such as today's underrated KTM RC8. While the top of the line R model offers greater performance and rarity (for a price), the RC8 still offers striking good looks (if you're into angular design language) and more than respectable performance in a package you simply do not find very often. Post 2010 all RC8 models were R bikes. Given that KTM has completely pulled out of the Superbike world – both in the showroom as well as the racetrack – these bikes are only going to become more coveted. As luck would have it, there are two different RC8 examples available right now to compare and contrast, so let's jump into it!
---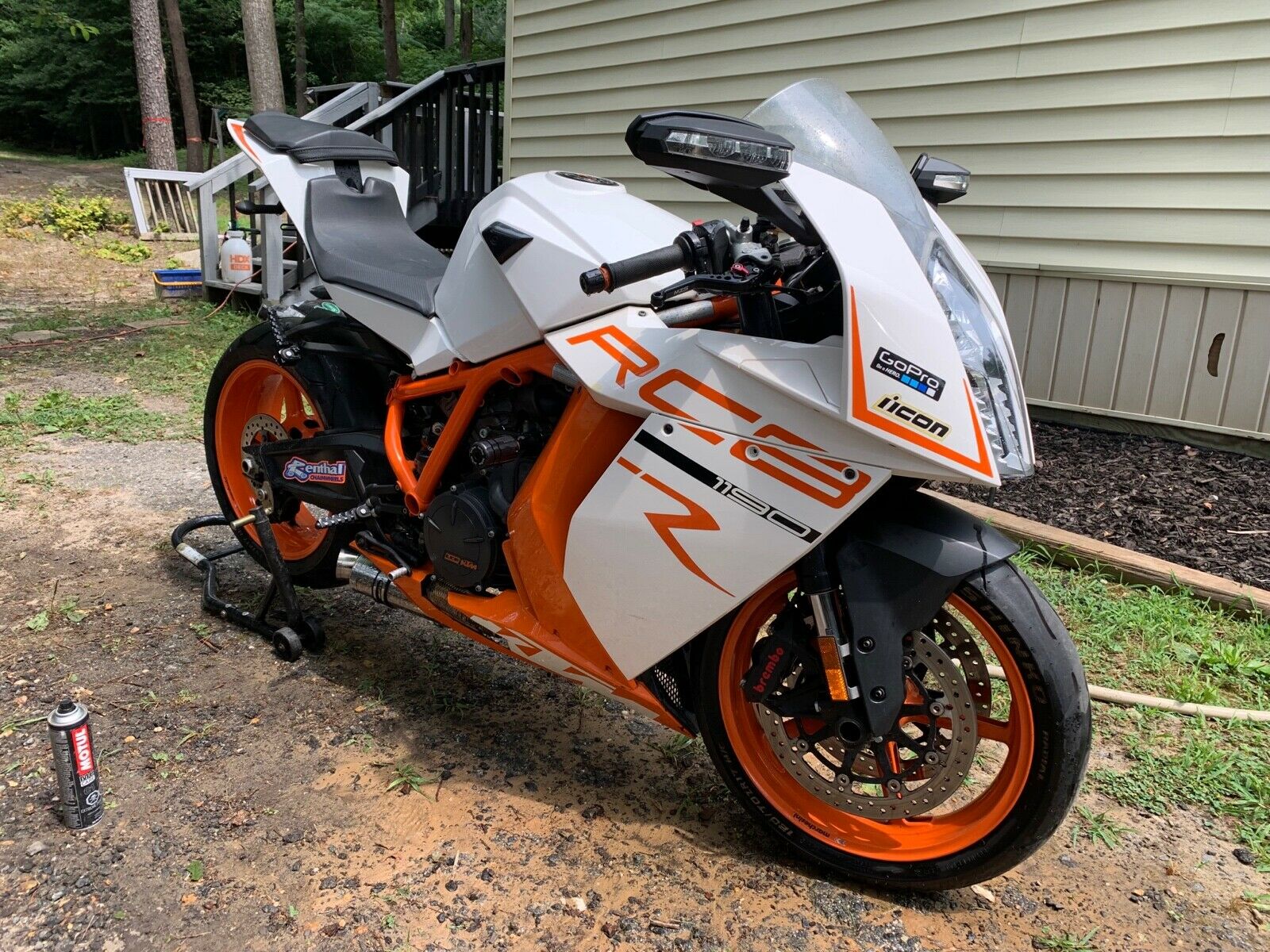 Built between 2008 and 2015, the RC8 went through a few iterations during its time. The original prototypes were 990cc V-twins, then iterated to 999cc V-4, before KTM settled on the now famous 75 degree, 1190 designation (actual displacement 1148cc for the base, and 1195cc for the R spec), fuel injected V-twin mill. Some of this had to do with competition; KTM paired with Ducati to lobby the SBK powers that be to allow for bigger twins to compete against the current crop of fours. Hence, shortly after the introduction, KTM was in the deep end of the WSBK pool, swimming with the sharks. For the buying public, the RC8 represented an all-new, scratch built motorcycle specifically tailored for performance. The specs are pretty special: 155 HP, thanks to four valve heads, Keihin fuel injection with 52mm throttle bodies and dry sump lubrication (with no fewer than 3 oil pumps!). The R models post 2010 upped the spec considerably with more displacement and bigger ponies (170). The chassis took a KTM-interpreted page from the Ducati trellis frame approach, with a series of short, straight sections of chrome moly tubing and an aluminum subframe. WP suspension appears on both ends, and is fully adjustable. In fact, nearly everything about the RC8 is adjustable, ensuring that nearly any size rider can find a fitment that offers comfort and control once on board this 406 pound missile.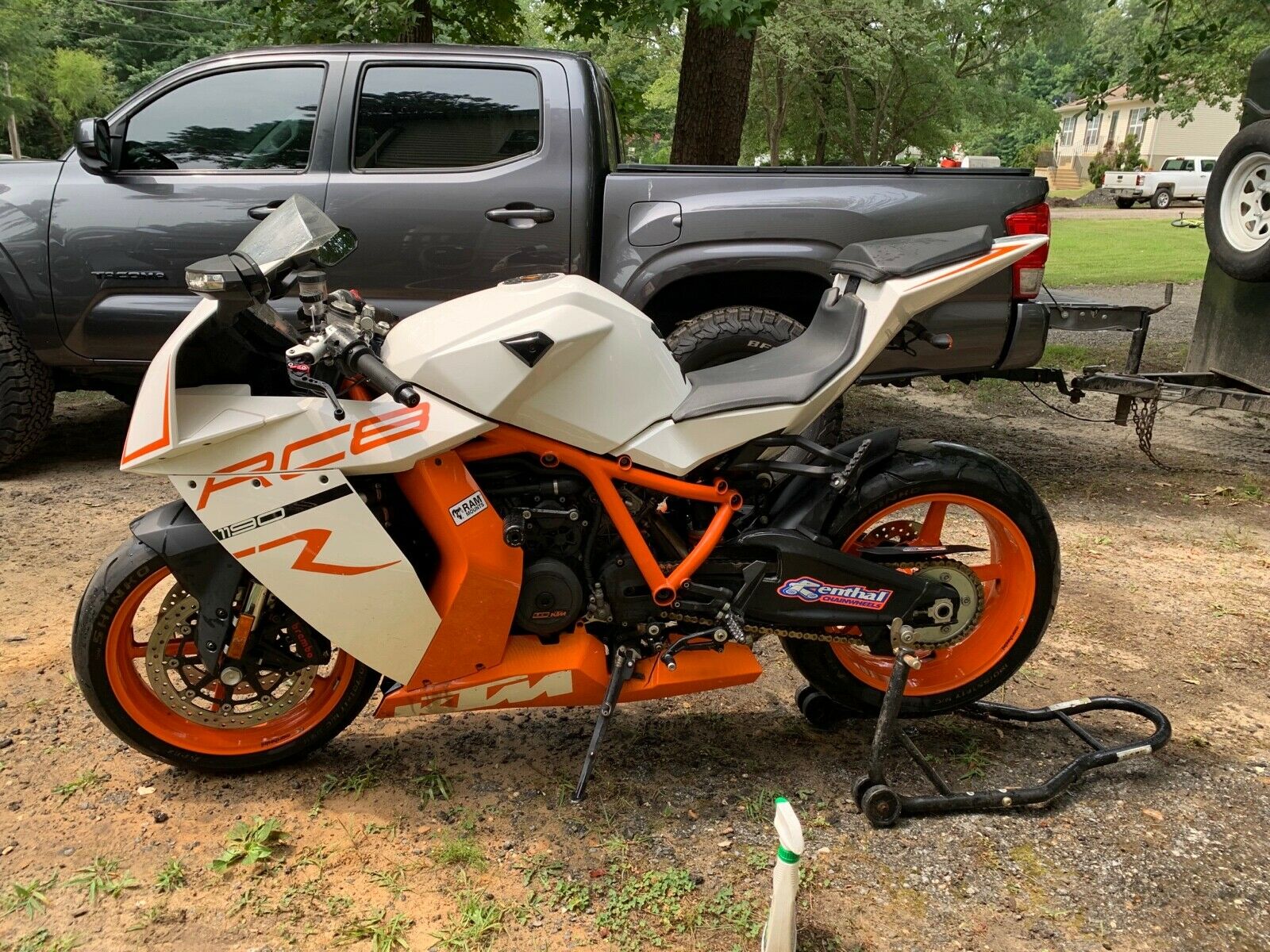 From the seller:
This 2011 KTM RC8 is an original. The owner has had it for 4 years. The vehicle runs great and is mainly used for weekend rides. Super Rare* 2011 KTM RC8R. Not for beginners, it's a torque monster with a vtwin engine. It's a Guaranteed attention getter at any even or ride. Priced to sell!!

Positive
Has new shinko tires,
new oil and oil filter,
The fuel pump was also rebuilt prior to this season
New featherweight lithium battery that still has warranty on it.
The plastic fuel quick release line has been up graded to the metal one.
new quick release fuel cap/door.
It has sato racing frame sliders.
Never been laid down on the street.
Starts right up and ready to ride.

Negatives
windscreen is dull, previous owner clean with wrong chemicals
custom exhaust melted bottom fairings and a few blemishes (all can be seen in photos).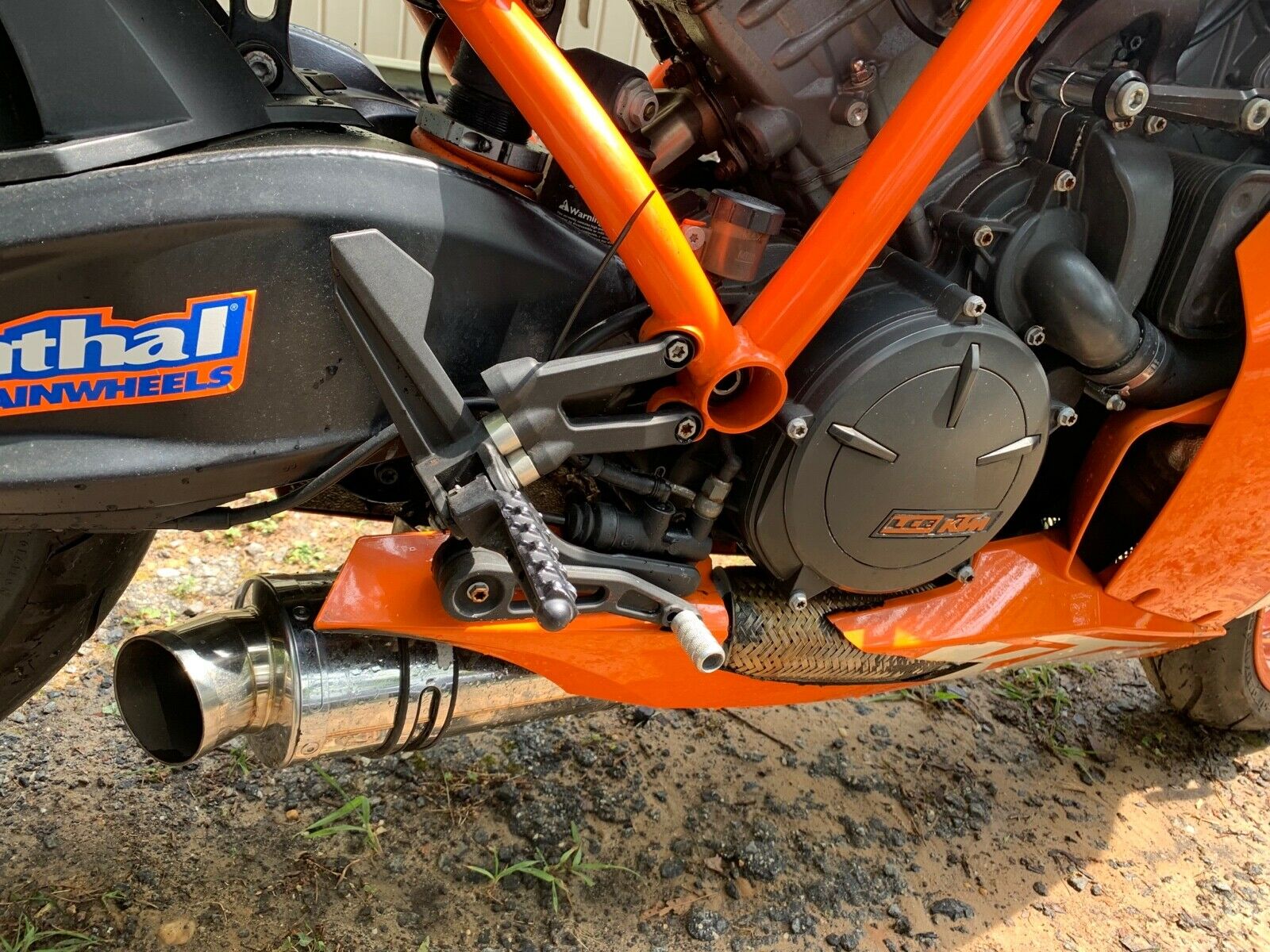 Picture wise, there is really not much to say. Most of the photos do not contain enough precise detail to determine exact condition. I'm not a big fan of the added on stickers, but there is nothing to suggest that they are hiding anything. Clearly the seller has spent some time detailing the bike, as is evidenced by the photos. No shot of the command center and unique gauge stack, although the eBay advert lists the mileage as 29,503. That is pretty significant mileage for such a rare beast. It also sports some mods, including an unnamed exhaust and a tail tidy-up kit. On one hand it's great to see these things ridden, on the other hand a collector would undoubted look for something closer to stock and fewer miles. But a collector would likely be looking for either an early RC8R or the last model year in the first place, making this more of a great rider option. Pricing is curious on these bikes, as they are bit of a no-man's land due to infrequent sales and being lost in the gray area of unique but not on collector lists (and hence not appreciating… yet). Seller is asking $7,500 Buy It Now, and is open to offers. Check out all of the details here, and Good Luck!!
---
The second bike for your consideration is another RC8, however this one is a newer model year and features a slightly different graphics package with the black lowers. Graphics aside, there is not too much to change between the earlier RC8 and one a few years later. Same great thumping engine, same WP suspension, etc. Perhaps the biggest change was a tweaking of the fuel injection to lessen the on/off throttle response, as well as the introduction of a slipper clutch. Otherwise you are looking at a newer – maybe more evolved – but not substantially different motorcycle.
From the seller:
This 2014 KTM RC8 is an original. This is offered for sale by the original owner. The vehicle runs great and is mainly used for weekend rides.

Bike rides like brand new. Barely driven. I am entering my 50s and not able to ride crotch rockets anymore. Have 1 other bike on eBay auto for the same reason. Rear brake light is not working. And missing a mirror on right side of bike. Bike was never laid down. I walked by it and broke the mirror. Matching leather motorcycle jacket from London, barely worn, XL for $500.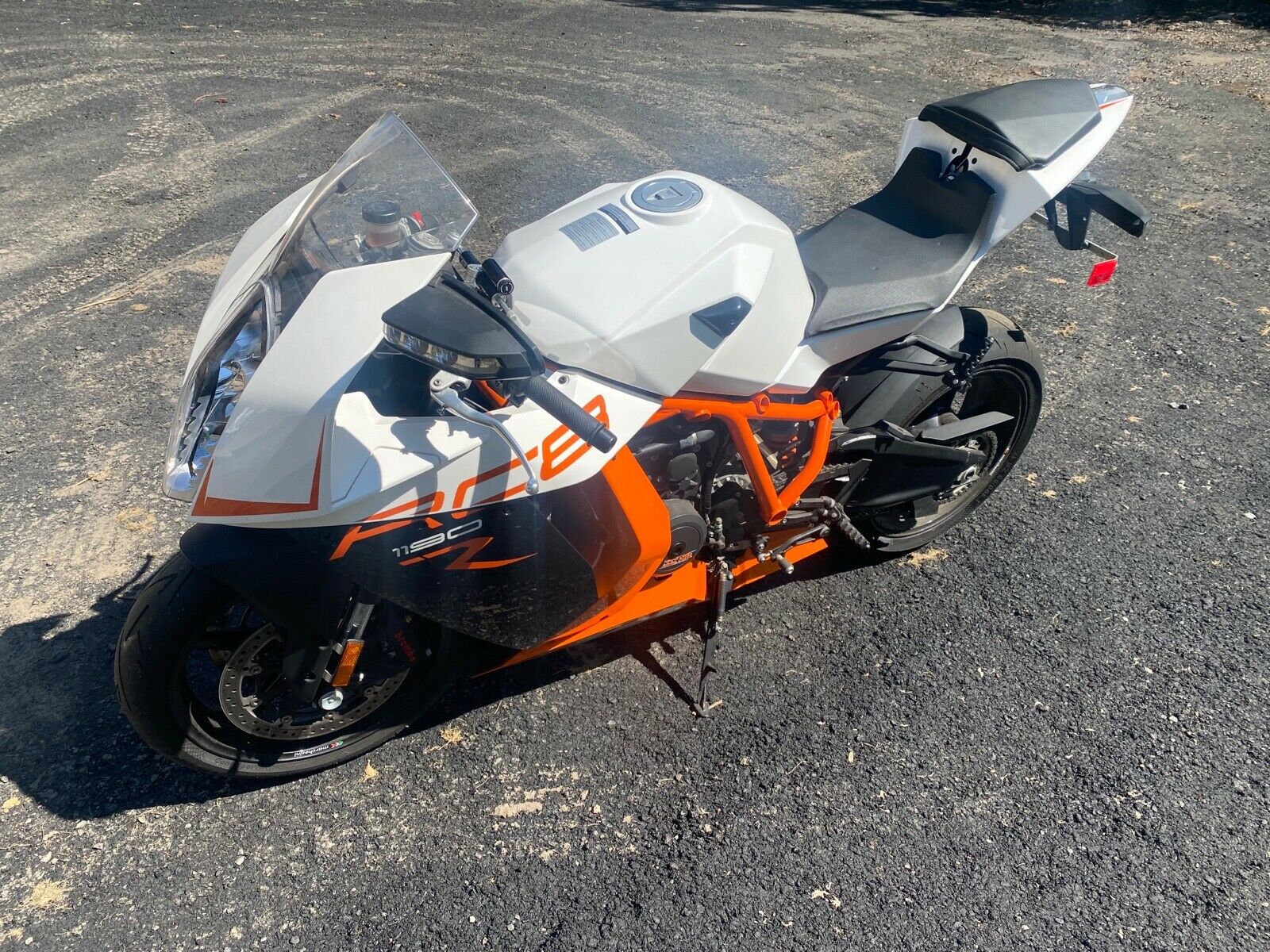 This bike has not seen many miles, but does sport a little bit of damage that is worthy of further investigation. The seller notes that the mirror was broken when he ran into it – which may well be the case. Potential buyers should shop for a spare, as the mirror stalks also contain the front turn signals, making them a bit pricey. There is also some paint/graphics damage on the right hand side of the fairing, with the stickers showing some bubbling. This looks like it could be the result of a brake fluid spill during service (conjecture on my part), because it does not really appear to be impact damage. No clear indication as to the brake light switch; perhaps some of our RC8-knowledgeable readers can chime in on if that is a common failure point. I really like that it has low, low miles, but it's a shame that this example will need some replacement pieces before being considered mint. This bike is being offered for the nice, round sum of $15,695 in a Buy It Now format, with the seller open to offers. You can check out all of the details here.
---
If I was in the market for one of these big, rare KTM superbikes what would I look at? All are super rare R models (although in the end that was all you could get – other than a track version). That being said, pricing for R models is on the rise, and the capability of even the base earlier RC8s is impressive. Of the two bikes listed here, the second one with low miles would be my first choice for investigation, however there is a nearly $8200 price difference between the two of them. That is a LOT of cash. Still, I would be tempted to learn more about Bike #2 in order to ascertain the true condition, and work on a valid offer based on what was found. Any way you look at it, the big KTM makes for a wildly radical departure from the standard fare. Good Luck!!
---
Post script:
While prepping for this post, one of the RC8R examples featured on these pages was relisted. With 12,000-ish miles and in semi-modified condition, the seller is asking $10,500 – see it here. For those who are interested, the RC8R featured different graphics, a bigger motor (1148cc vs 1195cc) that has a lightweight, titanium valve train, and peaks out at a massive 170 crankshaft HP. Suspension is still WP, brakes are still Brembo but the RC8R comes in lighter, faster, and far more rare than the base model RC8.
MI