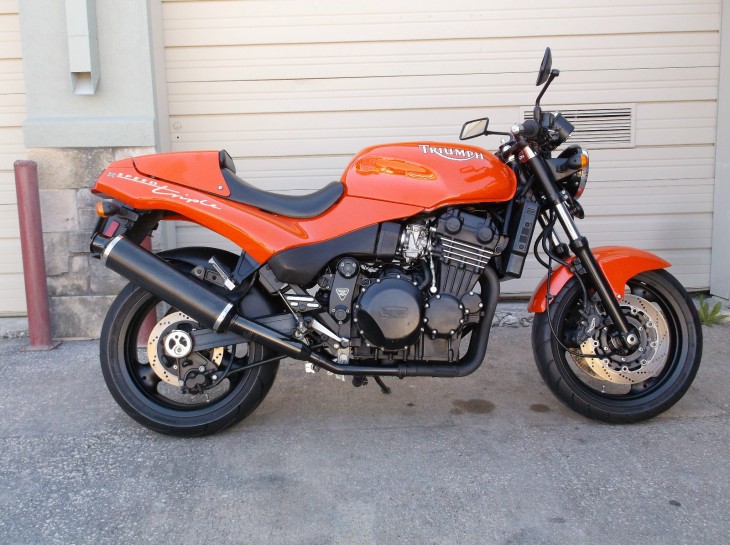 We sometimes equate the idea of rare sport bikes with "expensive." With exotic machines like the MV Agusta F4 or Ducati Superbikes. But for riders who don't need 180mph potential or the expense of an Italian superbike, there are plenty of very cool machines like this early Triumph Speed Triple.
Construction magnate John Bloor basically resurrected Triumph in the 1990s with a range of sport, touring, and standard machines based around a pair of engines that could be slotted into a simple spine frame to create just about any sort of motorcycle the market demanded. This concept made it easy to develop new models, but the resulting bikes couldn't be as refined or focused as purpose-built machines. But buyers were willing to trade a bit of performance for character and style and heritage.
The Speed Triple used the 885cc three cylinder version of the engine as opposed to the larger, 1200cc four that powered their sport touring machines. It was styled to evoke the naked sports machines of Triumph's past, but with relatively modern performance. They weren't cutting-edge sportbikes, but that wailing triple offered up soul in an era of boring appliances. Handling wasn't really racetrack-ready, but the Speed works well for backroad blasts and urban assaults.
From the original eBay listing: 1995 Triumph Speed Triple for Sale
Up for auction is a very rare motorcycle legend.  The model that impacted motorcycling for the new Triumph company, the SPEED TRIPLE.  In the mid-nineties, Triumph introduced the all new, 3-cylinder SPEED TRIPLE.  It came in two colors in '95, black and this one, "Fireball Orange." The SPEED TRIPLE proved to be their most loved model. It went fast, it stopped well, but most stayed in Britain and Europe. Here, it's a very, very rare Triumph and your chance to own something your friend have probably never seen before.

This particular Speed Triple, a 900cc model, has a great history and documentation. It comes with a clean Texas Certif of title, current Texas license plate, VEHICLE HISTORY REPORT from NMVTIS showing its history from 1998 forward in Missouri and the Texas with no bad history in the 4-page report. You receive 6 pages of service records over the last three years to verify its up-to-date service. We replaced the aftermarket petrol tap with a new correct one. The bike shows 16,900 miles and has stock exhaust system, the optional "Seat Cowl" piece as well as the orange grab bar for use with passengers. 

Specs show it produces about 100 hp(98 ps @ 9000 rpm) through a 5-speed box which it delivers to the road through rare, three-spoke Brembo wheels. And this is a bike that's 21 years old. No one will have anything this rare where you hang. Records, good history, rarity and a seriously fun ride all for not much money.

It is a used bike, sold "as is" to bidders only in the continental U.S.. We don't crate, but we will recommend a shipper and expedite their shipment of it to upi at your exense. It is ready to ride and includes the factory rider's handbook. The battery is fresh and the tires are very nice. The only damage we see is a bent in the side of the gas tank, shown in the images. It does not come with a tool kit and saddle appears to be very good without tears, etc. A bike this nice seldom comes along with this exclusivity, performance and importance as a collectors' bike.
It's pretty easy to go on eBay or Craigslist and find a nice second or third-generation Speed Triple, but these early bikes are pretty difficult to find, especially in good condition. They were never sold in great numbers, have been pretty forgotten for a while now, and many have been well-used or neglected. These are normally priced nowhere near this bike's 7,000 asking price but, aside from that slight crease in the tank, this one is in extremely good shape, and that shiny orange paint is pretty appealing.
I think probably the seller is aiming a bit high at that price, but that's still pretty much chump change if you're looking for a rare, fun motorcycle and are into naked performance.
-tad