Fully-faired sportbikes of the 80s and 90s from Japan are almost without exception festooned with jagged graphics, huge logos, hilariously technical-sounding acronyms, and retina-searing colors. They're pretty cool now in a retro way and some of them, like the famous Rothmans designs, are truly iconic, but they feel like rolling billboards. Which of course is exactly what race-bikes, and therefore race-replicas are. They're fun and nostalgic and even ironic these days, but honestly? I wouldn't have been caught dead on one back when they were new. I've always been a classy, subtle guy and while this Fireball Orange Triumph Speed Triple may not be subtle, it is a pretty classy brute and exactly the kind of machine that interested me back when I got into motorcycling.
It's a shame folks on this site don't seem to like these first generation "T309" Triumph Speed Triples. You're really looking at one of the original factory streetfighters: a legitimate sportbike with the fairing removed, a modern cafe racer. Because while the period Daytona may not have been a cutting-edge performer, it certainly was a sportbike, just one that was more a "gentlemans's express" than a "racetrack refugee." Sure, the Speed Triple was limited by its modular spine-frame that allowed design flexibility at the expense of weight and handling, but people did actually race them, at least in a one-make series called, fittingly enough, the Speed Triple Challenge that was meant to promote the brand.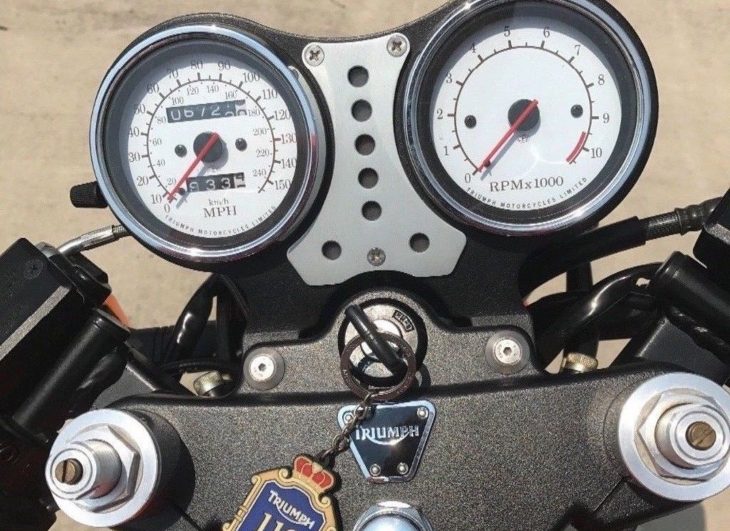 Unfortunately, the weight and top-heavy design meant it was as much a race bike as Harley's more recent XR1200 that also found its way into a one-make race series. But as a road bike? The Speed Triple's burly 885cc three cylinder engine had performance and charisma to spare. Triumph knew it couldn't compete in terms of raw performance against the Japanese, so they went for quality and character instead, and their bikes of the period had better detailing and better paint. You'd certainly be hard-pressed to find another bike from this era that looks this good without having been restored.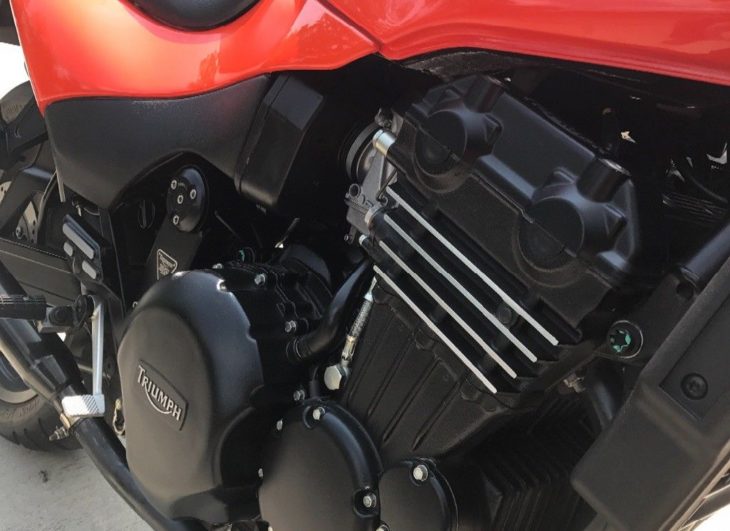 From the original eBay listing: 1995 Triumph Speed Triple for Sale
Beautiful, mint, original '95 Speed Triple. Low miles & garage kept. Meticulously maintained. This bike is unique, draws a crowd, and performs extremely well for an older bike. Soulful exhaust note and a ton of character. There are not many like this one left. Mileage is subject to change, as I am still riding it.
Even if the early Speed Triple wasn't a pretty cool bike on its own, at least Triumph's strategy paid off and strong sales allowed brand to thrive, enabling it to produce machines like the much-lauded Daytona 675, Street Triple, and modern Speed Triple. Picking at them for their limitations seems unkind, especially considering the incredible bang for the buck they provide. You're a seasoned rider, you've got a few grand to spend, and you want something cool to ride to work and blast around the canyons on weekends? Something that your significant other will want to ride with you? Something with classic looks and reasonably modern performance? This is about the cleanest, lowest-mileage near-classic you're likely to find, and you can even pretend it's an investment…
-tad