1975 Harley-Davidson RR350 Grand Prix Racing Motorcycle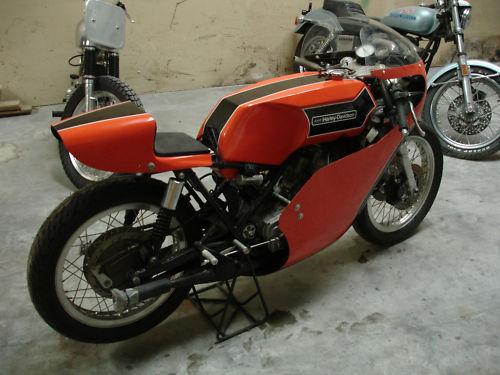 I must admit, I don't know a whole lot about The Motor Company's foray into GP roadracing. HD purchased 50% of Aeronautica Macchi's (Aermacchi) motorcycle division in the 1960s, and purchased the remainder of Aermacchi in the mid 1970s. From the Aermacchi division HD imported many two-stroke bikes as entry-level machines in the US. HD sold off the entire works to Cagiva in 1978.
It was from these Aermacchi years that HD entered the roadracing scene.

From the seller:
This is a very nice example restored in Germany and imported by me. The engine has been started once since the rebuild (rebuild documented by photographs) and I have the shop manual and some spares. It is not perfect, it has several small scratches from the import process. There is not a lot of information on these bikes available but one source does say that there were only 35 built. The 350cc was built for Walter Villas successful attempt to win both the 250cc and 350cc GP World Championships in 1975. The frame and engine numbers are as follows. *350/2c/2t/10027* on the frame steering neck and *350/2c/2t/10027 on the transmission case which is where the shop manual says they should be located indicating, to me, matching numbers. The bike has been stored for about 6 years. I have a matching RR250 listed on ebay in another ad and a 350 ERS also listed. I will deliver the bike to forward air for shipping, crating can be done by forward air. Shipping costs are the responsibility of the buyer. This is a very nice bike. Any questions please ask.
So what price does a piece of history like this bring? The seller claims that only 35 of these machines were created. Given the rarity of these bikes and the lack of recent auction data, that is a hard question to answer. The auction is at $8,200 at the time of this post, and the seller is apparently looking for more as the reserve has not been met. This could be a very interesting auction to follow, as the bidding has been relatively spirited. For more information, or to get into the action, .
MI