In the wild west days before Harley-Davidson had taken a proprietary interest in Buell, the race engineer and developer designed an amazing string of sport-oriented machines.  Very rare these days, the RS1200 is a memorable low production special, almost handcrafted in appearance with interesting design elements in every system.
With concepts originating from his Formula One and Battletwin designs, Erik Buell took aim at the supersport segment with the RS1200.  Using Harley's 1200cc pushrod engine, the bike had plenty of torque if not overwhelming horsepower numbers.  Buell's Uniplanar frame design attempted to channel the big v-twin's vibrations into the vertical element.  The RS1200 came with Marzocchi front end, an anti-dive system, and bespoke front brakes, complementing Buell's aluminum wheel design.  Using mass-centralization before it became cool, the muffler and rear monoshock are way forward.  The fairing sports Vitaloni mirrors and little shin pads, and the swoop of the seat ends in a peculiar though effective pillion seat and sissy bar.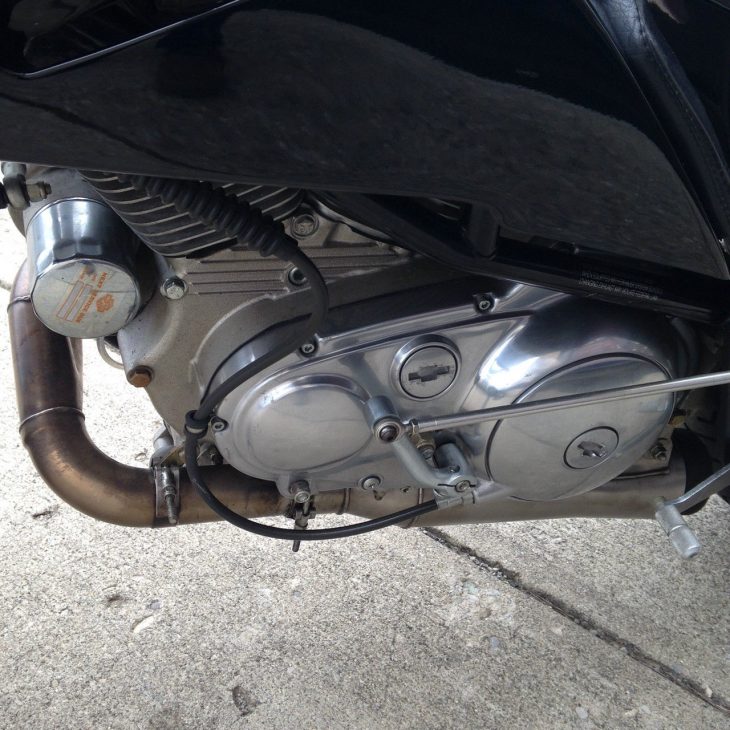 Preserved by a former Harley dealer, this RS1200 has under 2,300 miles and looks ready to ride.  The billet-cut parts testify to the low production numbers, their raw lack of finish making a serious statement.  Earlier RS's had a four-speed transmission and it would be worth inquiring whether this machine has the 5-speed.  Though not much history is given, it's a one-owner bike with some engine work as they state in the eBay auction –
This engine alone has had over $10K in upgrades! Sputh Crank, Aluminum Jugs, Coated Pistons, Andrews V8 Cams, STD Race Heads, Roller Rockers, Shorty E Carb, MSD Ignition, Buell Racing Pegs. Only 2279 Miles! Was bought new from us when we were a Harley-Davidson Dealer. Meticulously Maintained! Needs nothing but a new home.
Tailoring expectations to reality, you wouldn't expect the RS1200 to stay with a comparable sportbike in anything but maybe a 3rd gear roll-on contest.  There's no denying the big twin or hiding from its big mass.  But if you were a fan of sportbike development engineering before computer aided design and additive prototyping, this domestic supersport might be a great way to show it…
-donn