For Sale: 2003 Benelli Tornado Tre 900 Limited Edition
Update 12.2.2011: Back on eBay. Links updated. -dc
I must admit that the modern incarnation of the famed Benelli brand was not even on my radar until a neighbor and riding buddy picked one of these up relatively recently. These Tornado Tre 900s are flat out interesting steeds. Bristling with technology melded with the kind of artistry one expects from an Italian brand, this is a bike with real presence. The silver/green paint scheme also looks sharp – especially in the sunlight. I'm still waiting to see what kind of leathers will match this sort of livery, but outside of that it is safe to say that this is one good looking bike.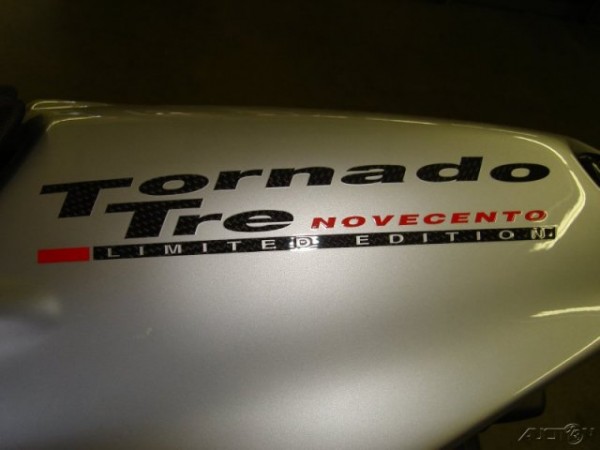 The Benelli story is a long and interesting one: officially established in 1911, Benelli is thought to be the oldest of the European motorcycle manufacturers. Started by the widow Teresa Benelli, the company Benelli was initially a simple repair garage for bicycles, motorcycles and sundry motorized implements. Teresa invested all of the family capital into the business in the hope that it would offer stable work for her six sons. That investment paid off as by 1920 the sons created their first Benelli engine; a 75cc two-stroke. The following year they built a Benelli motorcycle, now powered by a 98cc powerplant.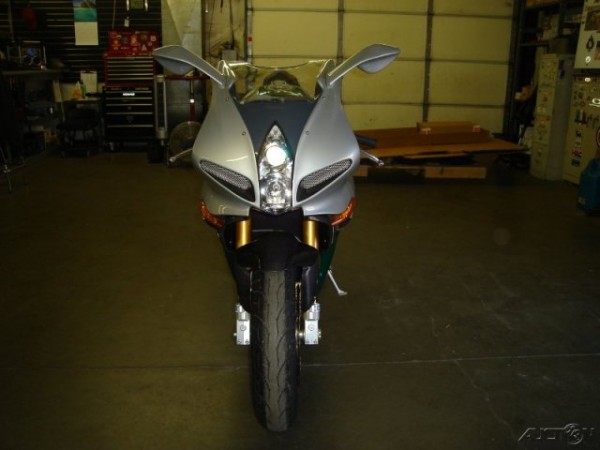 The family business thrived through two world wars (and survived by manufacturing and repairing war machinery) and thrived in the 1950s and early 1960s – but ultimately struggled against the onslaught of the Japanese. A change in ownership brought in the considerable talents of Alejondro de Tomaso – who at the time was known for his sports cars as well as his ownership of Moto Guzzi. By the 1980s it was all over; the storied Benelli manufacturing concern originally based in Pesaro, Italy shut its doors. This story would be over if not for the dedicated interest of Andrea Merloni – who revived the Benelli brand and created what we are looking at today.
This is one of the coolest views of the Benelli Tornado Tre 900. Unlike most sportbikes, the Tornado houses the radiator behind the engine and under the seat. These twin fans help draw out the heated air when the bike is moving slowly or at a stop. Watching these come on makes one imagine that they are an additional sort of propulsion, like little turbofans jetting the bike forward.
Unfortunately this is a view that most sportbike riders won't see for long. With the 900cc inline triple producing a claimed 140 hp and pushing a 400 lb (dry) motorcycle, the 900 Tornado Tre's numbers put it in a literbike-sized world but putting out 750cc hp numbers.
From the seller:
You are bidding on a very rare 2003 Benelli Tornado Tre 900 Limited Edition. This bike is #110 of 150 produced and retailed for over $30,000 when new in 2003. This bike is one of 3 that came to us this last summer brand new in the crate. It was purchased and completely gone through, new fluids put in and new tires installed. The bike is perfect and comes with everything they came with when new. It has no warranty due to it's age but is very cool and has a lot of technology. Ohlins suspension front and rear, marchesini wheels and lots of carbon make this bike truely beautiful and extremely rare.

Pick this perfect Limited up for half of it's original asking price!
Today, the famed Benelli name is owned by Chinese concern Motor Group Qianjiang, which is a corporation located in southeast China at Wenling. The new Benelli maintains a corporate presence in Pesaro, Italy, however, and continues to forge a new chapter in this long standing motorcycle brand.
Rider reports are by and large very positive regarding the Tornado Tre. My wife reports that the bike is very tall, and exhibits what feels like a high center of gravity. The steering is relatively low effort, and by all appearances the bike turns in quickly and without drama. I cannot personally corroborate those impressions, as my neighbor has yet to allow *me* to ride his new Benelli. Perhaps in time…
This auction is under way and bidding has been very active. With an MSRP in the $30k range, there is an opportunity to pick up something very rare and quite special for not much cash. This bike has only 231 miles on the clock, and only $7,300 in bids with reserve not yet met. For your chance to snag this neo-classic Italian steed, click the link and jump over to the auction. Good luck, and don't forget to tell 'em you found it on RSBFS!
MI