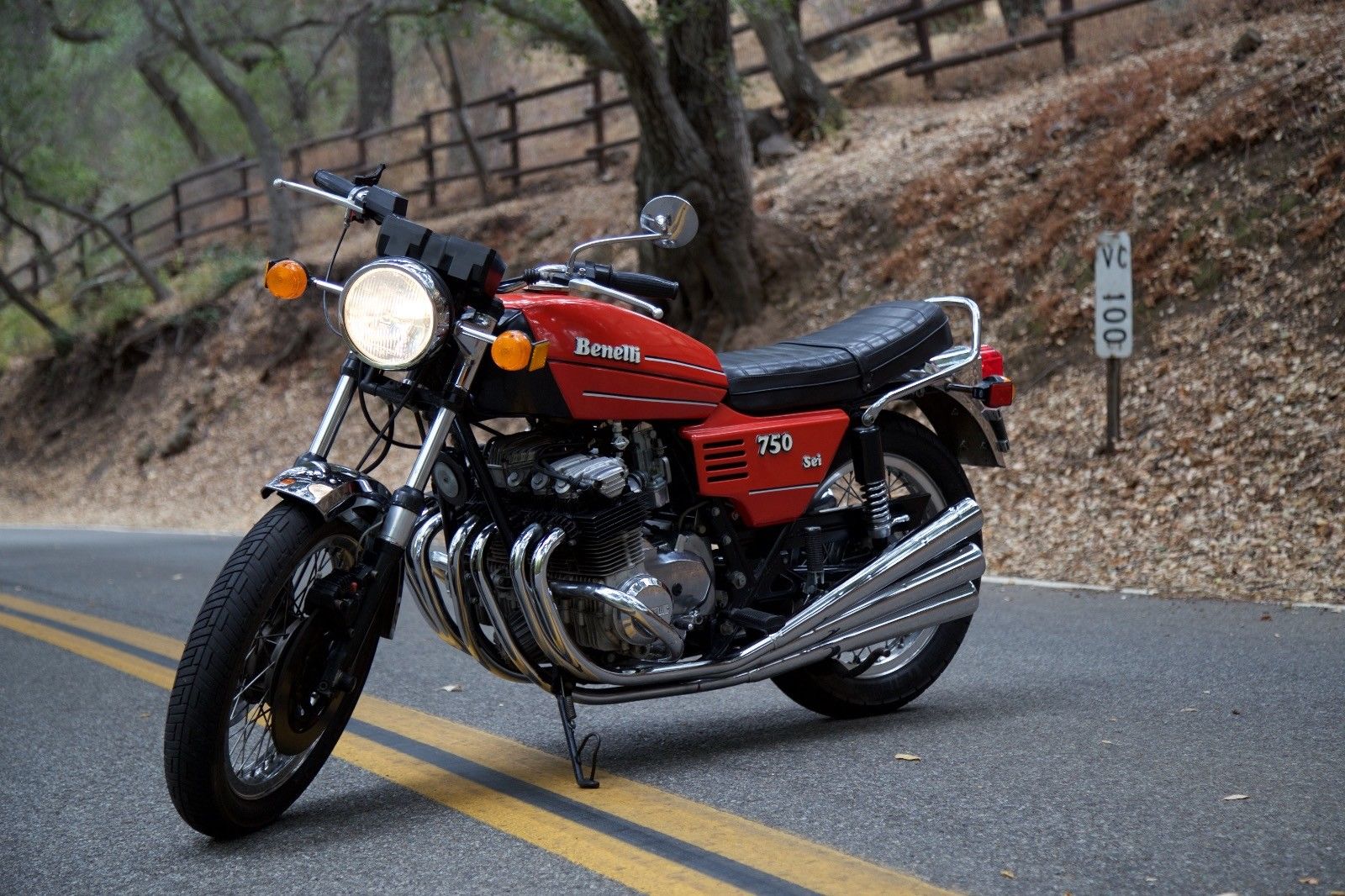 In striving to bring readers the best online classifieds every day, RSBFS writers are besieged by drought and deluge. Some rare machines might not be seen for months or more, only to arrive in pairs. Such is the case with today's 12-cylinder post; not one but two awesome Benelli 750cc six cylinder examples for your enjoyment. Widely known (pun intended) as the World's First production six cylinder motorcycle (despite the later attempts by Honda, Kawasaki and BMW), the Benelli was a technical and stylistic tour de force. Engineered by none other than Alejandro de Tomaso of Pantara fame (the sports car, not the band), the Sei persisted for more than 15 years until the ultimate merger of Benelli into Moto Guzzi. Interested in one of these ground-breaking machines? Read on!
---
The first of the 750 Benelli Sei models were introduced way back in 1973. While Honda was busy wowing the world with their four-cylinder technological might, de Tomaso sought to one-up the Japanese by tacking two extra cylinders onto a copy of the Honda power plant. With that move, a 500cc four became a 750cc six – and history was made.
To keep the already portly engine block from becoming too unwieldy, de Tomaso re-positioned the alternator from the end of the crank (where it sat on the Honda) to behind the cylinders. This move not only narrowed the ultimate width of the engine, it also started a trend to centralize mass within the frame; a discipline followed to this day. Total power was not tremendous – rated HP was a mere 72 ponies.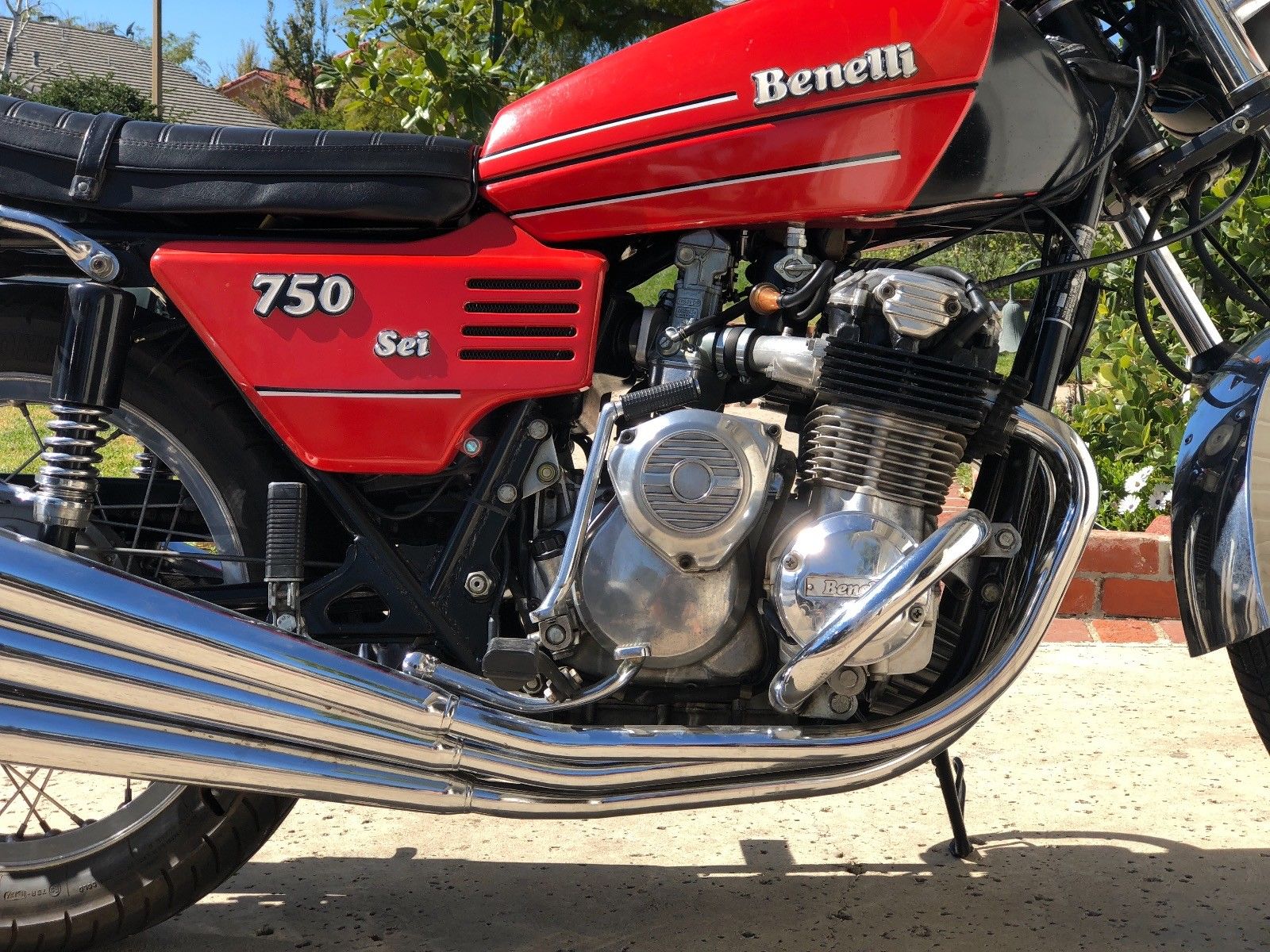 From the seller:
Up for sale is this extremely rare 1977 Benelli 750 "Sei" (Italian for "six" – not "sex"!), one of the three vintage six cylinder bikes ever made. It is an un-restored original in excellent condition, With a clear title and only 10,463 miles, (16.742 Kilometers) this is one of the nicest survivors of only a thousand 750 Seis imported into the US from 1974 to 1978. And it's a "rider," not a trailer queen: driven once every month or two, and only in clear weather – has never been in the rain, nor been dropped or scraped. Only cosmetic flaw is a tiny chip on the tank.

In the year 1977 only 283, 750 Sei were made, making this year a very rare one. Breaks got a tune up and work just as well as a modern bike, all switches and gauges work as they should, gas tank received a coat treatment to prevent rust, it has new air filters, recently got carburetor tune up. This bike only has a small dent on one of the exhausts and very small paint chips on the gas tank(please see pictures).

I will include some spare parts, a copy of the owners manual, a copy of the shop manual, as well as a copy of the spare parts manual. Some magazines in which the bike was featured at that time. Previous owner kept this motorcycle in a museum. This motorcycle is only missing the tool kit and the rubber strap that holds the gas tank.
This particular 1977 example appears to be in great shape. Benellis of this era were not exactly known for robust reliability, so it is actually a huge benefit that this is a regular rider. Nothing ages a motorcycle like stagnation, and this one has thus far avoided the neglect that many of these complex machines have suffered. Check it out here, but be sure to bring lots of Lire – the starting bid for this one is a cool $19,000.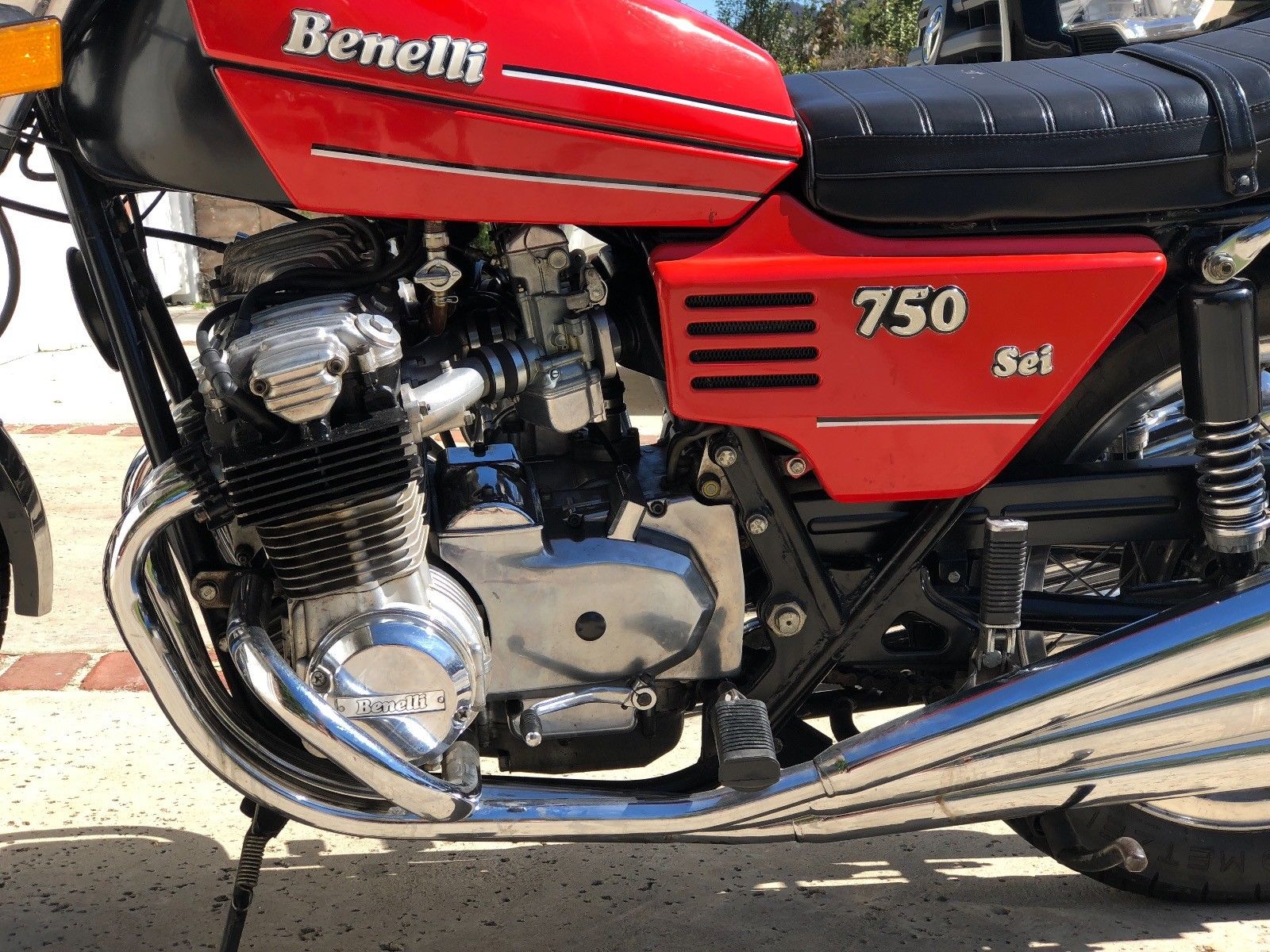 ---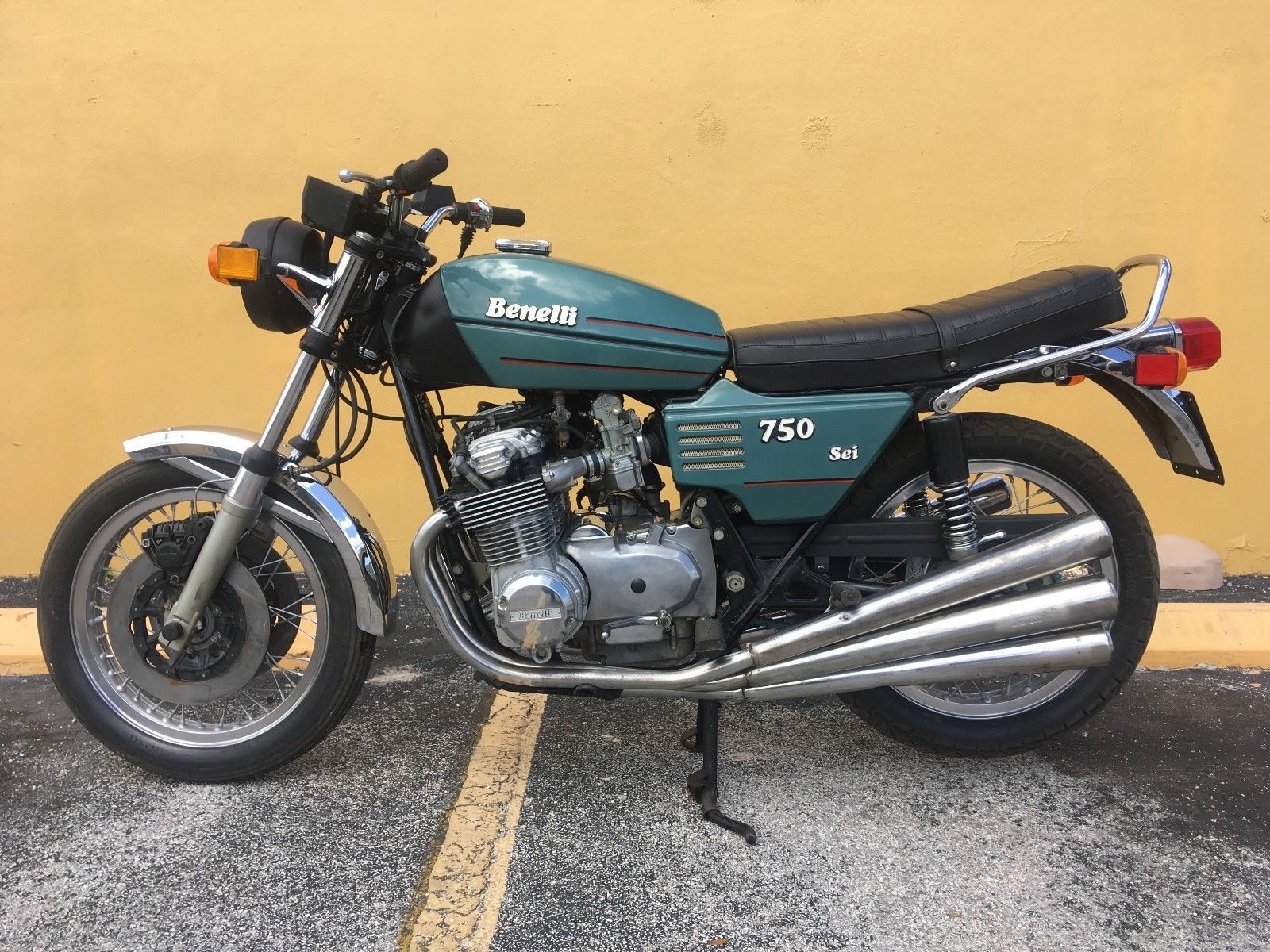 The Benelli Sei is as much an exercise in excess as anything you are likely to see. The frame is dominated by the huge engine and offset by six exhaust pipes. Nothing on this bike is subtle, nor was it meant to be. The visceral elements of the Sei were created by famed Carrozzeria Ghia (think of the VW Karmann Ghia or the Ferrari 212), the bodywork as striking as the mechanical elements. Benelli – under the guidance of de Tomaso – was going to make a statement: the Italians were the equal of Japanese technology and held all the cards in the styling department. At the end of the day, they surely succeeded.
Today the Sei continues to be more distinctive than anything short of a one-off, overwrought custom cruiser. To consider that this was a production model for sale publicly throughout the 1970s and 1980s is unbelievable. It is also pretty rare. Sei models were considerably more expensive than mass-produced counterparts; the dealer network was smaller than Japanese, German, or even other Italian marques.
From the seller:
1979 Benelli 750 Sei. This is a once in a lifetime opportunity to buy a zero mile… yes , zero mile motorcycle. Here is the story as I was told when I bought it. This motorcycle was purchased new by a Florida collector, who at the time of his death (about 2 years ago) was 82 years old. The previous owner had amassed over 300 motorcycles, many of them being rare, high ticket items.

His widow sold 70% of his collection to a German collector, as a package deal. I managed to get a few of his other bikes, two of which were Benelli 750 Sei zero mile bikes. This collector, as described by his brother, was extremely eccentric, and not particular about the absolute care, and method of storage for his motorcycles. Consequently, although a zero miler, it does display various imperfections which are visible in the photos. Please feel free to contact me and we can do a video walk through closeup of the specifics. Included with the sale are, the original toolkit and manual.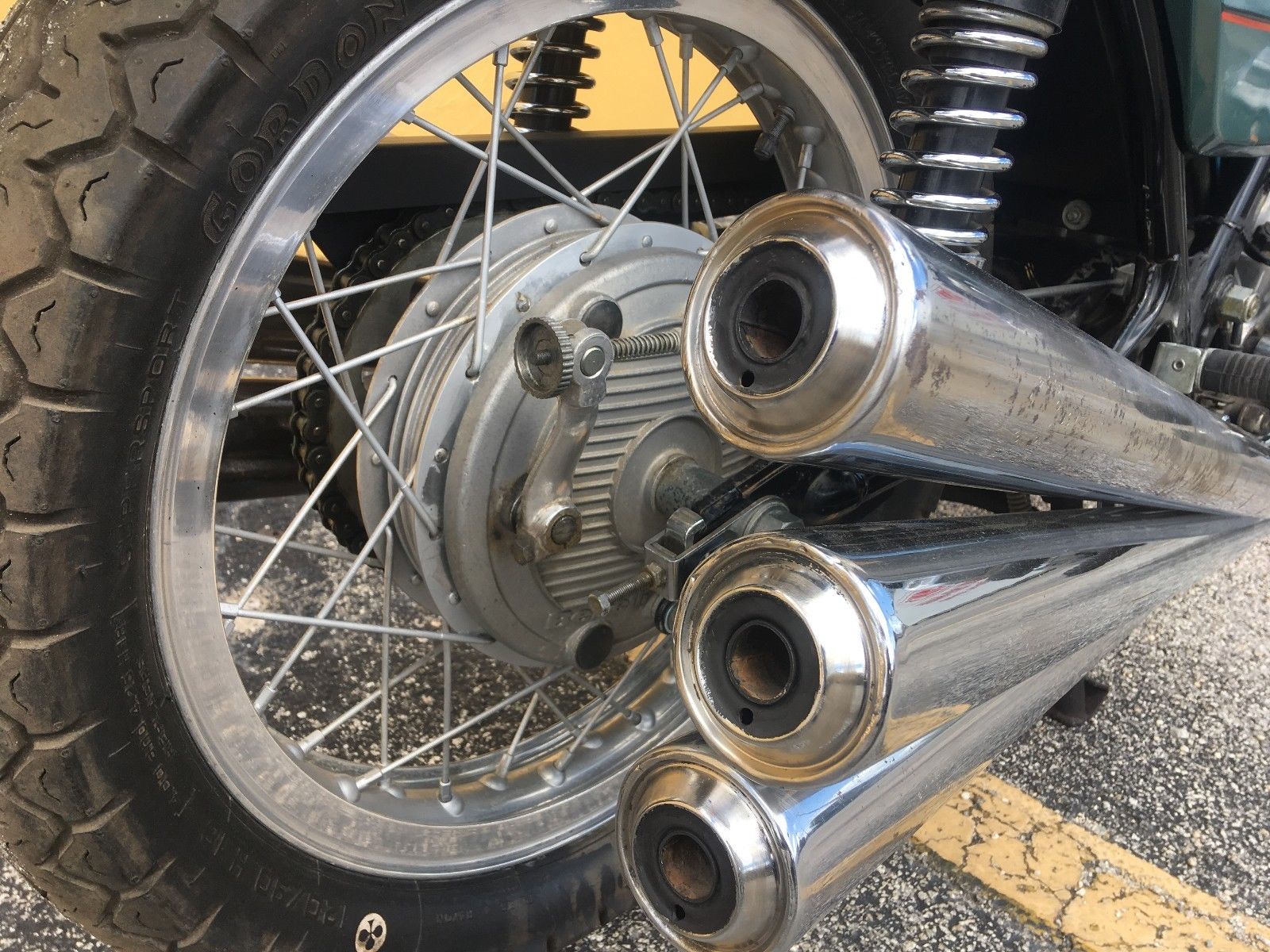 1977 is listed as the final production year of the 750 model; the 900cc replacement version of the Sei entered as a 1978 model. However it is not uncommon for model year data to be based on the sale or registration of a given bike. It is also not uncommon for smaller European brands to have somewhat erratic record keeping, making exact determinations difficult. Regardless, this claimed ZERO mile example is certainly an albino of the Unicorn world. Low mileage specimens of low-volume production models will always perk the interest of collectors. There are lots of questions on this one – including the overall condition – but the seller seems open to answering them. Check it out here, and once again bring lots of Lire to the party: this one is $24,000 in a Buy It Now format, with the seller open to offers.
---
At the end of the 1980s Benelli was absorbed by Moto Guzzi. The name and rights were later sold to a Chinese company, and Benelli enjoyed a brief US revival in the early 2000s with the three cylinder Tornado and TNT models. Today Benelli – while still officially headquartered in Pesaro, Italy – is a Chinese company that partners with with DSK Group of India, producing smaller and middleweight motorcycles and scooters for those markets. There are Benelli imports into the US, but only officially through a third party (SSR Motorsports). The glory days of Benelli being a power house of style and technology are largely over. Better collect an old school example when you still can. Good Luck!!
MI