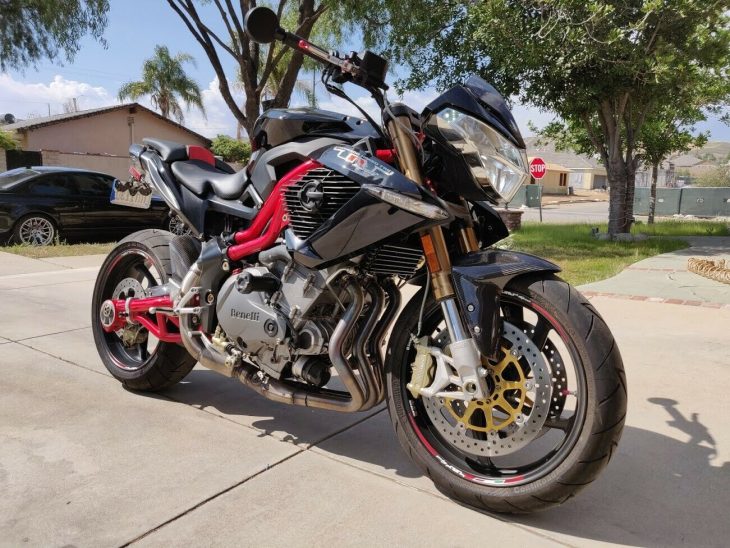 The original Benelli triple in the Tornado displaced 898cc and couldn't really compete head-to-head against the other comparable superbikes of the era. It was a good bike, with sound engineering and a quirky layout that located the radiators and fans in the tail of the bike. But it wasn't quite good enough and, when WSBK rules changed to make the triple format obsolete, it made the bike and its chosen displacement sort of pointless. So Benelli abandoned the 898cc displacement and, bumped to 1130cc in later Tornadoes and the naked TnT seen here, the motor made prodigious torque figures of 86lb-ft to go with the less wildly impressive horsepower figures.
The punched-out mill made the bike flexible in town and a hooligan bike extraordinaire. The radiators were moved to a slightly-less-weird location on either side of the tank, with sculpted vanes to blend them into the rest of the bulky fuel tank/airbox assembly. The headlight reflector is a kaleidoscopic affair, often described as "alien" or "menacing" and still manages to look very striking, although replacing it could prove to be a real headache in the event of a crash.
The frame followed the superbike's design, with a curving tubular structure that's glued to the cast-aluminum side-plates using industrial adhesives, so shouldn't be too surprising that the handling got good reviews, considering the TnT generally had non-adjustable forks. Some special editions got more sophisticated gear, and this looks like it might actually be a TnT Sport Evo, which had updated Brembo stoppers, compared to more "ordinary" Benellis, as well as adjustable suspension up front.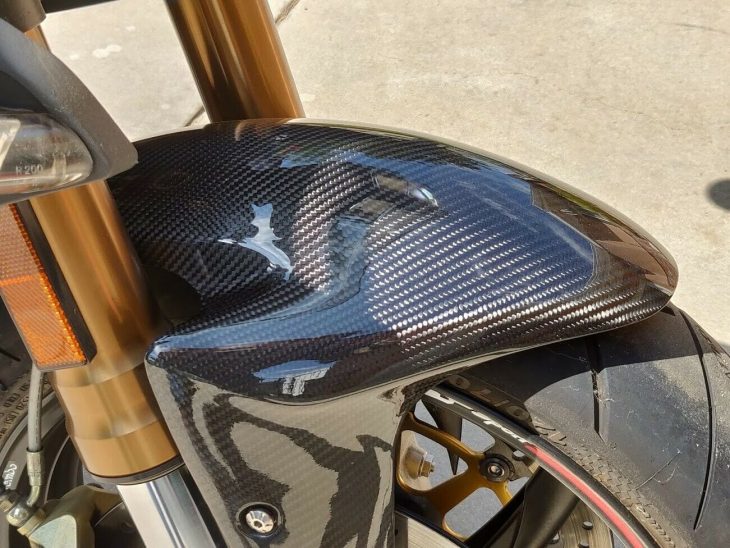 These used to show up on eBay with extremely low miles and prices, looking very much like leftover dealer stock. I kept wishing I'd been able to buy one of these basically new, but with huge discounts. I'd guess a TnT would be a great candidate for some modern upgrades. Maybe a front-end swap from a later sportbike and a more modern digital dash to replace the slightly bargain-looking original gauges?
From the original eBay listing: 2007 Benelli TnT 1130 for Sale
If you found this listing you are knowing what you are looking for.

A truly unique and amazing naked Italian bike even rarer than Ducati's Streetfighter. Torque and handling are in a class of it's own.

Ultra-low mileage and a number of tasteful upgrades:

Full LED headlights (high and low beams) and turn signals
LSL superbike handlebar
Fully adjustable folding levers
Bar end mirrors
Custom upholstered seat with integrated gel pad (super comfortable)
CF front and rear fender (clear coated and polished to prevent the common yellowing)
Integrated taillights
GPR exhaust
TnT aluminum fender eliminator
Custom chainguard
GSG Mototechnik crashpads
Upgraded battery cables

Bike is in AS NEW condition, serviced less than 500 miles ago (oil, filter, plugs, valve adjustment, etc.). New tires with approx. 300 miles.

This is an outstanding unique rare bike and head-turner anywhere you go!

Buyer will also receive some spare parts two radiators (very hard to source), flyscreen, transmission gasket, set of new stick coils, etc.).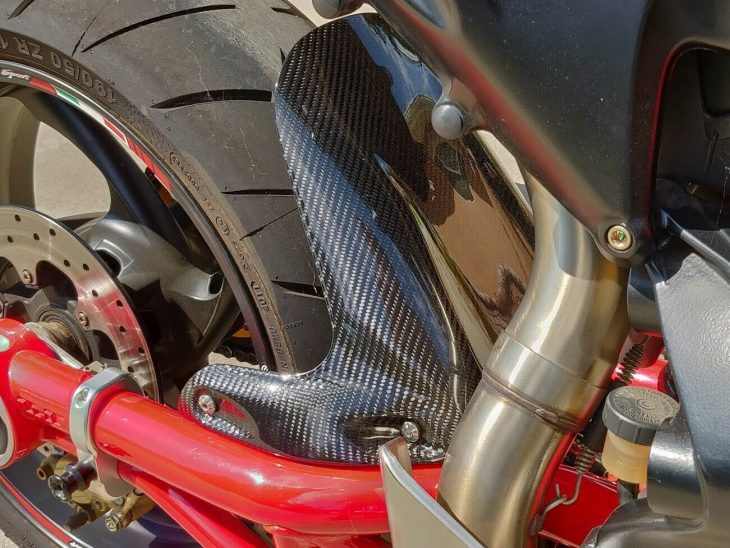 Considering the $6,500 starting bid that so far has no takers, this might be a great chance to pick up a bargain Italian exotic! Benelli's inline triple-powered bikes seem to have been largely reliable, although some examples were afflicted with the usual Italian electrics, and fueling was much less sophisticated than you generally find on today's motorcycles. Parts can be an issue if you live in the US, but it shouldn't be too hard to keep one running, since they're otherwise pretty conventional machines. The bigger issue would be bodywork and aftermarket bits, something that's at least partly sorted here since the bike includes some nice aftermarket bits, including an exhaust and fender eliminator, along with a few replacement bits, just in case.
-tad