Location: Grand Rapids, Michigan
Mileage: 3,200
Price: Auction, $18k BIN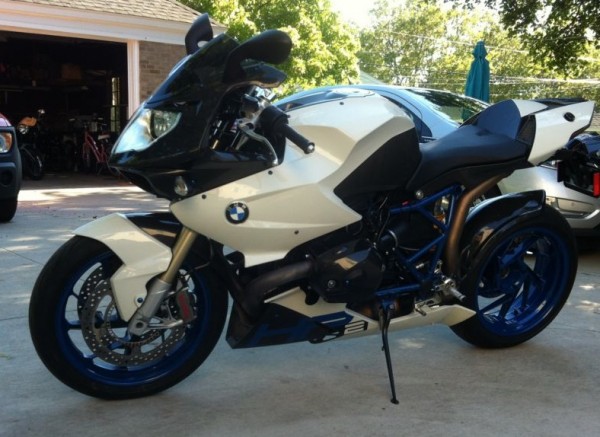 You may not be into BMW bikes, but if you don't think the HP2 Sport is one of the most exquisitely built sportbikes on the planet? Well, my friend, to quote the late Freddie Mercury – you're stone cold crazy. Whether you like the horizontally opposed twin, or the shaft drive, it really doesn't matter, cause how can you argue with Ohlins suspension, unbelievable build quality (I think NASA went to BMW for tips on the new Mars rover) and carbon fiber everywhere. And just look at that rear wheel. The HP2 Sport is a stunner. You would be hard pressed to find a better built bike.
Here's the info from the seller-
This is the most desirable version – a 2009 with ABS.  There are not many of these in the USA and prices are now edging up.  This bike is stock except it has a carbon rear fender and several hundred dollars in titanium and alloy fasteners.  It also has a Shorai Lithium battery which saves about 8lbs.  The tires have approximately 300 miles on them.  The bike is in excellent condition with two very minor cosmetic imperfections –  a chip/imperfection in the clear-coat on the tail-light bracket (could be very easily fixed with a shot of clear-coat) and a very tiny stone chip on the paint on the rear wheel which you probably would not notice in person if I didn't mention it.  I have safety-wired critical fasters but the bike has never been raced or abused.  I am 51 years old and a retired multi-championship winning roadracer.  The point being – I am mature and treat my bikes very well.  I am only selling it because I have far too many bikes and I am now doing most of my riding with my wife. 

The reserve is very reasonable.

Good luck bidding,

Drew
And some of the many photos at the auction-
Based on the seller's description, you would be getting a solid bike with this HP2 Sport. There are only minor modifications and the seller mentions in the auction that the stock fasteners come with the bike. There are two very minor cosmetic issues the seller points out. Mileage is low. Bike looks fantastic. Not sure there are any other issues to address.
I'm sure you all know that these bikes will run you a chunk of change brand new (around $25k). You can take this one home for $18k right now. If you have been looking, I think you may have found your ride. To place your bid or just buy this beauty, make the jump!
-RN